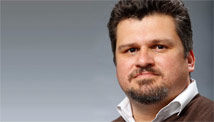 STORY HIGHLIGHTS
Ruben Navarrette: The issue of race follows Obama, with plenty of racism directed at him
But that is not the motivation behind his critics, like columnists allege, Navarrette says
Obama has a record to be judged on after time in office, he writes
Time for both sides to stop defining the president by his race, he says
Editor's note: Ruben Navarrette Jr. is a CNN.com contributor and a nationally syndicated columnist.
San Diego, California (CNN) -- With Barack Obama, it has always been about race. And it probably always will be.
Now, as President Obama stands for re-election -- hampered by a job approval rating of just 41%, according to a recent Gallup Poll -- a few of his supporters are playing the race card. Their strategy seems to be to silence critics by implying that anyone dissatisfied with Obama's performance must be motivated by racism.
Really? Not this again.
One example was offered up by USA Today columnist DeWayne Wickham, who recently accused Republican leaders in Congress of approaching debt limit negotiations with a "palpable disrespect not only for Obama personally but also for his esteemed office." For Wickham, this treatment stems from nothing less than America's ongoing struggle to "get beyond the awful ripple effects of its haunting history of human bondage" and brings to mind the trials of Frederick Douglass, a runaway slave and abolitionist who held numerous public offices.
"This total lack of respect is downright contemptible -- if not unpatriotic," Wickham wrote. "Such contempt, I'm convinced, is rooted in something other than political differences. Today, you might not see the overt actions of racist Southern governors like Ross Barnett or George Wallace in the 1960s. But the presence of Jim Crow Jr. -- a more subtle form of racism -- is there."
Miami Herald columnist Leonard Pitts was also blunt in assessing the motives of those who are dissatisfied with the president's performance.

Will jobs determine if Obama keeps his?

Will President Obama be re-elected?
"Obama's denigrators are appalled by the newness of him, the liberality of him, the exoticness of him and, yes, and the blackness of him."
So, Obama's difficulties, setbacks and shortcomings as president are all because of racism? Someone should check the expiration date on that red herring.
This is not to say that race hasn't been a major factor in Barack Obama's political odyssey. Of course it has.
In the 2008 Democratic primary, Obama's opponent for the nomination -- Hillary Clinton -- blurted out to USA Today that "Sen. Obama's support among working, hard-working Americans, white Americans, is weakening again" and insisted that white voters who had not completed college were supporting her. And, in what many political observers saw as a racial slap, Bill Clinton dismissed Obama's victory in the South Carolina primary by noting that, in 1988, "Jesse Jackson won South Carolina."
Just before the election, a Republican women's group in Southern California sent out a newsletter joking that Obama, if elected, would be a president who appeared on food stamps instead of dollar bills. The mailer included an illustration of Obama Bucks -- a picture of the Democratic candidate surrounded by watermelon and fried chicken.
After the election, a Republican legislative aide in Tennessee distributed an offensive e-mail with portraits of all the presidents where Obama was depicted as two cartoonish white eyes against a black background. Then, just a few months ago, Marilyn Davenport, a member of the Orange County Republican Party in Southern California sent out an offensive e-mail to friends depicting President Obama as a chimpanzee seated with two larger monkeys intended to be his parents. The caption: "Now you know why no birth certificate."
When Obama appeared on the national scene, it took some adjusting to and some people behaved badly. Some are still behaving badly. This happened in both parties, even if some of the uglier stuff came from the GOP. But we're way beyond first impressions. After 31 months in office, Obama has a record to run on. The fact that it's not a good one -- especially on the economy -- is no excuse for dividing our country in ways that could make the election of another nonwhite president highly unlikely.
This would be a sad and terrible legacy for the person who was billed as America's first "post-racial president." The promise of Barack Obama was supposed to be greater than that.
Born of an interracial marriage, he grew up -- by his own account in a pair of autobiographies -- with a foothold in the black world and the white world, but also with the feeling that he was not fully accepted by either.
When he decided to enter politics, Obama started by running for Congress unsuccessfully in a majority-black district in Chicago. The name of the game in that contest was to convince black voters that he identified with them and could be trusted to fight on their behalf, and he failed to do so.
Years later, when Obama was elected president, it was because his appeal went well beyond the black community. Americans of all colors took pride in knowing the United States had matured to the point where a multiracial candidate could be elected president. That sense of national pride benefited Obama.
But now, for some of Obama's supporters and detractors, there's a tendency to define the president solely by his race. And that's nothing to be proud of.
The opinions expressed in this commentary are solely those of Ruben Navarrette Jr.
FOLLOW THIS TOPIC