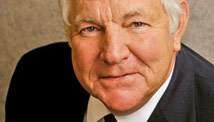 STORY HIGHLIGHTS
Iowa straw poll is a major step for GOP presidential hopefuls, says William J. Bennett
The poll, happening Saturday in Iowa, is often make-or-break for campaigns, he says
Bennett: The only candidate who can afford a low finish in Ames is Mitt Romney
Editor's note: William J. Bennett is the Washington fellow of the Claremont Institute. He was U.S. secretary of education from 1985 to 1988 and was director of the Office of National Drug Control Policy under President George H.W. Bush.
(CNN) -- We will know a lot more about the GOP field of candidates for president very soon -- shortly after the Ames, Iowa, straw poll this weekend. We'll probably see several dropouts and, at least with Rick Perry, a likely addition to the roster.
The Ames straw poll is not a very good predictor of who the ultimate nominee will be (George H.W. Bush won the poll in 1979, Ronald Reagan was the 1980 nominee; Pat Robertson won the poll in 1987, George H.W. Bush was the 1988 nominee; Mitt Romney won the poll in 2007, John McCain was the 2008 nominee). But it does have a tendency to fuel and give life to campaigns, and it has a second tendency to tell other candidates whether this year is worth their continued efforts or not. For example, Lamar Alexander and Dan Quayle both dropped out shortly after their low finishes in 1999 in Ames.
Yet with so many in the field right now, there is still talk of more candidates yet to enter the race. Heavy speculation is that Texas Gov. Rick Perry will announce his candidacy shortly, and there has even been a small but vocal effort to draft Paul Ryan and Marco Rubio. Finally, Sarah Palin plans to spend time in Iowa next month, setting off speculation she may yet enter the race as well.
With a debate among most of the candidates Thursday night, this will prove the most important week of the 2012 nomination race thus far.
What do all of these candidates need to do Thursday, and what do the second-tier candidates need to show on Saturday?
Prediction No. 1: Perry, who will not be in the debate Thursday and will not be competing in the straw poll, will take some pre-emptive flak from the others for not being there -- much as Fred Thompson took flak in 2007 for the signals that he would run, although he was a late entry to the field.
Perry, however, can still make for a very strong candidacy if he does enter: a long-serving governor of a large state with strong social and economic conservative credentials, he has the ability to bridge both the "establishment" of the GOP with the tea party and grassroots of the Republican Party. And with the economy and jobs as the top issues, his record in Texas will boost his potential candidacy even further.

Political week ahead
Thompson's candidacy is yet relevant for one other reason though. In 2008, many in the Republican Party were unhappy with the field, hoping for and urging Thompson to get in, only to see him unable to move the needle on a national level once he did enter. Perry has been very popular in Texas. The question is whether he will translate on the national stage, too. If he does succeed at the national level, he will make Romney's candidacy so much the more difficult, with Romney having had the lead of the field for most of the season and being seen as the establishment candidate with executive expertise and economic know-how.
At Thursday's debate, Tim Pawlenty needs to show he will stand up to fellow Republicans, especially Romney. He was considered a front-runner until the last debate, hosted by CNN, when he was given the opportunity to criticize Romney face-to-face for his health care plan but refused to do so, even though he had done so when Romney was not present. And he will need to recover from this in a way that does not appear as if he knows this has been his problem since the last debate.
Michele Bachmann needs to do little more right now than get through the debate as she went through the last debate and the several-follow up interviews. Her candidacy has surprised many, and if she comes off as credible again this Thursday, she is very likely to win the Ames straw poll. Hers is a candidacy that has beat expectations up until now, and it will likely continue to do so for at least the near future.
Rick Santorum needs a big finish in Ames. Judging from a recent hourlong interview with him at the editorial board of the Des Moines Register, it is clear he is very well-versed in every aspect of policy -- from foreign to domestic -- and he can speak at length on almost any issue thrown his way. (Full disclosure: A business associate of mine is an adviser to Santorum's campaign.)
Had he won his 2006 re-election bid in Pennsylvania, there is no doubt in my mind Santorum would be a front-runner today. If he can convince voters of his otherwise successful record and abilities and finish near the top in Ames, he will go on to fight another day. He does have a record of being underestimated. And, in full fairness, while Romney does not have a recent defeat on his record, it is pretty clear he chose not to run for re-election in Massachusetts in 2006 because it was likely he would not win his seat again.
While Newt Gingrich will be at the debate, he has not invested much in the Ames straw poll process -- which will make his further candidacy all the more difficult as well should he finish near the bottom on Saturday. He needs to do some strong convincing as to viability right now, and a low finish in Ames will do the opposite. His reputation as a strong debater has been his strong suit -- he will need all of it Thursday.
Indeed, at this point, the only candidate who can afford a low finish in Ames is Romney, so well financed is his campaign and so high is his name recognition and reputation. The stakes for the others are just that high. If and when Rick Perry enters, though, that is where the fight will be -- between those two and the top three finishers this Saturday.
Things will clarify very soon, and what is now a field of about 10 will soon become a field of five.
The opinions expressed in this commentary are solely those of William J. Bennett.
FOLLOW THIS TOPIC