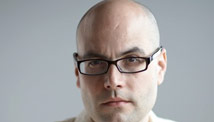 STORY HIGHLIGHTS
A "Mister Rogers' Neighborhood" spinoff will debut next year on PBS, says Nathan Rabin
The new show, "Daniel Tiger's Neighborhood," features an animated tiger, he says
Rabin: Can the new show possibly live up to Rogers' values and reputation?
More Mr. Rogers in the world, in whatever form, can only be a good thing, Rabin says
Editor's note: Nathan Rabin is the head writer for A.V. Club and the author of "My Year of Flops" and "The Big Rewind."
Chicago (CNN) -- When PBS announced last week that it would be resurrecting "Mister Rogers' Neighborhood" with an animated tiger in the place of Fred Rogers, I was skeptical.
As someone who has written about popular culture for the past decade and a half, I am intimately acquainted with just how bad reconstituted versions of children's classics can be. My dreams are still troubled by the ghoulish image of Jim Carrey in grotesque feral-muppet makeup in the 2000 defilement of "How the Grinch Stole Christmas."
I'm not alone. On a Huffington Post article announcing the spinoff, nostalgia for "Mister Rogers' Neighborhood" battled space in the comments with reservations from commenters like "phillyPete," who writes, "I'm somewhat mortified...this just sounds like a horrible idea." In death and in life, Mr. Rogers means an awful lot to an awful lot of people.
On his show, which debuted in 1968 from a studio in Pittsburgh, Rogers gently ushered children through the challenges of school and everyday life. As a child, I adored him: a soft-spoken evangelist for common decency who addressed children directly and spoke to us in language we could understand.
The show was radical in its soothing simplicity. Each episode would begin with Rogers opening the door to the show's cozy-home set, taking off his jacket, sliding into a cardigan and singing the show's theme, "Won't You Be My Neighbor?"
There was no plot, just Mr. Rogers talking to children and segments involving the Neighborhood of Make-Believe, a fantastical if extremely low-budget realm (Rogers operated and voiced most of the puppets himself) of hand puppets ruled by King Friday XIII and Queen Sara Saturday. It was a gentle world populated by beloved characters like Henrietta Pussycat and Daniel Striped Tiger, a bashful but wise stuffed tiger who lived inside a clock. Children identified with these characters: with their timidity, their curiosity, their shyness and uncertainty.
"Mister Rogers' Neighborhood" said a last goodbye to its neighbors in 2001, and Rogers died in 2003. PBS stopped including the show in its daily syndication package to member stations in 2008,al though it's still broadcast weekly by some stations.
The new show is scheduled for fall 2012. Here's how the PBS press release describes it:
"'Daniel Tiger's Neighborhood' is based on the next generation of the original 'Mister Rogers' Neighborhood' characters. All of the original characters have grown up and now have preschoolers of their own. 'Daniel Tiger's Neighborhood' stories revolve around a 4-year-old Daniel Tiger, son of the original Daniel Tiger, and his preschool friends. The series uses musical strategies grounded in Fred Rogers' landmark curriculum and music. In this way, the songs will give parents and kids a concrete way to practice important pro-social skills together."
The release goes on to quote Bill Isler, president of the Fred Rogers Co., as saying, "We're very excited to be creating a program that builds on Fred's legacy in such fresh and innovative ways."
Even if "Daniel Tiger's Neighborhood" does boast the pedigree of the Fred Rogers Co., the nonprofit organization Rogers started in 1971 (his widow, Joanne, is chairwoman of the board), can it possibly live up to Rogers' values and reputation? Are the show's producers, however well-intentioned, corrupting something sacred? After all, Rogers himself said that he went into television because he hated it. Will "Daniel Tiger's Neighborhood" fight the glut of cynical, opportunistic children's entertainment or contribute to it?
There are plenty of cautionary examples of dreadful revamps of children's classics, from the aforementioned "Grinch" to the Mike Myers "Cat in the Hat" to last year's abysmal 3-D "Gulliver's Travels," but the recent "Winnie the Pooh" animated movie from Disney provides hope.
Like the Fred Rogers Co., Disney was dealing with subject material sacred to much of its target audience, or at least its target audience's parents. And like the Fred Rogers Co., Disney was dealing with subject matter that couldn't be more out of touch with the smart-aleck, rapid-fire, too-cool-for-school vibe of much contemporary children's entertainment.
Rather than chase fickle audiences, however, the new "Winnie the Pooh" is proudly old-fashioned, a gentle throwback in a noisy era, not unlike Rogers himself. There is nothing hip or glib or smartass about it. Like Rogers, it has the courage to be quiet, the audacity to be simple and lovely rather than frenetic and loud. If "Daniel Tiger's Neighborhood" follows suit, it will be just fine, and Rogers' humanistic legacy will live on in a whole new show while remaining refreshingly, soothingly familiar.
Nothing can possibly replace the hypnotically avuncular personage of Fred Rogers, but a show that respects the laconic, restrained rhythms and defiant unhipness of Rogers' sensibility would dramatically expand his posthumous presence. More Mr. Rogers in the world, in whatever form, can only be a good thing.
The opinions expressed in this commentary are solely those of Nathan Rabin.