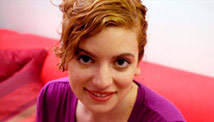 STORY HIGHLIGHTS
Sara Benincasa: UK agency banned beauty ads that altered images
She said she's shocked -- shocked! -- to learn that ads are not accurate
She says she's been similarly fooled by Trix (no rabbit in box) and Calgon; she wants to sue
Benincasa: Thank you, UK, for exposing lie. Maybe now emotional healing can begin
Editor's note: Sara Benincasa is a writer and comedian. She co-hosts the podcast Sex and Other Human Activities. Her memoir, Agorafabulous!, will be released in February 2012 by William Morrow/HarperCollins.
(CNN) -- In a brave and noble move, the United Kingdom's Advertising Standards Agency this week issued a ban on two makeup advertisements. What horrific ethics violations prompted such a decisive crackdown by the national regulatory body? Did the advertisements utilize hate speech against minorities? Did they advocate recreational heroin use? Did they display a Margaret Thatcher upskirt shot?
No, the sin was far more heinous. It seems the marketing teams behind Maybelline's The Eraser anti-ageing foundation and Lancôme's Teint Miracle committed the unspeakable crime of using digital technology to make their models (Christy Turlington and Julia Roberts) look, well, better. Less wrinkly. Younger. Possibly, er, unrealistically so.
The complaint was initially raised by Scottish MP Jo Swinson, who co-founded the Campaign for Body Confidence. After reviewing her objections, the Advertising Standards Agency stated, "On the basis of the evidence we had received we could not conclude that the ad image accurately illustrated what effect the product could achieve, and that the image had not been exaggerated by digital post production techniques."
Now I don't know how effective The Eraser actually is. And quite frankly, I want nothing to do with a product called Teint Miracle. But I am shocked -- shocked! -- that L'Oreal, the company behind both brands, had the audacity to imply via advertising that its products would achieve a cosmetic effect that might not be 100% guaranteed to make me look like a movie staaah.
Clearly, the Advertising Standards Agency had a moral obligation to protect the delicate women of England from the public scourge of these ad campaigns, which, like the Bible, should only ever be interpreted literally.
L'Oreal countered that its image of Roberts was "aspirational." In other words, they didn't mean to give the impression the cosmetics would transform users into Roberts lookalikes. This argument holds no water with me.
I am now prepared to reveal at long last my own victimhood at the hands of such misleading aspirational advertising. I cannot help but reflect on my personal history of extreme emotional damage related to the purchase of products that did actually not do exactly what I thought or assumed their advertisements said or implied they might possibly do.
The first example that springs to mind is my traumatic encounter with Trix cereal. The commercials I viewed in my youth led me to logically conclude that if I opened up a box of Trix, I would instantly be joined by a sneaky yet lovable cartoon rabbit who coveted my breakfast. As a lonely child with a fondness for bunnies, I found this promise to be absolutely irresistible.
Imagine my shock and horror when I poured out my first bowl of multicolored sugar balls and found myself alone -- rabbitless. Years of expensive therapy followed. I've considered suing General Mills, but rather than act as a lone litigant I have decided to pursue a class action lawsuit. Anyone who wishes to join in my crusade may sign up with the Society for the Prevention of Unrealistic Cartoon Lagomorphic Fantasies. Our website is currently under construction.

'Pretty Woman' Julia Roberts too pretty?
Then of course, there's the lurid tale of my letdown at the hands of Calgon. Assured by the commercials that Calgon would, in fact, take me away, I packed my bags for a tropical vacation and hopped in the bathtub. Ninety pruny minutes later, I came to the conclusion that Calgon was not going to take me anywhere nice, not even to one of the fancier parts of the Jersey Shore. The tragedy of that night haunts me. In fact, I no longer bathe at all.
But the most recent example of my betrayal at the hands of advertising was when I ordered a bunch of QuickTrim supplements, convinced that ingesting them would instantly transform me into a half-Armenian heiress to an O.J. Simpson defense fortune. That miracle, too, has yet to transpire. I've been reduced to using sensible diet and exercise as a method for achieving body modification.
So Advertising Standards Agency, I salute you and your fine work. I can only hope that the women of England feel free to reach across the pond and join hands with me in solidarity against the advertisers who perpetrate these heartbreaking lies. Together, we can heal.
The opinions expressed in this commentary are solely those of Sara Benincasa.
FOLLOW THIS TOPIC