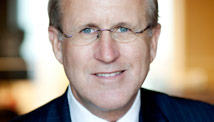 STORY HIGHLIGHTS
Americans are watching the debt debate with growing disgust, David M. Walker says
The debt-ceiling limit must be raised now, not at the last minute, he says
Raising the ceiling should be coupled with concrete, credible reductions in spending, he says
Walker: This will be a modest, first step on a long and difficult road to restoring fiscal sanity
Editor's note: David M. Walker served as U.S. comptroller general, overseeing the fiscal and managerial accountability of the federal government, from 1998 to 2008. He is founder and CEO of the Comeback America Initiative, a nonpartisan organization that promotes discussion of federal and state fiscal solutions.
(CNN) -- Americans are watching with growing disgust Washington's embarrassing inability to reach a reasoned and reasonable compromise in raising the debt-ceiling limit.
As President Barack Obama and congressional leaders from both political parties have publicly agreed, we must raise the debt-ceiling limit. They must deliver on this promise, and they shouldn't wait until the last minute to do so. Unfortunately, it looks like Washington will once again go down to the wire in addressing this large, known and growing challenge.
The current debt-ceiling discussions have been going on in one form or another for months. During this period, the discussions have essentially sucked so much oxygen out of the air that the current Congress is in danger of becoming a bigger "do-nothing Congress" than the one Harry Truman ran against in 1948.
Opinion: Who's winning the debt debate?
Given the amount of time already spent on the debt ceiling, it simply does not make sense to put the American people through another one of these protracted political and ideological battles on the debt ceiling in an election year. Therefore, the debt ceiling should be raised by enough to get past the 2012 elections and into calendar 2013.

Explain it to me: Debt ceiling

Countdown to debt disaster?

Both sides confident U.S. won't default
While the debt ceiling should be raised, it should be coupled with concrete and credible reductions in spending over the next 10 years that equal or exceed the debt-ceiling increase. Additional taxes will not be part of the deal since the conservative House Republicans will not allow any tax increase before 2013 and, under the Constitution, all tax bills must start in the House of Representatives.
To provide additional assurances to credit ratings agencies, the spending cuts should be coupled with specific debt/gross domestic product targets, triggers and automatic enforcement mechanisms that will force both the Congress and the president to engage in comprehensive entitlement, tax and other reforms starting in 2013. After all, these actions, along with additional defense and other spending reductions, will have to be on the table to put our nation's finances in order.
Irrespective of the final debt-ceiling deal, any related spending reductions and other actions will be just a first and modest step on a long and difficult road to restoring fiscal sanity. This is one of the primary reasons why the Comeback America Initiative issued its "Restoring Fiscal Sanity" (PDF) report last week.
That report includes two illustrative fiscal frameworks. The first would balance the primary budget (total federal spending excluding interest) by 2014 and for every year thereafter. It would also reduce spending by more than $3 trillion over 10 years and by $20 trillion over 24 years, while also providing for $500 billion in additional investments in fiscal 2012-2013. The second would balance the total federal budget by fiscal 2015 and for most years thereafter while reducing federal spending by $6 trillion over 10 years and by $30 trillion over 24 years.
Congress is in danger of becoming a bigger 'do-nothing Congress' than the one Harry Truman ran against in 1948.
--David M. Walker
Both would impose a budget on all major categories of federal spending other than Social Security and interest. Both would also cap total federal revenues at no more than 21.5% of GDP versus the current law projection of 23.3% of GDP and rising in 2035.
Both frameworks also include a number of specific illustrative reforms in all major budget categories that can be used for public education and engagement, and eventual legislative deliberations.
Once the current debt-ceiling debate is over, it will be time to engage the American people with the facts, the truth and the types of tough choices that will have to be considered to put our financial house in order.
Brazile: Don't ask poorest to pay our debt
To do so, Obama should take a page from the Clinton administration and undertake an effort similar to what was done in 1998 as a precursor to possible Social Security reform.
After all, no matter who wins the 2012 elections, elected officials will need to start making much tougher choices if we expect to avoid a U.S. debt crisis and create a better future. A meaningful, fact-based and nonpartisan public education and engagement effort will be essential. Let's hope that the president provides the needed leadership to make this happen, and that it starts soon.
The opinions expressed in this commentary are solely those of David M. Walker.
FOLLOW THIS TOPIC