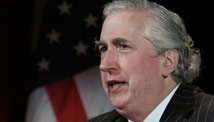 STORY HIGHLIGHTS
John Coffee: FBI looking into phone-hacking of 9/11 survivors in the U.S.
News Corps could also face U.S. criminal charges if it bribed UK police, he says
SEC, Justice should investigate any bribery or falsifying of books, he writes
Coffee: Business needs new directors and a new CEO whose name is not Murdoch
Editor's note: John C. Coffee Jr. is the Adolf A. Berle professor of law at Columbia University Law School and director of its Center on Corporate Governance. He is a specialist on corporate and securities law and white-collar crime.
(CNN) -- Rupert Murdoch is facing a two-front war. On the eastern front, he has denied knowledge before a House of Commons committee of phone hacking or payments by News Corp. to Scotland Yard while bemoaning the employees who failed him. He will probably escape criminal prosecution in the United Kingdom, unless some senior employee yet turns on him.
But even if he survives, huddled in his bunker, the wreckage around him resembles postwar Berlin: A prime minister is in jeopardy, Scotland Yard has been discredited, and the British press faces an inquiry commission that may impose new restrictions on press conduct that would be clearly unconstitutional in the United States. No tears are here shed for any of them; they had it coming. This may (or may not) prove to be Britain's Watergate, but the long-cozy relationship between the press, police and government seems likely to unravel.
But what about the western front? The FBI is investigating accusations that News Corp. employees hacked the phones of September 11 terror attack survivors. No one can predict what this investigation will produce, other than more denials from Murdoch. If, however, it happened once in the U.S., it probably happened repeatedly, because once the technology is used, it is too tempting not to use it again. At this point, the volcano erupts.
Unlike the United Kingdom, where phone-hacking charges have been circulating for many years, the U.S. has little tolerance for such behavior. Also, in the U.S., corporations can be criminally prosecuted (while this is rare in the UK and requires that the senior-most managers be implicated).
The long-cozy relationship between the press, police and government seems likely to unravel.
--John Coffee
Even without a U.S. phone-hacking scandal, the Securities and Exchange Commission and the Department of Justice are duty-bound to take action.
Under the Foreign Corrupt Practices Act, it is criminal offense for a U.S. corporation, such as News Corp., to make any payment to a foreign governmental official to "obtain or retain business." Scotland Yard employees qualify as foreign governmental officials, and although an arguable defense can be imagined that the payments were not to "obtain or retain business," they were made to increase revenues by illegally gaining intimate details, which is fuel on which tabloids run. The stronger defense is that these payments were made by News International, not News Corp., and the former is a British corporation.
Still, even if no U.S. corporation made any illicit payment, a second prong of the act remains applicable. News Corp. is under a legal obligation to "maintain a system of internal controls" that meets specified standards, and no person may "knowingly circumvent ... a system of internal accounting controls or knowingly falsify any book, record, or account" that is part of this system. Because few, if any, corporations publicly disclose paying bribes, it follows that someone within the News Corp. hierarchy falsified its books and records. The maximum penalty here is 20 years and a $25 million fine.
Even if no individual within News Corp. can be identified who knowingly falsified records, this does not save News Corp., which can be convicted based on the activities of its subsidiary.
Most likely, the SEC will bring a civil case, and the Justice Department could indict. But what should they seek to achieve through criminal prosecution? Both the SEC and Justice Department use deferred-prosecution agreements as part of their standard toolbox. For years, News Corp. has had a lapdog board of directors, regularly graded an F-minus by the Corporate Library, because it is dominated by the Murdoch family.
Even without a U.S. phone-hacking scandal, the SEC and the Department of Justice are duty-bound to take action.
--John Coffee
In any deferred-prosecution agreement, the SEC or Department of Justice should insist on an outside study of both the phone-hacking scandal and the unlawful payments. It should be conducted by a first-rate U.S. law firm that they find satisfactory, using a former U.S. attorney or SEC enforcement head as its lead counsel. The SEC should further urge whistle-blowers to come forward with a promise of bounties.
Next, News Corp. should be required to waive the attorney-client privilege as a condition of this agreement. Based upon that study, News Corp.'s board should be strengthened with new outside directors and a tough audit committee.
Finally, it is time for Murdoch to retire. A deferred-prosecution agreement should require new directors and a truly independent nominating committee to select a new CEO, whose last name is not Murdoch. This is a tall order, because Murdoch may prefer to hold out and risk a criminal conviction of News Corp. rather than step down. But if a deferred-prosecution agreement with teeth cannot be negotiated, then, after conviction, the sentencing court could impose most of these same terms as probation conditions.
What we do not need is another soft, bloodless SEC settlement that couples a fine with an injunction directing the defendant to obey the law in the future. This time, the regulators should hold out for real reforms, and that means Murdoch should go.
The opinions in this commentary are solely those of John Coffee Jr.
FOLLOW THIS TOPIC