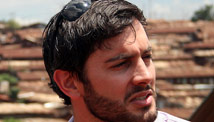 STORY HIGHLIGHTS
Unemployment rate among young American veterans is unusually high, says Rye Barcott
Military service instills integrity, confidence, and teamwork -- ideal for workplace, he says
There is an ever-widening gulf between the military and civilian society, says Barcott
Veterans make up 20% of Congress today, compared with 70% in 1975, he says
Editor's note: Rye Barcott, the author of "It Happened on the Way to War," is a former marine and a co-founder of Carolina for Kibera, a nongovernmental organization devoted to alleviating poverty in the Kibera slum of Nairobi.
(CNN) -- Last Sunday, on the final stop of their final day in North America, the Duke and Duchess of Cambridge popped in to a Los Angeles job fair for military veterans and spouses. William and Catherine spent their time with vets and enlightened business leaders looking to pair talent with opportunity.
The unemployment rate among young American veterans is higher than the national average, and the same may be true in the UK, though the UK Office of National Statistics does not post data on veteran employment levels. Yet military service equips most men and women with skills that translate well into private, public and nonprofit sector careers. So why does high unemployment among veterans persist?
Most people associate military service with discipline, hierarchy and command and control. This reputation is well deserved, but it is not complete, and what I found during my five years as a Marine was that the military is a tremendously empowering place for many servicemen and women. It often instills confidence, teamwork and integrity: qualifications crucial for any growing organization.
There is a term in the Marines called the "strategic corporal." Corporals, the lowest-ranking noncommissioned officers, are typically young men and women in their early 20s who have been in the military two-to-five years after enlisting out of high school. There are 21 ranks above corporal, three below it. Yet these young people often find themselves in positions with heavy leadership responsibility in command of small teams.
Occasionally corporals make hasty decisions that can have strategic ramifications. Much of Marine Corps training is designed to equip young men and women with the skills to make smart decisions in high-stakes, time-sensitive scenarios. For example:
What do you say to the foreign reporter thrusting a camera in your face and asking you, "Why are you here?"
Do you and your Marines open fire on a police car that has just blazed past a roadblock, is heading straight at you, and may be a vehicle-born improvised explosive device?
Decision-making under such duress has lingering effects, some of which can be as damaging as they are fortifying. The media reports frequently about post-traumatic stress disorder, an unfortunate label for a psychological condition that, when treated appropriately, can be overcome.
Employers, however, may not realize this, and the hidden cost of all the attention that post-traumatic stress disorder generates is an unspoken bias among many who fear veterans losing control. The irony of this is that veterans are often far more effective than civilians under duress. Getting shot at tends to widen one's perspective on what is high-pressure, and how to handle it.
So why do unemployment levels remain persistently high? It's in part due to a lack of awareness and an ever-widening gulf between the military and civilian society, particularly among so-called elites. Less than 1% of the U.S. population serves in the armed forces. Veterans make up 20% of Congress today, compared with 70% in 1975.
The same trend is true in the United Kingdom. This is part of the reason why actions like those of the Duke and Duchess of Cambridge matter.
The military prides itself on teamwork and the suppression of individual identity. It is service based, and that can come in conflict with modern capitalistic values, especially when greed runs amuck.
One of the greatest challenges veterans have is the self-promotion involved with interviewing for a job. The whole process is an affront to our ethos.
Employers would be wise to understand this cultural divide when they are interviewing veterans. They should realize the differences and recognize the strengths within them.
But make no mistake: Hiring veterans is not a matter of charity. For those organizations looking to excel in the world, it is pure, enlightened self-interest.
Veterans deliver results. They build teams. They are, in the words of Colin Powell, "force multipliers." That's what 160 employers discovered this past Sunday at a job fair in Los Angeles with the Duke, the Duchess, and a legion of strategic corporals.
The opinions expressed in this commentary are solely those of Rye Barcott.
FOLLOW THIS TOPIC