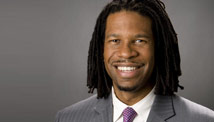 STORY HIGHLIGHTS
Granderson: Fatal shooting of 7 in his Grand Rapids hometown leaves question of why?
Suspect, who he knew slightly, killed himself; community baffled, scared, he says
When tragedy like this strikes a friendly, hardworking town, people are newly wary, he says
Granderson: The challenge for the shaken town is to not build walls, maintain identity
Editor's note: LZ Granderson writes a weekly column for CNN.com. He has just been named Journalist of the Year by the National Lesbian and Gay Journalists Association. He is a senior writer and columnist for ESPN The Magazine and ESPN.com, and a 2010 nominee and the 2009 winner of the Gay and Lesbian Alliance Against Defamation award for online journalism. Follow him on Twitter: @locs_n_laughs
(CNN) -- We understand the what. We know the who, when and how.
But after Rodrick Shonte Dantzler, the suspect police believe murdered seven people and held the entire city of Grand Rapids, Michigan, hostage for nine hours on Thursday, killed himself, we may never know the why.
And it's in the why where we would hope to find the answers necessary to move on.
With the suicide we have an abrupt ending, which thankfully stopped the violence, but it doesn't restore order the way a conclusion, complete with an arrest and trial would've done. Now we have no trial, no testimony, no fragment of a reason why the suspect did what he did. We only have pain and loss.
Seven people murdered. Bullets sprayed right in front of the police station in the heart of downtown, hitting bystanders. A high-speed chase down the wrong side of a major highway. The backdoor of a random home kicked in, hostages taken, a standoff lasting hours.
These sort of things are supposed to happen elsewhere.
I've played basketball with the suspect in the past and always felt he was a little odd. But as I was listening to the developments over the police scanner Thursday night, neither I nor my friend Mike, who also played basketball with Dantzler, thought he was capable of such horrific acts.
The woman who retwists my locks also took care of the suspect's hair. She can't believe her former client could murder his own 12-year-old daughter.

Police chief: 'He acted alone'
We talked briefly on the phone, and both found ourselves asking the same question, of course: Why?
When I lived in larger cities like Chicago and Atlanta, this kind of violence wasn't less tragic, just less surprising. They're big towns with rough and tumble histories and you instinctively knew to be careful. But part of the reason people choose to live in quieter places like Grand Rapids is because they don't want to look over their shoulders, hide personal belongings, distrust neighbors.
We're not an exclusive, rich suburb devoid of diversity or warmth. We're just like a number of midsize Midwest cities filled with nice, hardworking people who are trying to leave things a little bit better than the way we found them.
Now the downtown streets where I've allowed my 14-year-old son to roam about freely with his friends feel a lot scarier.
As I drove around after the shooting, I couldn't help but look at the stranger in the car next to me with more suspicion. It's not as if people haven't been killed here before, but this was by far the most violent and blood-soaked day in the city's history. This kind of violence happens in the movies. It happens in other places.
Dantzler not only took his life and the lives of seven people, but he's stolen a piece of our collective sense of innocence and peace. We'll eventually heal and move on, of course, every community where something like this happens does. But it just would have been a whole lot easier if we at least knew why. That's all anyone wants who has ever lived in a community where a tragedy like this rips the heart in two.
Reportedly family members said they were afraid of him at gatherings and that mental health was an issue. Police said he had used cocaine and alcohol over the course of the day before going on his killing spree, targeting two ex-girlfriends and their families. There are also reports he was the gunman involved in a road rage incident that left one man shot.
But these are just more details of who and what.
We still need the why.
And now with Dantzler's death, we likely will never find out. All we can do is try to restrain from building the kind of walls something like this naturally prompts us to build. Through it all we have to find a way to still be that friendly place where it's nice to raise a family. But it's going to be tough.
The opinions expressed in this commentary are solely those of LZ Granderson.
FOLLOW THIS TOPIC