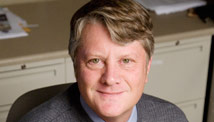 STORY HIGHLIGHTS
Brant Houston: News of the World closing is good for journalism
He says paper pretended at investigative reporting; hacking, paying sources disqualifies it
Real investigative reporting uses documents, analysis, interviews, is driven to right wrongs
Houston: One hopes case will move corporations to support journalism that helps people
Editor's note: Brant Houston is the Knight Chair of Investigative and Enterprise Reporting at the University of Illinois and co-author of the "The Investigative Reporter's Handbook."
(CNN) -- The British tabloid The News of the World is closing this Sunday.
It's too bad it didn't happen sooner.
Caught in an ever-expanding scandal over the newspaper's alleged hacking into the phones of celebrities, government officials and even murder victims, the Rupert Murdoch family decided to shut down the publication, despite its 2.6 million plus circulation.
For the paper's many employees who had nothing to do with alleged hacking, it will be a tragic day. But for journalism it will be a day of hope and correction.
Among The News of the World's lesser but still profound infractions was that it maintained the pretense that it practiced investigative reporting.
Consider this statement last week from the private investigator Glenn Mulcaire, who did prison time for his phone-hacking on behalf of The News of the World.
"A lot of information I obtained was simply tittle-tattle, of no great importance to anyone, but sometimes what I did was for what I thought was the greater good, to carry out investigative journalism," he said in a statement to the newspaper The Guardian.
Seldom has there been a bigger disconnect.
The kind of "reporting" practiced here was not remotely close to investigative journalism, carried out for the greater good.
Opinion: Why Murdoch is Killing News of the World
Illegal hacking is not investigative journalism. Making payments, as The News did, to police and other sources for information is not investigative journalism. Creating and maintaining an environment where all this can happen is not investigative journalism.
Real investigative journalism concerns itself with how people suffer when systems fail -- whether it is transportation, safety, social welfare -- and how the powerful misuse their position to exploit the poor and powerless.
It leads to outrage and a drive to fix or reform. Its reporting rests on a firm foundation of multiple interviews, thorough documentation, analysis of data and the intensity and compassion of the journalists practicing it.
While there may be some over-reaching or zealotry among investigative reporters to get the important story, it is generally understood and excused because of the injustices or fraud or waste revealed. But not when it is hacking the phones of murder victims or celebrities.
Yes, there will always be excesses and abuses in reporting as in any profession and there always have been ethical and legal lines that are not to be crossed in journalism, even when in pursuit of serious stories. For example, surveillance or undercover work, while controversial, can be accepted as a practice in investigative reporting, but breaking and entering -- whether into a home or phone -- is not. Neither is meaningless snooping for "tittle-tattle."
News of the World's overstep is not the first publicly revealed instance of a journalist breaking into phones. In the late 1990s, a Cincinnati Enquirer investigative reporter, hot on the trail of the company Chiquita's alleged misdeeds in the tropics, broke into thousands of the company's voice mails after obtaining passwords.
The reporter ended up pleading guilty to criminal charges, the newspaper ran apologies, and the Gannett newspaper chain, which ran The Enquirer, paid a multimillion settlement.
Opinion: Not just the tabloids: Media ethics sliding downhill
But that low moment in investigative journalism was easily outweighed by the thousands of stellar investigative stories done by news organizations since then.
In fact, in a period when serious and community journalism is struggling to stay economically viable, newsrooms internationally, including Murdoch's The Wall Street Journal, have admirably revealed such things as outrageous abuses in human trafficking, torture in prisons, fraud and waste in government, Wall Street fraud, outrageous pay for CEOs and corrupt corporate practices in developing countries.
More of this investigative work has to be supported every day by private foundations and donors, such as the Knight Foundation, because media corporations continue to neglect the communities they cover. Instead, they produce more of the kind of shallow and sometimes prurient reporting practiced by tabloids.
Of course, we can't be so naïve to think that highly profitable tabloid and celebrity journalism will disappear. But maybe the sad series of events at The News can suggest to mega-media corporations that they should more often practice a better form of journalism that serves a better purpose.
Decades ago I asked a tabloid editor how much he paid sources and informants at hospitals and rehab centers to tell him when celebrities checked in. He couldn't say the total, but he did say, "Around here, $100 bills are like paper clips. That's what holds the place together."
Perhaps such corporations could see their way clear to investing some of the profits into the kind of journalism that helps rather than harms people. Maybe some of those $100 bills could go to pay for the journalism that holds society together.
The opinions expressed in this commentary are solely those of Brant Houston.
FOLLOW THIS TOPIC