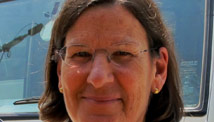 STORY HIGHLIGHTS
Susan Purdin: South Sudan is having its own Independence Day
The new nation won independence after a long struggle
She says 50 years of conflict has set back the nascent nation
Purdin: South Sudan can be a land of hope and dreams, like U.S. 235 years ago
Editor's note: Susan Purdin is country director for South Sudan for the International Rescue Committee
(CNN) -- I missed Independence Day in America this year -- the picnic baskets hauled to the beach and the fireworks lighting up the night sky. But that's OK, because this year, I'm looking forward to July 9, when millions of South Sudanese will celebrate their independence for the first time.
In just a few days, the world's newest nation will be born: the Republic of South Sudan. For the festivities. I'll be in Juba, South Sudan's bustling capitol and my home away from home, taking it all in with my friends and colleagues here. And to be sure, towns and villages across this eager new country will be throwing unforgettable parties.
I know Elizabeth Nyariere Yak Gatluak is excited to be celebrating with her children. She's a colleague of mine who grew up during the brutal two-decade civil war between Sudan's north and south. That ruinous conflict killed more than 2 million people and devastated the infrastructure, including the education system, which was virtually closed. So generations of promising young people, like Gatluak, never went to school and saw their hope for an education and a normal life stymied by ongoing strife and paralyzing poverty.
But Gatluak was determined and eventually received training from my organization, the International Rescue Committee, to become a community health care worker in her rural village in Ganyliel, in Unity State. She spends her days providing very basic health care services to young children, but it's the kind of care and attention that saves little lives.
"We are all planning for a better life, especially our young people," she said a few days ago. "Too many people die because there are not enough hospitals. And there must be more schools to educate our children. But people are very optimistic about this. With independence, we will finally be free in our new country and good things will come."
Very much like the fledgling United States 235 years ago, South Sudan won its freedom after a long struggle against oppression, and has had to fashion a new constitution and political order while facing daunting social and economic challenges.
South Sudan's fight for sovereignty against the north of Sudan began at the end of the colonial era in 1956 and continued on and off until 2005 when the signing of the Comprehensive Peace Agreement between the country's rival political parties laid out a road map for its independence.
It's almost impossible to calculate the cost of half a century of conflict on South Sudan. Much of its infrastructure was destroyed and millions of people were displaced or driven into exile, setting back social and economic development by decades. In rural areas today, people barely scratch out an existence and malnutrition is rampant. Women die in childbirth at the same rate as women in early America. Contagious diseases such as measles, malaria and cholera threaten the lives of children much as in the United States some two centuries ago..
South Sudan is indeed joining the community of nations in the 21st century, not the 18th and that's very much evident in Juba, where the roads are paved, the phones work and Internet is accessible. Yet, too many villages, untouched by development, are still a leap back in time. The new government faces the enormous challenge of modernizing the country while solving a host of intractable problems.
In May, for example, forces from the north seized control of the contested border state of Abyei, destroying villages and sending 100,000 people fleeing for their lives. Brutal fighting erupted last month in another flashpoint state, South Kordofan, uprooting tens of thousands more.
The nascent government of South Sudan must resolve these lingering and violent land disputes, secure its border with northern Sudan, from which it has just separated, as well as address festering ethnic and tribal tensions in southern states. It must also ensure that basic and essential services are available to its citizens, establish new laws and a justice system and formalize relations with international financial institutions.
Many people in the United States have supported South Sudan's aspirations for independence. During the war, organizations like the International Rescue Committee provided extensive emergency aid and services such as medical care and clean water. What's urgently needed now is support for long-term economic and social programs that will allow South Sudan to develop its infrastructure and people. The Sudanese must be given the opportunity to prosper so that they are no longer dependent on aid and handouts.
Gatluak says she dreams of a South Sudan where mothers won't die in childbirth because there will be roads on which they can travel to reach functioning medical centers. She dreams that her five children, the eldest of whom is 10, will have access to all the educational opportunities that were denied her generation.
The nation of South Sudan will not be built overnight. July 9 is but a first step on a long and largely unpaved road. But just as the United States was seen as a land of opportunity for its new citizens, so too can South Sudan be a land of hope and dreams for Gatluak, her children and millions of other war-weary Sudanese, with the help and good will of the international community.
The opinions expressed in this commentary are solely those of Susan Purdin.
FOLLOW THIS TOPIC