STORY HIGHLIGHTS
Violinist Gidon Kremer participating in concert to promote human rights in Russia
Event is dedicated to Mikhail Khodorkovsky and Platon Lebedev, imprisoned in Russia
Kremer says the two men are being punished for speaking out against the system
Artists do not always take part in politics, but Kremer says it is a civic duty to stand up
Editor's note: Violinist Gidon Kremer, a Latvian who left the USSR in 1980 and settled in the West, is artistic director of the chamber orchestra Kremerata Baltica. He is participating in Musica Liberat, a charity concert for human rights in Russia on July 5 in Strasbourg, France. The organizers dedicated the concert to Mikhail Khodorkovsky and Platon Lebedev saying they view the two men as "living symbols of the world's failed hopes for rule of law and freedom of expression in Russia. They have now spent almost eight years in jail and the gross mishandling of their case has inspired imitation by corrupt officials across Russia."
(CNN) -- It's been said that musicians should not meddle in politics. It is significantly less dangerous to engage in pure art.
But let us recall history. The words spoken in defense of the Palestinians by the late Yehudi Menuhin, often considered the best violinist in the 20th century, irritated the establishment. The cellist Rostropovich provided shelter in his dacha to the disgraced Solzhenitsyn, and in doing so fell from grace himself.
I think that in standing up for Mikhail Khodorkovsky and Platon Lebedev, imprisoned in Russia on trumped-up charges of fraud, all of us hope to focus attention on the Russian leadership's willful ignorance of the law. Without legal guarantees, everybody in the state could find themselves unlawfully charged with crimes they didn't commit.
Khodorkovsky and Lebedev have spent eight years in prison on such charges, and could face many more, in order to silence their support of democracy. To answer Prime Minister Vladimir Putin's cynical pronouncement that "a thief must sit in jail," I would like to offer lines from the great Pushkin:
And to the nation long shall I be dear
For having with my lyre evoked kind feelings,
Exalted freedom in my cruel age
And called for mercy toward the downfallen.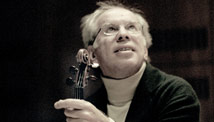 Gidon Kremer
A familiar Russian theme -- the power and the poet. It was always rare for the two to be found on the same podium.
Musicians are not and will never be politicians, but this does not mean we have no conscience. We are professionals in the field of interpretation, and also have the right to a subjective point of view. Penetrating the depths of musical scores, with introspection and the utmost attention, is our bread and butter.
The ability to see in music not only aesthetics, but a means to attain ethical objectives, both ennobles our profession and gives it another meaning. We have a chance to respond to the Russian poet N. Nekrasov's words: "You are free not to be a poet, but you have a duty to be a citizen."
Read about concert, with video address by Elie Wiesel
To intercede for the cause of justice with sounds, to be in solidarity with those who are deprived of a voice and deprived of elementary human rights, is the best message we can send.
In contrast to composers, our artistic activity is limited to our lifetime. Is it not our civic duty to respond to the conflicts of our time?
A very talented and thoughtful man, Mikhail Khodorkovsky became a threat to a system that's always been known for totalitarianism and violence. Those in power have always abhorred anyone who doesn't obey or worship their system. Those gifted enough to fight it will be targeted for silence.
It's obvious to the world that the charges against Mikhail Khodorkovsky are ridiculous. Once the richest man in Russia, he sought to use his wealth as a tool to improve society. But Russia's regime simply labeled such efforts as "unjustified" and a "crime."
Those who control Russian society believe that the easiest way to make their problem go away is to keep Mikhail Khodorkovsky behind bars.
As artists, it's our duty to raise our voices in a chorus of opposition to drown out those who seek to humiliate and punish men like Khodorkovsky. Why? Because history has proved men like Khodorkovsky right.
It's my fervent hope that our sounds will help give added strength to those who have been unjustly convicted or persecuted. May our music destroy the fetters put on by those who are venal, perfidious and power hungry. Music liberates for the reason that it promotes harmony.
So listen attentively to what the great composers (and we, their humble interpreters) have said, and still say, with depth and emotion, preaching the most obvious values of life: the right to independence of views, the right to self-determination, the right to love ... and to liberty. May our sounds help those deprived of liberty regain it.
The opinions expressed in this commentary are solely those of Gidon Kremer.
FOLLOW THIS TOPIC