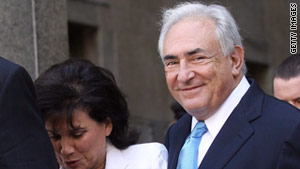 Former IMF director Dominique Strauss-Kahn is accused of sexual assault.
STORY HIGHLIGHTS
Jeffrey Toobin: Strauss-Kahn's release from house arrest is a reminder about rush to judgment
He says the accuser apparently has history that could damage credibility with jury
He says DA has some explaining to do: Why did he embrace, then appear to drop case
Toobin: Defense clearly thinks charges might changed or dropped
(CNN) -- Earlier today a state Supreme Court judge released Dominique Strauss-Kahn, the former International Monetary Fund director charged with sexual assault, on his own recognizance in a stunning reversal for the high-profile case.
The new questions about the credibility of his accuser that led to his release "could destroy the case... if they are so severe that the prosecution believes no jury would believe her," says Jeffery Toobin, CNN's senior legal analyst.
Toobin spoke with CNN.com's Opinion section about the case.
CNN: The credibility of Dominique Strauss-Kahn's accuser in the alleged hotel assault in May has apparently been damaged by further investigation by the prosecutor. Today a judge released him from house arrest. Are you surprised at this turn of events?
Jeffrey Toobin: Yes, it's surprising to see such a major change, but it's a good reminder why we need to keep an open mind about people who are arrested. The Duke lacrosse case is another example of a situation where people who rushed to judgment were embarrassed or worse later on.
CNN: What is known about the nature of the flaws in his accuser's story?

Toobin: DSK case like nothing before
Toobin: There have been a variety of news reports, and it will be important to sort out which ones are true and which are exaggerated. But the gist seems to be that the accuser has a history of statements and associations that would call her credibility into question with a jury.
CNN: What does this mean for Strauss-Kahn's mobility?
Toobin: He can now go anywhere he wants within New York state. He does not have to report to authorities or be restricted in his movements within the state.
CNN: What effect could it have on how the case proceeds?
Toobin: It could destroy the case -- force the prosecution to dismiss it -- if her credibility problems are so severe that the prosecution believes no jury would believe her.
CNN: Manhattan District Attorney Cyrus Vance had originally spoken as if he felt the accuser's account was credible. Why? Is it unusual to go out on a limb like this so early in the investigation?
Toobin: This will be a difficult question for Vance and his colleagues to answer, why they went out on a limb before they knew all the facts. We'll see what they say.
CNN: What changed?
Toobin: Obviously, both the prosecution and defense focused on examining the accuser's story and her history. Both learned important facts. The prosecution is obligated by law to turn over evidence damaging to the credibility of their main witness.
CNN: What are the chances that there will be a change in the charges?
Toobin: The defense clearly thinks there will be a major reduction in charges or an outright dismissal of the case. We'll see what happens.
CNN: In remarks today, the alleged victim's lawyer, Kenneth Thompson, laid out the case as to why the sexual assault case should continue. What is his argument and what do you think of it?
Toobin: The victim's lawyer made an extraordinary presentation -- asserting in vivid detail that his client was telling the truth and that the DA was throwing her under the bus. In response, Cyrus Vance, the DA, said little. It is perhaps understandable that Vance doesn't want to discuss the evidence in detail at this point, but at some point he's going to have a lot of explaining to do, why he embraced the case in the first place and why he abandoned it.
CNN: What could happen to his accuser? Could she face charges herself?
Toobin: Let's not get too far ahead of ourselves. I don't know enough to speculate on that subject.
FOLLOW THIS TOPIC