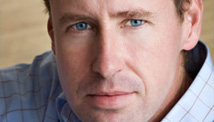 STORY HIGHLIGHTS
Zoellner says some question whether Giffords should resign because of injuries
But he says it's too soon to judge; doctors says she's recovering well
Sen. Johnson was allowed to recover and resume duties; Giffords should be too
Zoellner: If she thought she couldn't serve, she would already have stepped down
Editor's note: Tom Zoellner is the author of the forthcoming book "A Safeway in Arizona: What the Gabrielle Giffords Shooting Tells Us About the Grand Canyon State and Life in America (Viking/Penguin)."
(CNN) -- Should Rep. Gabrielle Giffords (D-Arizona) resign?
Professor Paul Sracic of Youngstown State University posed this provocative question in a recent CNN.com op-ed, coming down hard on the side that says, yes, she should give up her seat because she has been unable to cast a floor vote or attend committee meetings since being shot in the head at a supermarket on Jan. 8.
He is not out of line for raising the question -- serving in Congress is serious business -- but I believe he is wrong on the answer. Gabrielle Giffords should not be facing any calls for resignation right now.
Why? Several reasons. Everything we know about brain injury tells us that the period of most dramatic improvement has a window of about one year. By that measure, she isn't even halfway there.
The cases of those who have made partial or total recovery from traumatic brain injury would fill several medical textbooks. The chief medical officer of TIRR Memorial in Houston, Dr. Gerard Francisco, puts Gifford's time-of-recovery horizon out even further, up to 18 months after the Jan. 8 shooting at a Tucson-area Safeway that left six dead and twelve others injured.
Francisco is in a position to know, as he has overseen her treatment since late January. He recently told Politico that this expectation of continuing improvement wasn't just a "nice thing to say," but a physiologic reality.
In the interim, service to thousands of constituents is being capably handled by her staff in Tucson. Several friends and allies in Congress, including Adam Smith (D-Washington) and Debbie Wasserman Schultz (D-Florida), have been asking questions and submitting input on her behalf. Gifford's positions on issues important to Arizona, such as border security and solar energy, are a matter of detailed record and her Washington staff monitors new developments with alacrity and keeps her informed.
By all accounts from TIRR, she is now voicing complex thoughts, initiating phone conversations, receiving regular briefings from her staff and following the news daily. To have come this far in so short a time really is a hopeful sign of continued recovery.
When voters elected Giffords, they didn't just elect a person: they were expressing a preference for a whole fabric of issues and beliefs she stood for. While it is true that she hasn't yet been able to cast a floor vote in the House, her policies are clear and her ideas are still present on the committee level. It is nobody's idea of a perfect solution, but there is every reason to believe it is a temporary one.
There is a recent comparative case, as many have pointed out. Sen. Tim Johnson (D-South Dakota) suffered bleeding on the brain in December of 2006 and was out of service for nine months while he regained speech and motor functions. South Dakotans supported him and he easily won reelection the following year.
I should say here that my opinion isn't really an objective one. I've been a friend of Giffords' for nearly a decade, and I volunteered on two of her congressional campaigns. But I've seen up close what a determined fighter she is for what she believes. And what she obviously believes about this subject is that she ought to remain in office.
There is no doubt in my mind that she would have already resigned if she had reason to believe that she would be unable to represent the people of southern Arizona in the future. She cares too much about her hometown to tamper with its fortunes in this way.
From her earliest run for the legislature, her mission was, as the saying goes, to do the office rather than be the office. She is not of the personality type to seek power for its own sake, or to use it as a balm for the ego. She didn't need that sort of thing. Her primary motivation has been to fix things that were broken.
Her family has disclosed an appropriate level of general information but has been judicious with personal details while she is in this vulnerable position. They have a right to do this. She is an elected public servant, but she is also a person with a private family life, one which has been drastically altered by an injury she sustained in the course of doing her job. She deserves to have a time of recuperation free from the distractions of cameras and partisan squabbles.
These questions about her faculties are likely to intensify as time goes on. They are to be expected. A Congressional seat in a swing district (she is a Democrat in a conservative-leaning district) is no small beer. But at this point, not even half-a-year after a sickening catastrophe, and when many uncertainties still loom, the time for any verdict on these questions has not yet arrived.
Giffords may have become well-known because of an outrageous act of violence, and the courage with which she has dealt with it, but it should not be forgotten that she served her district with great distinction before this occurred.
There is a reason why southern Arizona kept sending her back to Washington. There is also strong reason to believe she can come back with more moral authority than ever before and with the same relentless work ethic and powers of persuasion.
Such projections must, of course, still be classified as speculative and that is where they ought to stay at present -- along with the question of whether she should step down before her term expires.
When the time is right, and as many have correctly observed, there is one person who is best qualified to make this decision on behalf of the 8th District of Arizona. That person is the one who was explicitly hired to make such tough calls: its constitutionally-elected representative, Gabrielle Giffords.
The opinions expressed in this commentary are solely those of Tom Zoellner.
FOLLOW THIS TOPIC