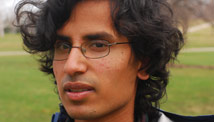 STORY HIGHLIGHTS
Assad regime has cracked down on uprising in Syria
Pathik Root: Obama administration is too cautious in its policy on Syria
He says administration needs to declare regime is illegitimate
Root: U.S. should use economic sanctions, U.N. resolution to oppose regime
Editor's note: Pathik Root, a student at Middlebury College in Vermont, runs Mideast Reports, a site dedicated to news and ideas from the region.
(CNN) -- On March 30 Syrian President Bashar al-Assad gave his first speech since the start of the popular uprising in his nation. I was listening from a 12-by-12 prison cell in Damascus with 21 other inmates. I had gone to Syria to finish my junior year studying abroad after the revolution in Egypt led to the evacuation of my program there.
The Assad speech was the only time during my two weeks in prison that I was allowed news from the outside. Although we were all skeptical of Assad's ability to reform, I still had a sliver of hope.
After my release I supported the Obama administration's cautious stance on the Syrian revolution. I applauded the president's willingness to consider all options. However, recent developments have made it clear that Assad's opportunity to institute real reform is gone. His speech Monday was merely confirmation. Unfortunately, President Obama still clings to a "lead from behind" policy that does not reflect the realties on the ground.
Hillary Clinton's recent op-ed in Asharq Alawsat, stating that the Syrian regime is "certainly not indispensable," represented an escalation of rhetoric, but failed to adequately shift policy. It is now in America's moral and national interest to decisively guide the international community toward a future without Assad.
Student's imprisonment in Syria
Protestors continue to take to the streets in spite of a government crackdown so brutal that Assad has come to be known as "Bashar the Butcher." According to United Nations High Commissioner for Human Rights Navi Pillay the regime has killed at least 1,100 civilians and imprisoned an estimated 10,000 more. The dead include 82 children, most notably 13-year-old Hamza Khateeb, who was tortured to death by security forces. The victims also include more than 8,000 refugees who have fled to Turkey in recent weeks. Most of these numbers cannot be independently verified because international observers are barred from Syria.
Watch Pathik Root's appearance on "In the Arena"
The risk of sectarian violence (although it is often exaggerated) or civil war do not justify the United States sitting on the sidelines, especially now that international efforts to address the situation have stalled.

Student reveals chilling arrest in Syria
The United Kingdom and France are fighting to convince Russia and China to condemn the Syrian crackdown using a United Nations Security Council resolution, while Turkey, whose strong economic and political ties with Damascus provide leverage, refuses to take its rhetoric to the next level.
Obama no longer has the luxury of fouling off every pitch and waiting for someone else to make a move -- it's game time. Stepping to the plate does not mean mounting a Libya-style invasion. It involves peacefully hastening Assad's exit.
First, Obama needs to follow in France's footsteps and publicly declare Assad an illegitimate ruler. Second, he should increase pressure on Russia and China to back, or at least not veto, a U.N. resolution.
Third, he must paralyze the regime's economic interests. This entails imposing further sanctions on corrupt businessmen, cutting off the regime's precious oil revenue, and preventing U.S. dollars from being used to buoy the Syrian pound. Last, his investigation into possible war crimes in Syria cannot be compromised by any offers of immunity. Once these precedents are set, other nations are more likely to follow suit. It is also in America's national interests to institute these measures.
For one, denouncing Assad will help Obama amass political capital with future Syrian leaders. The opposition was initially unprepared for the revolution because of the swiftness of the uprising and the regime's strict control over Syrian civil society. But despite being pushed into a chaotic situation, activists are now remarkably organized.
Inside Syria there is a dense network of local coordination committees, which communicate with the outside world using the internet, satellite phones and anything else they can think of. These groups plan the protests on a daily basis and shoot the videos that get sent around the world.
Outside of Syria, the opposition staged a large conference in Antalya, Turkey, earlier this month. Attendees included hundreds from the diaspora, at least 50 activists from inside Syria (either smuggled out or connected via Skype), about 70 Kurds and droves of international media. Among the highlights were the election of a 31-member consultative counsel, the Muslim Brotherhood delegation agreeing in principle to a secular state, and the release of a mutually agreeable final declaration.
It would be naive to ignore the chance that the Assad regime survives, but even then, U.S. interests would only be minimally damaged by actions taken now. As it stands, the possibility of ever resuming normal relations with Assad is virtually nonexistent. Twenty-three congressmen from both sides of the aisle are co-sponsoring resolution 180, which states that the government of Syria has "lost legitimacy."
Ultimately, it is time for Obama to stop asking whether Assad will fall and focus on preparing for a post-Assad era.
The opinions expressed in this commentary are solely those of Pathik Root.
FOLLOW THIS TOPIC