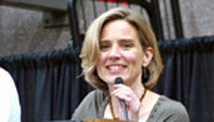 STORY HIGHLIGHTS
Virginia Rutter says recent sex scandals have turned into TMI fests where men look like idiots
She says it's different from days when political power meant discreet affairs kept quiet
She says details show only that view on propriety unchanged, sex habits are varied
Rutter: Men's foolishness doesn't spell progress or new understanding of gender roles
Editor's note: Virginia Rutter is associate professor of sociology at Framingham State University and a senior fellow at the Council on Contemporary Families. The second edition of her book (with Pepper Schwartz), "The Gender of Sexuality," will be released this summer. She is currently writing the Encyclopedia of Human Sexuality entry on sex scandals.
(CNN) -- Whoa! I know more about Rep. Anthony Weiner's private business than (I pretend) I'd like to know. Not just the bulging gray underpants, but also the understanding that all the texting, tweeting, and online lurid repartee is really about... what, masturbation? TMI, right?
One of the biggest developments in American sex scandals in our recent past is the rise in just this sort of "too much information."
We hear that Eliot Spitzer wore socks during sex; that South Carolina Gov. Mark Sanford delayed doing what he called the "ultimate" act for many months in his affair with his Argentine soulmate; and that former Sen. Larry Craig was sure that his bathroom habits and his reference to a "wide stance" were a reasonable alternative to describing whatever was going on in that airport men's room. John Edwards' story eventually included information about sex videos

made of him and his campaign-trail mistress Rielle Hunter -- during her pregnancy.
And then there's Weiner. Another case of TMI.
In political sex scandals, there has been a slow drift in recent decades away from the view of men as powerful cads. Yes, today's scandals are still all about men who, one way or another, are exploiting power. But we used to deal -- or rather not deal -- with the sexual escapades of the likes of John F. Kennedy, and the sex scandals that simply "didn't happen" because of the muzzling effect of political power -- along with the power of the assumption that "men will be men."

Democrats frustrated with Weiner

Adult film star: Weiner asked me to lie

Chanting 'Weiner'
In a new edition of our book "The Gender of Sexuality," Pepper Schwartz and I argue that changes in the nature of American political sex scandals tell us about the ways that marriage and gender relations have changed in recent times.
As we entered the 1990s, the scandals tended to revolve around "women as victims" -- such as Clarence Thomas's alleged sexual harassment of Anita Hill, or President Bill Clinton's relations with a much younger, much less powerful intern.
Now, we have tawdry and frequent scandals involving almost always men, and of great variety (gay, straight, involving prostitution, soulmates, or Twitter-facilitated, etc.) -- but the prevailing attitude when the transgression is discovered is much more: "Jeez, these guys are idiots." They get away with it, but they are more likely to look pathetic than to look interestingly naughty.
The newer political sex scandals do not focus on the fortitude of men's sexual desire but on the adolescent weakness and foolishness of otherwise powerful and accomplished men. What has taken the place of the "men will be men" mentality is a sense that the men starring in their sex scandals are profoundly foolish.
It's not even that there's much in these sex scandals to indicate any signs of growing "gender equality" just because men's status in them is changing. A sex scandal is by definition reactionary -- scandals represent violations of a society's norms and traditions, and they are used to stigmatize rule-breakers.
And unfortunately, transforming men from cads into fools doesn't represent any "progress" in the way we understand or accept sexuality, and it still has men and women unhelpfully occupying different planets. Numerous articles in the past few days have speculated about some of the reasons why political women are not nearly so likely to be involved in such scandals: too busy, too romantic, too skillful at discretion. A few claim that "yes, we women can!"
Look around, though, and we see that while men's and women's worlds are becoming more similar, enormous, if subtle, differences remain -- such as women's still doing more housework even when they earn more than their male partners, or women getting less sleep even when both parents are doing shift work.
Is there anything else to be drawn from this sordid crop? Perhaps the excessive sexual detail reflects a liberating of our sexuality? No. People sometimes confuse the willingness to explore the details of sex scandals with growing open-mindedness, but it's really not about that. Our "liberated" talk about the sex lives of others does little more than allow us to obsess and judge and work towards pushing men, women, gay and straight, into boxes of conformity -- and discretion!
The public conversations about these scandals appear to require a common understanding of what is "normal" (monogamy and heterosexuality are rewarded as more "desirable" ideals).
Yet all the details do offer hints that, when it comes to sexuality, there's no such thing as "normal." Instead, we have a wide, wide range of what works or feels right to different people.
Mind you, in the end our sex scandal stars are not path-breaking libertines whose sexual desires are just misunderstood. They aren't poster boys for living freely. They want forgiveness and to fit in.
But as observers, we can notice that the construction of men as foolish, like the 1990s construction of women as victims, doesn't push us toward much progress in understanding sexuality or creating more gender equality. All this open discussion and TMI may give the impression that it's about understanding more about sexuality -- but to me it looks a lot like understanding sex less.
The opinions expressed in this commentary are solely those of Virginia Rutter.
FOLLOW THIS TOPIC