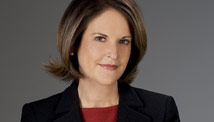 STORY HIGHLIGHTS
GOP sounding different note on U.S. military actions abroad, says Gloria Borger
At this year's CNN debate in New Hampshire, candidates talked of ending Afghan war
Borger says the cost of wars is prompting GOP deficit cutters to change their views
She says hawks such as Lindsey Graham, John McCain aren't happy
Editor's note: Gloria Borger is chief political analyst for CNN, appearing regularly on CNN's "The Situation Room," "AC360°," "John King, USA" and "State of the Union."
Washington (CNN) -- It was hard to miss, even if you weren't looking for it. The Republican Party -- once identified and driven by its hawks -- was morphing into a party driven by its bean counters.
The party that had accused Democrats of being soft on national security for decades was suddenly the party that wants out of Afghanistan yesterday -- and isn't so sure we ought to have gone into Libya in the first place.
Four years ago, Ron Paul was the odd man out when he said, at CNN's GOP debate in New Hampshire, that "the sooner we come home (from Iraq), the better. ... It was a mistake to go, so it's a mistake to stay." Three days ago, at this year's version of the same CNN event, Paul was no longer an outlier -- and even told us, after the debate, that he felt more in touch with his own party this time around.
And he is. None other than Mitt Romney suggested that it's time for us to bring our troops home "as soon as we possibly can" from Afghanistan. Sure, he gave a nod to the importance of getting advice from the commanders in the field, but he hastened to also say, "we've learned that our troops shouldn't go off and fight a war of independence for another nation."
House members to sue Obama over Libya action
So what has happened here?

Bachmann's breakout performance

Dial-testing the GOP debate
The party that had accused Democrats of being soft on national security for decades was suddenly the party that wants out of Afghanistan yesterday...
--Gloria Borger
Sure, the wars are increasingly unpopular, and politicians reflect that. But there's something else: a strain of isolationism that stems from the numbers. And not the casualties, but the other costs. Of course, the newly war-weary Republicans protest this isn't about money, but of course it is. When you won't consider increasing anything on the tax side to help curb the deficit, the money has to come from somewhere. And wars are expensive.
There's a contradiction here for the GOP, too: At the same time that some Republicans complain that Barack Obama does not believe in -- or care about -- American exceptionalism, they ding the president when he speaks of America's moral responsibilities in the world. And, as a result, some more hawkish Republicans worry, the party looks inconsistent -- and, even worse, weak. "From the party's point of view, the biggest disaster would be to let Barack Obama become Ronald Reagan and our people become Jimmy Carter," Sen. Lindsey Graham told The Hill newspaper.
While Graham was criticizing Romney, he might have the same critique for Michele Bachmann, who seems genuinely confused by her own world view.
At the CNN debate, she called the Libya policy "substantially flawed" because "we were not attacked," adding that "there was no vital interest." But she also criticized the president for "defer(ing) leadership in Libya to France." As she told us, "We are the head. We are not the tail."
So, at the same time that she criticizes the president for intervening in Libya, she also criticized the president for allowing France to lead in Libya. Huh?
Talk about having it both ways.
It's clear this movement from a party generally united in the use of aggressive American force around the world isn't easy, or even comfy, for Republicans. Newt Gingrich was even less clear than Bachmann. In March, he first suggested the U.S. should immediately, and unilaterally, establish a no-fly zone in Libya, saying, "The United States doesn't need anybody's permission." Then, later that month (after the U.S. did get involved), a change of heart: "I would not have intervened," he told us. "I think there were a lot of other ways to affect Gadhafi."
Then he said it all was Obama's fault for saying Gadhafi had to go in the first place.
And what about this: If you are part of the party that has been steadfastly against any definite timetables for withdrawal from Afghanistan, aren't you trying to have it both ways? No timetable, but we can't get out of there fast enough. How exactly does that work?
I ran into John McCain in the Senate hallway today, and it's clear he's not happy. "What would Ronald Reagan do?" he asked. His answer, while unspoken, was still evident: Not this.
The opinions expressed in this commentary are solely those of Gloria Borger.
Watch The Situation Room with Wolf Blitzer weekdays at 4pm to 6pm ET and Saturdays at 6pm ET. For the latest from The Situation Room click here.
FOLLOW THIS TOPIC