Debate ignored young people's concerns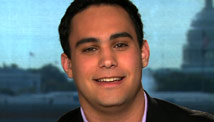 STORY HIGHLIGHTS
Noah Gray: GOP candidates said nothing about schools, costs of college, future jobs
Young people a large part of the electorate and need to be involved, Gray writes
Gray: In 2008, young people helped elect Barack Obama and can make a difference in 2012
Young people hope next debate won't be such a disappointment, he says
Editor's note: Noah Gray is the founder of the Virgin Voting Project and Next Generation Network News.
Atlanta (CNN) -- Many young Americans are disappointed about what they heard from the candidates at Monday night's GOP candidates' debate. Or didn't hear. Nothing about how to fix our failing public schools, nothing about making a college education affordable, and nothing about giving jobs to the next generation of Americans.
For a debate that took place on a college campus, St. Anselm in New Hampshire, one might have thought the candidates would tackle issues pertinent to young people. But the debate finished, and still -- nothing about us.
"As a college student, I would have liked to hear more about education since I'm part of that scene every day," said Nick Fedyk, a sophomore at Georgetown University.
But it's not just young people who are bewildered. Terry Pickeral of Cascade Educational Consultants said, "The purpose of public education in the U.S. is to create the next generation of active principle citizens; therefore, I find it strange that candidates that want to lead our nation do not address education in their debate."
Young people don't vote in the high numbers that we should, but we make up a large part of the electorate, and as the future of our country, we need to be involved in the discussion.

Highlights of GOP debate

Analysts on debate's winners, losers
In 2008, young people played a crucial role in electing Barack Obama, and in 2012, we have the potential to make a difference as well. According to the Center for Information and Research on Civic Learning and Engagement, 52% of Americans between the ages of 18-29 voted in the 2008 presidential election -- 68% for Obama, and 32% for John McCain. Despite the majority's preference for Obama, only 45% of all young voters identified as Democrats, the center found.
We've already seen contenders in the 2012 election make use of social media, with candidates announcing on YouTube and Twitter and through live Facebook events. Many of us think that young people would be something the candidates would want to talk about during the campaign. But I guess we shouldn't assume.
As Justin Chenette, a junior at Lyndon State College, said, "Hopefully, the next debate will have more issues about us."
The opinions in this commentary are solely those of Noah Gray.
FOLLOW THIS TOPIC


Most popular stories right now

Featured Deal |