Sweden's economy booms with cautious turn to the right
STORY HIGHLIGHTS
David Frum: Sweden has cut taxes significantly since 2006
Swedes say security for citizens more important than business freedom, he says
Frum sees a lot of change, however, since his visit to Sweden 10 years ago
Frum: Sweden's turn started in 1990s, but Prime Minister Reinfeldt solidified policies
Editor's note: David Frum writes a weekly column for CNN.com. A special assistant to President George W. Bush from 2001 to 2002, he is the author of six books, including "Comeback: Conservatism That Can Win Again," and is the editor of FrumForum.
Stockholm, Sweden (CNN) -- Sweden is making a political right turn, in a very Swedish way: cautiously, consensually, unflamboyantly. But decisively even so.
One of contenders for the most highly taxed country in the Western world has cut taxes significantly since 2006. Tight fiscal policy has pushed the public sector's share of GDP back down toward 50%. The economy is growing, the budget is balanced, unemployment is declining.
The governing center-right coalition was re-elected last year; the once dominant Social Democrats suffered their worst defeat since before World War I.
Over dinner in a Stockholm restaurant, an impressively multiethnic and multiracial group of Swedish conservatives (the majority of the group were immigrants themselves or the children of immigrants) argue that less has changed than meets the eye. "Swedish values," they argue, still emphasize economic security over economic liberty.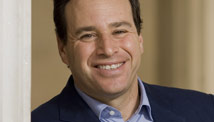 David Frum
They know best. But quite a lot of change meets the eye even since my first visit to Sweden a decade ago, especially here in Stockholm, but even in the old Social Democratic industrial and mining heartland of the country. The shops and restaurants are looking less drab, the cars are bigger and newer as personal disposable after-tax income shoots up.
Between 1980 and 1992, Sweden lost ground relative to other rich countries, according to a McKinsey study. Since 2009, however, Sweden has one of the faster-growing economies in Western Europe. The growth has been led by the private sector, where jobs are multiplying at what Radio Sweden calls "a record pace."
Sweden's right turn started back in the early 1990s, but the turn is being institutionalized under the prime ministership of Fredrik Reinfeldt. Reinfeldt is a cautious conservative in the manner of Britain's David Cameron. His party is formally known as the Moderates, and he goes to great pains to reassure Swedes that the party will live up to its billing.
American conservatives might find Reinfeldt disappointingly unconfrontational. Yet in five years in office, he has repealed Sweden's wealth taxes and inheritance taxes. He has reduced the labor taxes that pushed almost all home repairs into the black market. He has championed a simple powerful idea: Work should pay better than benefits. He is prevailing.
As he prevails, he changes the country's political culture.
Swedish civil servants used to see the Social Democrats as the natural party of government. Over five years of conservative governance -- and with at least three more to come -- the civil servants are adjusting to two-party competition. The people who run the Swedish state day-to-day are learning that promotion goes to those with the best ideas for expanding opportunity and accelerating growth.
They call it moderate. But compared with Sweden in the past -- it's bold.
The opinions in this commentary are solely those of David Frum.
FOLLOW THIS TOPIC