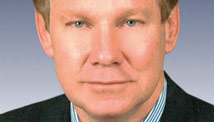 STORY HIGHLIGHTS
Tom Davis, head of centrist GOP group, says Americans chose divided government
Ex-congressman says that means people want the two parties to solve problems
Davis says debt limit should be raised but agreement is needed on cutting spending
U.S. needs to adopt changes to health care, energy, economic policies, he says
Editor's note: Tom Davis, who served seven terms in the House of Representatives as a Republican from Virginia's 11th Congressional District, is CEO of the Republican Main Street Partnership, a nonprofit organization of centrists in the GOP. In the House, Davis was chairman of the House Government Reform and Oversight Committee and headed the National Republican Congressional Committee from 1998 through 2002.
Washington (CNN) -- In the euphoria of the historic Republican wins in the 2010 midterms, much was made, and rightfully so, of the new influence of conservatives on Capitol Hill.
The November midterms gave Republicans control in the House of Representatives and dramatically increased their influence in the Senate. But these elections did not give Republicans control in Washington -- power has been divided between the parties, as has often been the case.
It is time that the hyper-partisans on both sides of the political aisle recognize the realities of the choice the voters have made. Having thrown the Republicans out of office in 2006 and 2008, they did not vote to embrace an agenda they had rejected in 2010. Instead they voted to balance government.
Single-party rule in Washington failed for voters, but divided government doesn't have to meet the same fate. By recognizing the political realities of divided government and by working together we can make Washington work. At the end of the day, a government that works is what Americans expect and deserve.
Perkins: Who social conservatives want for 2012
With the financial markets on shaky ground, with new disappointing jobs numbers, with instability continuing in the housing market and as we stare at an unprecedented debt crisis -- we have no choice but to make Washington work.

GOP to debate in New Hampshire

Fareed's Take: America's jobs crisis
To make Washington work, however, we need to end the partisanship simply for the sake of partisanship. We need leaders who will focus on delivering results, not more election-year rhetoric. We need to recognize that compromise isn't surrender.
Our economy continues to struggle, and far too many Americans are either unemployed or fighting just to make ends meet. Health care costs continue to skyrocket.
We are facing a historic fiscal crisis as mountains of unsustainable debt pose a real and present danger to our country's future. We remain overly reliant on foreign oil as we struggle to find a way to energy independence that protects our environment and creates -- rather than destroys -- American jobs.
These are serious challenges that we face, but they are not insurmountable. The truth is that every time Americans have come together in the face of adversity -- whether in times of war, national tragedy or economic crisis -- we have conquered it. By coming together, and putting politics aside, we can find common-sense solutions to all of these challenges.
Indeed, there is broad bipartisan consensus around many of these critical issues. We need leadership in Washington, however, that has the courage to stand up to the extremists on both ends of the political spectrum. These extremists are far more interested in fighting the "good fight" than they are in winning that fight.
We know that we will be forced to raise the debt ceiling, but we also know that we cannot continue to spend money we simply do not have. The debt ceiling vote should give serious people on both sides of the ideological divide an opportunity to show that they understand the urgency of this problem. We can and should pass a debt ceiling increase that begins to cut spending, rather than simply writing more blank checks for Washington.
Additionally, the Simpson-Bowles commission provides an important bipartisan framework for tacking the growing problem of deficit spending. While not a panacea, the Simpson-Bowles commission does represent an important first step.
Simpson-Bowles calls for discretionary spending cuts, tax reform, as well as important entitlement reforms. The plan is a recognition of the seriousness of the problem and at least the beginning of a comprehensive look at how we will deal with this issue in the short, medium and long term.
Consensus can and should be built around lowering health care costs through common-sense approaches such as medical malpractice reform, increased access to health savings accounts, and by promoting competition to lower health care premiums.
Instead of pushing for a politically divisive cap and trade scheme to deal with energy and the environment, we should instead focus on areas where there is broad agreement -- such as expanding the utilization of domestic resources.
Finally, if last year's election taught us anything, it is that nothing is more important to voters than the economy. We built bipartisan compromise around extending the 2001 and 2003 tax cuts, and we should continue to work together to lower taxes, help struggling small businesses and unleash the power of the American entrepreneurial spirit.
It is a new chapter and one filled with new opportunities. Let's show the American people that this Congress will put them first. Let's prove the cynics wrong and work together to meet the challenges our country faces.
The opinions expressed in this commentary are solely those of Tom Davis.
FOLLOW THIS TOPIC