STORY HIGHLIGHTS
Seven Republican candidates will debate Monday in New Hampshire
Tony Perkins: "Values voters" seeking a truly conservative candidate to back
He says candidate should espouse social, fiscally conservative values
Perkins: They want candidate who supports strong families, small government
Editor's note: Tony Perkins is president of the Washington, D.C.-based Family Research Council.
Washington (CNN) -- Values voters are in the process of looking for Mr. or Mrs. Right in the 2012 race for the White House. On Monday evening, social conservatives will have an opportunity to make an evaluation as seven GOP candidates take the stage for the first presidential debate in New Hampshire Monday.
What are the qualities they are looking for in exchange for their passionate support? First of all the candidate has to have credibility. Are they genuine?
They must also show a devotion to the core principles of conservatism and a commitment to address the underlying social causes of our present economic crisis.
No pseudo-conservatives need apply. Look for values voters to take a cue from their cousins in the Tea Party movement by making sure the election-time rhetoric matches the candidate's past political record. The "sweet nothings" that have often been whispered into the ears of social conservatives when candidates come calling won't be enough this time.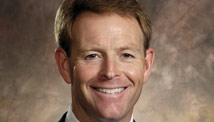 Tony Perkins
For those candidates who have held public office, values voters will be looking to see if they did then what they are saying they will do. Did they advance the conservative ideals or take a stand for the principles that are now central to their stump speeches?
Did they use their influence to advance ideas of limited government, ordered liberty (or freedom limited by the need for order in society), and personal responsibility? If not, why not? Is there a credible explanation for their political change of heart? To borrow a line from Ricky Ricardo, some of these candidates may have some "splainin' to do!"
There is no misconception among conservatives as to what the ultimate objective is -- win elections. But history shows that candidates on the right win when they're actually conservative. Mississippi Gov. Haley Barbour has repeatedly said, "Purity is the enemy of victory." That's a nice sound bite, but it won't win you the Republican nomination or the White House. When it comes to conservative principles, compromise is the companion of losers.

Sen. Ayotte: Romney needs to win N.H.

John King previews NH Debate

GOP candidates to debate in NH

A look inside the CNN debate
Having said that, don't expect values voters to roll out a "purity" pledge. However, you can expect to see a pledge of fidelity to the core principles of American conservatism. The successful candidate will give equal emphasis to the concerns of what has been described as the Reagan coalition of fiscal, social and foreign policy conservatives.
Values voters value the coalition and seek a candidate who will pledge to once again make America militarily strong and secure, economically prosperous and free, and socially healthy and virtuous.
The right candidate will understand the interconnectedness of these three cords of conservatism and will work to unify and strengthen them. It is this recognition that draws presidential candidates to FRC Action's annual Values Voter Summit to address directly the very voters who have brought so many conservatives to victory.
White flags and "round toits" are unacceptable on the fundamental social issues of life -- marriage, family and religious liberty. There is no room in the political parlor for those courting values voters if they are ambivalent about the sanctity of human life, and the bedrock institution of the natural family, an institution that is grounded in marriage between one man and one woman, and their capacity to transmit life to the next generation.
The right candidate will understand that big government doesn't just happen. Big government and budget deficits are in part the natural outcome of government policies that foster a deficit of character.
Big government is what happens when family life fractures, when mothers avoid marriage, and fathers flee responsibility. The right candidate will understand that when the family decreases, government increases. Simply put, this candidate will recognize the fact that when the natural family is looked down upon -- we will be forced to look up to big government.
The compatible candidate will not be distracted from the flirtations of political correctness that threaten to wreck our first freedoms. Anything short of an absolute commitment to defending the freedom of religion and speech will make the political match a non-starter.
Bottom line, values voters are ready to replace President Obama, but they are not going to simply settle for the first candidate who shows up at their door.
They are looking for that credible leader who can cast a coherent and compelling vision -- a vision that unites the three powerful cords of conservatism and draws them snugly together. They want a candidate who realizes our nation and its economy will be no stronger than the core building block called the family. In the meantime, expect the passion of conservatives to grow as they search for a suitor who can rescue a nation that is in distress internationally, economically and morally.
The opinions expressed in this commentary are solely those of Tony Perkins.
Monday's CNN/WMUR-TV/New Hampshire Union Leader Republican debate will air live at 8 p.m. ET on CNN.
FOLLOW THIS TOPIC