STORY HIGHLIGHTS
Suburban voters hold the balance of power in the 2012 election, says Lawrence Levy
He says Republicans can benefit from criticism of economy under Obama
Levy: Democrats gaining from a demographic advantage and from Medicare anxiety
Suburban voters want help solving problems in their communities, he says
Editor's note: Lawrence C. Levy is executive dean of the National Center for Suburban Studies at Hofstra University and a former columnist and editorial writer who focused on state and local governments for Newsday.
(CNN) -- Already the nation's most politically powerful places, the suburbs are growing more so -- and more complicated for both major parties as they prepare for next year's pivotal elections.
Analyses of new U.S. Census data show increasing numbers of Democratic-leaning voters, especially blacks and Latinos, surging into the "Crabgrass Frontier." But it would be simplistic to assert that Democrats are a sure thing in suburbia, which now accounts for more than half of the population.
Other studies and polls, including Hofstra's National Suburban Survey, reflect a high level of economic pain and insecurity. And that gives Republicans a fair chance to hold their House majority and challenge for the presidency in 2012.
Frum: Don't doom GOP's chances in 2012
Since at least 1984, including the last six presidential elections, swing suburban voters have determined which party controls the White House and Congress. And the suburbs should remain politically fickle through next year.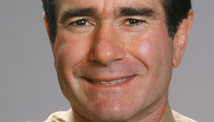 Lawrence C. Levy
Take a recent special election in a congressional district between Buffalo and Rochester, New York, dominated by two large suburban towns.
"Independents and soft Republicans in the suburbs tilted this election," said Thomas Reynolds, who once ran the Republican House election operations when he occupied the seat. "You can't take these voters for granted here or anywhere. If they don't like what they see or hear, they will leave you in a heartbeat."
Reynolds would get no argument from the congressman who currently oversees the Democrats' effort to reverse last year's historic losses, when the GOP picked up 63 seats in a rebuke of the Obama's management of the economy.

Gov. Mitch Daniels talks GOP budget
"Consistently, the path to regain the Democratic majority cuts through the 36 suburban areas where 9 million moderate, independent voters live," said Rep. Steve Israel (D-New York), who chairs the Democratic Congressional Campaign Committee. "We lost the majority in 2010 because we lost the independent voters in the suburbs who supported us in 2006 and 2008. And they are coming back to us steadily due to Republican extremism."
Reynolds disputes the extremism stamp but does concede the obvious: Democrats scored points in the special election by pounding away at a Republican proposal that would fundamentally restructure the federal health care program for the elderly. But what mattered in the district -- and will matter next year in dozens of districts -- is how its suburban voters viewed the Republican Medicare plan. And according to polls, and politicians and voters interviewed in the local press, the district's big suburban towns saw the position as unacceptably out of the mainstream.
The great equalizer in the suburbs, however, is the economy. That's the issue that won for Republicans last year and remains their ace for next year. For two years, according to the Hofstra National Suburban Survey, about 40% of suburbanites reported "living paycheck to paycheck." Suburban areas have seen the greatest number of foreclosures. Areas not accustomed to economic pain are experiencing it palpably.
Zelizer: What Obama needs to do to make his case
Moving forward, suburbia may be tougher for Republicans than Democrats -- including many in swing states, such as Pennsylvania, Florida, Ohio, Arizona, Nevada and in some congressional districts in California, New York and Illinois. The biggest reason is demographic. The growth of Latinos and blacks in suburbs throughout the country outpaced most predictions. (Fully a third of suburbanites are minorities, with several major suburbs majority minority.) Latinos are especially unhappy with what they see as GOP antipathy toward immigrants and government programs to help the poor.
Blacks, the Democrats' most reliable voting base, also have been moving from cities to suburbs, especially southern ones, such as those outside Atlanta and North Carolina cities, that have been exclusive provinces of white Republicans. And turnout of black voters should be high with Obama at the top of the ticket. Even south and east Asians, whose higher incomes and rate of business ownership should make them more sympathetic to Republicans, have not been supporting the party's candidates. Immigration policy is the likely turnoff.
But the reasons for the Republicans' suburban worries also are ideological. The suburbs are experiencing many of the same problems of cities, problems that require expensive solutions beyond the ability of relatively small suburban villages and towns to deal with on their own.
Republican railing against big government and its programs isn't especially appealing to voters who want help with the cost of mass transit and sewers to support "smart growth" revitalizations. And with the increasing number of elderly or their baby boom children who must provide for them and soon enough for themselves, proposals to change Medicare are especially scary -- even without the slew of Democratic ads.
Will suburbanites look to Obama and congressional Democrats for social balm or will they stay with Republicans for fiscal tough love? These are among the key questions for election 2012. The only thing certain is that the suburbs will provide the answers and decide which party rules the nation.
The opinions expressed in this commentary are solely those of Lawrence C. Levy.
FOLLOW THIS TOPIC