Dr. Drew: If you wonder whether you're cheating, you probably are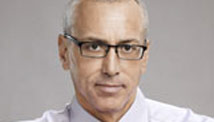 STORY HIGHLIGHTS
Drew Pinsky says people have repeatedly asked him if Internet flirting is cheating
He says, ask yourself: Would your partner be OK with what you're writing and sending?
If you're asking yourself this, that's a clue, he says
Pinsky: Men think pictures, contact are cheating; women think it's intimate conversation
Editor's note: Drew Pinsky is the host of "Dr. Drew" on HLN, shown weeknights at 9 ET and PT. A practicing physician, he is on the staff at Huntington Memorial Hospital in Pasadena, California. Pinsky is also assistant clinical professor of psychiatry at the Keck USC School of Medicine.
(CNN) -- It's the question I'm being asked over and over again since the scandal over Rep. Anthony Weiner's illicit tweeting came to light: Is flirting via the Internet cheating?
The simple answer is: Maybe.
The more specific response? The Internet is a seemingly unreal environment where we think we are anonymous. It's a potentially provocative place. As a result, we may not behave the way we would in the real world. Some of us are drawn into what could become a dangerous situation.
Here's the acid test for appropriateness: Pretend that someone near and dear to you is witnessing what you are writing or sending, or knows what you are thinking about sending. If, say, your partner saw this behavior, how would he or she feel?
That you are asking yourself this question could mean that you shouldn't be doing it! Be honest. Don't derail an important relationship by denying what's really going on.
Dr. Drew: Allow Weiner to save his marriage
An Internet "relationship" doesn't have to be catastrophically harmful to be inappropriate. Hurtful is bad enough. That's the standard. It doesn't matter that what you're doing might -- or might not -- lead to anything else.

Weiner-mania in full swing

Weiner unlikely to face criminal charges
I have a decade in dealing with this. My experience tells me that men and women perceive these interactions differently. Women are upset if their partner has an intimate conversation of any kind with someone who isn't them. They consider it a violation, a betrayal. Men should think this way, but they don't. They are less concerned with words and dialogue. They think that sexy pictures or physical contact is what it takes to be a cheater.
I am generalizing about the ways most men and most women behave. As with anything there are exceptions to what I've spelled out here.
But if you're like many, you now know what the answer is when someone asks, "Is it cheating?"
The opinions expressed in this commentary are solely those of Drew Pinsky.
FOLLOW THIS TOPIC


Most popular stories right now

Featured Deal |