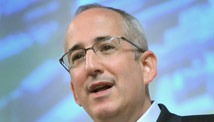 STORY HIGHLIGHTS
Saudi prince urges lower oil prices so West won't develop alternatives to oil
America still imports half of the oil it uses, mostly for transportation
Eric Isaacs: U.S. is making progress on batteries, other technology, to cut oil use
He says research will go on whatever happens to the price of oil
Editor's note: Eric Isaacs, a physicist, is director of the U.S. Energy Department's Argonne National Laboratory and a professor of physics at the University of Chicago.
Argonne, Illinois (CNN) -- Nobody likes soaring gas prices -- not motorists, not consumers, not business owners, not elected officials. Now, even a Saudi prince, whose family's massive wealth is built on oil, is complaining about the high price of gasoline.
Recently, Saudi Prince Al-Waleed bin Talal told CNN's Fareed Zakaria that oil prices are now so high that they are creating powerful incentives for Americans to find new, green sources of homegrown energy. "We don't want the West to go and find alternatives, because, clearly, the higher the price of oil goes, the more they have incentives to go and find alternatives," he said. In response, he called on the petroleum-producing countries of the Middle East to cut the price of crude oil.
But oil producers should not assume that Americans will lose interest in alternative energy sources if gas prices come down. Even if oil prices tumble, American scientists and engineers will keep on seeking better, greener, cheaper ways to generate and store energy, working toward our goal of American energy independence.
Admittedly, we have a long way to go. Oil consumption in the United States continues to outpace domestic production. U.S. oil production peaked in 1970, and today 51% of our oil is imported. More than 70 percent of that oil is used for transportation.

GPS: DARPA technical innovations

Nathan Myhrvold on American innovation
Looking to the future, we expect American energy demand to continue rising, and petroleum prices are likely to keep on going up as demand for oil increases in China, India and other developing economies around the world.
That's bad news for the American economy, and it's bad news for American security. We cannot expect to remain a strong, vibrant and globally competitive nation if we do not end our dependence on foreign oil.
I admit, I'm strongly biased on this topic. I am the director of Argonne National Laboratory, known for our research on new ways to improve the fuel economy of our cars and trucks and to produce affordable, plentiful, clean energy from plants, water and sunlight. Just this year, that research demonstrated some of its real-world value when our safe, long-lasting lithium-ion battery materials were put to use inside the Chevy Volt.
Building on fundamental scientific discoveries, we are working to develop innovative technologies that will power our vehicles and reduce our reliance on petroleum while creating new industries and new jobs.
Today, the United States is at the forefront of international lithium-ion battery research, and new battery manufacturing plants are opening across the country.
The National Venture Capital Association reports that in 2005, battery-related startups drew about $51 million in venture investment; last year, that investment jumped to $205 million. Anthony Earley, chairman and CEO of DTE Energy and a Ford board member, has predicted that electric cars and related battery development will create 40,000 new jobs in Michigan alone by 2020.
America's energy technology innovations are not limited to advanced batteries. Researchers in the Department of Energy's national laboratory system are joining forces with colleagues in academia and private industry to make great strides in solar energy and in biofuels. Those innovations are helping to generate new, clean energy across the nation. In just one example, GM recently announced plans to install six acres of solar panels to help power its Detroit-Hamtramck plant, the home of the Volt -- producing enough electricity to charge 150 electric vehicles every day for a year.
It's true that the recent spike in gasoline prices has increased media attention on alternative, homegrown energy sources. But the national laboratory's energy research programs were created long before gasoline prices brushed $4 a gallon, and our scientists are going to keep on working toward our goal of American energy independence and security -- whether the price of gas rises or plummets.
In 2008, America imported 11 million barrels of oil a day. President Obama has set a goal for 2020 of cutting those imports by one-third. I believe we can reach that goal, but only if we stay on the right path and succeed in creating new, affordable energy technologies that can persuade millions of American consumers to trade in their gas guzzlers for clean, efficient, reliable electric cars.
Right now, we have real gaps in our energy research portfolio. We cannot fill those gaps without large-scale, long-term, well-funded and well-coordinated research programs that bring together the best and most innovative scientists and engineers in academia, industry and the national laboratories.
It won't be easy. But I am optimistic that American researchers, backed by the American people, can find innovative, cost-effective ways to end our dependence on imported oil and keep our cars and trucks running on energy generated right here at home.
The opinions expressed in this commentary are solely those of Eric Isaacs.
FOLLOW THIS TOPIC