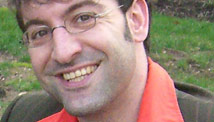 STORY HIGHLIGHTS
Michael Wolraich: Confusion remains as Rep. Weiner dodges questions about Twitter photo
He says despite controversy, Weiner has been pretty entertaining on Twitter
He has some competition, though, as others in Congress tweet, with varying success
Editor's note: Michael Wolraich is a founder of the political blog dagblog.com and the author of "Blowing Smoke: Why the Right Keeps Serving Up Whack-Job Fantasies about the Plot to Euthanize Grandma, Outlaw Christmas, and Turn Junior into a Raging Homosexual."
(CNN) -- This much we know. Over Memorial Day weekend, someone used U.S. Rep. Anthony Weiner's Twitter account to publish a photo of an underwear-clad male crotch apparently in a sexually excited state.
The New York Democrat denies posting the photo, claiming that his Twitter account was hacked, but he has deflected persistent inquiries into whether he is the owner of the offending (apparent) genitalia.
"But Congressman, you would remember if you were to take a photograph of yourself like that," insisted MSNBC's Luke Russert in one interview. In another, CNN's Wolf Blitzer pressed, "You would know if this is your underpants."
As journalists clamor for Weiner to come clean about his underpants, I was struck by an intriguing, if less titillating, question: What does Weiner usually tweet?
Weiner, who claims to do all his own tweeting, turns out to be a witty and passionate tweeter. He got off to a slow start, however, composing his first exploratory tweet on October 25, 2009, which momentously announced, "i have a follower!" It was succeeded by almost a year of radio silence. Then suddenly, on August 5, 2010, Weiner exploded into the Twittersphere like a teenager raiding the liquor cabinet. "Going rouge over here," he crowed. "Starting to twitter w/o telling my minders."
Weiner's fifth tweet ever was oddly prescient: "im just learning all this. how do i verify i'm me? (like how twisted does someone need to be to pretend to be me?!)"

Press lured in by Twitter tale

Rep. Anthony Weiner tries new strategy

Sen. David Vitter apologizes for affair

1998: Clinton's denial, then admission
Within nine months, Weiner had produced over 400 tweets and attracted 45,000 followers. His tweets range from political advocacy and announcements of upcoming interviews to self-deprecating banter. His profile picture is an old high-school photo featuring a halo of black curls; a number of his tweets mockingly refer to his "jewfro."
Weiner's Twitter history got me wondering -- who else tweets from Capitol Hill?
House Democratic leadership privately push Weiner
According to TweetCongress.com, at least 387 of our senators and representatives tweet, with Republicans outnumbering Democrats 229 to 156, and two independents adding their tweets to the chorus.
The most popular tweeter was a big surprise. Sen. John McCain, R-Arizona -- the man who told reporters in 2008 that he "never felt the particular need to e-mail" -- has over 1.7 million Twitter followers. You might think that he racked up the numbers during his campaign, but McCain's first tweet was on January 23, 2009. "I am working in my office on Capitol Hill today," he helpfully informed his fans in his debut tweet.
McCain attracted most his followers after famously promising reality television star Snooki of "Jersey Shore," "I would never tax your tanning bed!" In addition to status updates ("It's snowing in DC") and sports cheers ("Go #Coyotes!"), McCain likes to tweet wisecracks about earmarks: "$1,000,000 for improvements to a pond in Maplewood, MN - those are some lucky frogs..."
After McCain, House Speaker John Boehner, R-Ohio, runs a distant second, with about 130,000 followers. His first tweet dates way back to April 21, 2007, when he announced, "Have an op-ed on TownHall.com." That's about as exciting as it gets in the Boehnersphere.
At the other end of the spectrum, the least followed legislator is Rep. Mike Simpson, R-Idaho, with a meager 19 followers. His Twitter circle is an elite club; only approved followers have the privilege of reading his 51 tweets. My request for approval is still pending, so the content of his tweets remains a mystery.
The most prolific tweeter on Capitol Hill is Rep. Darrell Issa, R-California, with over 5,200 tweets. In his Twitter profile, Issa calls himself "the House GOP's chief watchdog." His profile picture is a stick figure drawing of an angry police officer standing in front of the Capitol with his arms crossed. To be honest, it looks more like an anorexic bouncer than a watchdog.
Finally, here are a few honorable mentions:
• Most efficient: Sen. Maria Cantwell, D-Washington, has managed to collect 611 followers without ever having tweeted.
• Most concise: Sen. Chuck Grassley, R-Iowa, once indignantly snapped, "Quit complaining abt my Twitter shorthand I know how to spell But Twitter limit is 120 characters"
• TMI (too much information) prize: Sen. Claire McCaskill, D-Missouri, who, according to Time.com, once tweeted, "I'm tired of looking and feeling fat. Maybe talking about it publicly will keep me on track as I try to be more disciplined. Off to the gym."
• Unclear on concept prize: After someone hacked the Twitter account of William G. Batchelder, speaker of the Ohio House, he told reporters that he was not aware that he had a Twitter account, saying, "Why do I have a device like that? I can't play it."
And last but not least...
• Most artistic: Rep. Anthony Weiner
For the record, it seems highly unlikely that an accomplished tweeter like Weiner would broadcast a photo of his junk for the entire Twittersphere to ogle. As to whether the junk belongs to him, I leave that question to the eminent journalists whose job it is to get to the bottom of such matters.
(An earlier version of this commentary said that Rep. Alan Nunnelee had produced only one tweet; on another account, however, he has tweeted frequently.)
The opinions expressed in this commentary are solely those of Michael Wolraich.
FOLLOW THIS TOPIC