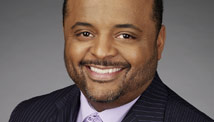 STORY HIGHLIGHTS
Roland Martin says Bishop Eddie Long can't stay silent after settling lawsuit
Long was accused of coercing young, male followers into sex
Martin says Long needs to reveal the truth of the situation before he can seek forgiveness
Editor's note: Roland Martin is a syndicated columnist and author of "The First: President Barack Obama's Road to the White House." He is a commentator for TV One Cable network and host/managing editor of its Sunday morning news show, "Washington Watch with Roland Martin."
(CNN) -- When Bishop Eddie Long stood before his congregation in Lithonia, Georgia, on Sunday to declare he would not be focused on the past and would look forward, his supporters said that was the right thing to do after he settled a civil suit alleging he coerced young, male followers into sex.
Sorry Bishop, as a man of God who is the shepherd of an international ministry, you cannot be let off that easily.
From the moment Long was accused eight months ago, he had the benefit of the doubt. He was innocent until proven guilty, and I wrote in a column that if he was innocent, he should defend his name and character with every fiber in his body.
He said as much before his congregation.
Yet now he settles a lawsuit, keeps the details private, refuses to speak publicly about the accusations and expects some form of forgiveness? It's just not that simple.
I get the whole issue of settling a lawsuit to risk further damage and put the issue behind you. But when you are a pastor who has preached against gay marriage and homosexuality, who has openly talked about the covenant between a husband and wife, who has talked about the importance of men leading their families as strong men of faith, there is an expectation on you that is greater than the average man.
Some have suggested I and others who aren't members of Long's church should shut up, and that it's up to them to accept him at his word. Again, I disagree.
I remember vividly hearing Long for the first time in June 1999 and loving the sermon, "A Fresh Anointing for Change." I quoted it on many occasions. When I worked on a television project in 2000, I attended Long's New Birth Missionary Baptist Church for three months, regularly attending services and tithing to his ministry.
When I served as news editor at Savoy Magazine, a national lifestyles monthly publication, we did a photo spread of pastors and fashion and recommended Long be a part of it.
Last year, my wife and I spoke at a National Black Marriage Summit at Hampton University in Hampton, Virginia. We were the luncheon speakers, and Long was the evening speaker.
I've often watched his worship services on the Trinity Broadcasting Network, bought and read several of his books and purchased numerous videotapes and audiotapes of his sermons. Lastly, I've discussed his efforts to reach out specifically to black men to get them involved in the church, even writing about it in an essay in my book, "Listening to the Spirit Within: 50 Perspectives on Faith."
So count me as one of the committed Christians who poured a seed into his ministry and who has a reasonable expectation for the pastor to be a stand-up man and speak truthfully and honestly about what has happened.
He is someone who thousands follow, and they should hear the truth, and nothing but the truth, from Long. Not his lawyer, not his spokesman, not his wife -- him! He should have never decided on a private mediation; Long should have demanded that everything be discussed in public.
If you are truly innocent of such heinous allegations, you don't go behind closed doors. You defend yourself publicly and shame those who try to muddy your name and derail your ministry.
Long has utterly failed even his own preaching. He has stood in the pulpit and demanded accountability of others, but clearly believes a different set of rules applies to him.
After his refusal to address the issue publicly, openly and truthfully, I don't see how any pastor could participate in a conference with Long on the rostrum. I don't see how any gospel musician could go to his church and stand in the pulpit with him to sell their CDs. As a churchgoing man, there is no way I could sit under the spiritual leadership of any pastor who was unwilling to stand before his congregation and address the issue head on.
I know all about forgiveness. It is one of the tenets of being a Christian. But I am not to forgive foolishly. If Long wants forgiveness, he needs to be open in discussing what really happened -- or didn't happen -- with those young men and allow all of us to decide for ourselves whether we are willing to grant it.
If his followers are mad at me for writing this, then so be it. But there is no way I can sit here and talk about the righteousness of ministers of the gospel (my wife is an ordained minister) and make excuses for Long or any other pastor in a similar situation.
As Christians we are supposed to expose darkness with light. In this case, Long chose to keep the truth behind closed doors and say, "Trust me. It's all good. Everything is fine."
John 8:32 records in the Bible that Jesus told his disciples, "If you hold to my teaching, you are really my disciples. 32 Then you will know the truth, and the truth will set you free."
Bishop Long, I'm not saying you are Jesus, but to your followers, it's time for YOU to reveal the truth, so YOU can be set free.
The opinions expressed in this commentary are solely those of Roland Martin.