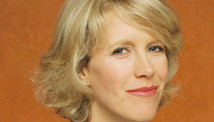 STORY HIGHLIGHTS
Leslie Morgan Steiner says she's shocked at reaction over Rihanna rape, revenge video
She says Rihanna should be thanked for lifting veil on abuse and its complex emotional fallout
She says like Rihanna, she was violently abused; the video shows normal revenge fantasy
Steiner: Abuse thrives in silence; only way to stem it is to encourage women to speak out
Editor's note: Leslie Morgan Steiner is the author of the memoir "Crazy Love" and a frequent speaker on the subject of violence against women.
(CNN) -- Like most people reacting to the controversy involving 23-year-old Grammy-winning superstar Rihanna and her new music video, "Man Down," I'm shocked.
Not by the video but by the knee-jerk reaction of supposed experts on violence against women, such as the Parents Television Council, which has denounced it for its portrayal of rape and street murder.
"Man Down" shows a young woman in broad daylight near a crowded train station shooting a man who, we later learn, had raped her the night before. There are several shots of her holding a small black pistol. That's it for the grisly violence.
Frankly, reruns of Law & Order contain more disturbing crimes. Men's rap songs glamorizing sexual subjugation of women strike me as far more destructive, yet I hear their lyrics on my kids' favorite radio station every day.
Instead of criticizing the pop singer, I'd like to say thank you, Rihanna. She's done it again. In 2010, she and rapper Eminem painted a searingly accurate picture of how it feels to be trapped in a physically violent romantic relationship in "Love the Way You Lie." This time, she's lifted the curtain on another subject no one wants to hear about: the rage and vengeance fantasies that often constitute a normal, healthy reaction to rape and domestic violence.
Like Rihanna -- who was attacked in 2009 by her then-boyfriend --and the fictional victim she portrays in "Man Down," I too was a victim of sexual and physical abuse: once as a young girl and later at the hands of a physically violent husband. Our experience is all too common.
According to the National Organization for Women, nationally, three women are killed by an intimate partner every day. More than 600 are raped or sexually assaulted; according to the Rape Abuse and Incest National Network, girls ages 16 to 19 are four times more likely than the general population to be victims of rape, attempted rape or sexual assault. Factoring in projections of unreported rapes, there is only a 6% chance that a man who raped today would be caught, prosecuted and spend even one day in jail .
In only five minutes, Rihanna captures the complexity of being a victim. Beautiful Jamaican beach and street scenes from the day before the rape fill the video, signifying the longing a victim feels for a life that has been destroyed by the attack. Her reggae refrain chants: "I didn't mean to hurt him/I didn't mean to end his life/I know it wasn't right."
We victims don't usually want to hurt or kill our attackers. We want the violence to stop. We want to feel safe again in a shattered world. And yes, some of us are consumed by rage and retribution fantasies, a classic psychological reaction to violation and humiliation. In this light, "Man Down" seems more like a rallying cry to all people committed to ending violence against women. Ban these lyrics and the video? No way. I say, make watching "Man Down" mandatory.
The video ends with a lingering beauty shot of Rihanna holding a small black gun. Eight weeks after being attacked by boyfriend Chris Brown on the eve of the 2009 Grammys, Rihanna inked a tattoo of a gun on her body. Some people accused her of glamorizing violence. Maybe instead she was signaling to herself, to Brown and to the world that she would no longer endure violence at the hands of men she loved, that she would defend herself in the future.
Maybe what we find so offensive about "Man Down" is not the murdered rapist but the sight of a victim with a gun in her hand, taking a stand and fighting back.
Maybe what's odious to some is that Rihanna fills in the blanks about what a victim of rape and violence feels. The majority of cinematic and novelistic rapes show the attacker's point of view. The victim's skin-crawling perspective of a gang-rape is what made Jodie Foster's 1988 movie "The Accused" so chilling. Viewers saw -- and some of us felt or refelt -- what it was like to be a helpless victim of sexual attack.
Maybe the real controversy is that Rihanna is daring to shine a spotlight on the raw and gritty ways that victims of rape and domestic violence try to reclaim their balance and absorb the trauma after the physical scars have healed.
Rihanna herself claims she is trying to tell the truth for the public good.
"I'm a 23 year old rockstar with NO KIDS! What's up with everybody wantin' me to be a parent? I'm just a girl, I can only be your/our voice!" Rihanna responded on Twitter as the controversy unfolded.
"Cuz we all know how difficult/embarrassing it is to communicate touchy subject matters to anyone especially our parents! ... And this is why! Cuz we turn the other cheek! U can't hide your kids from society,or they'll never learn how to adapt! This is the REAL WORLD! ... We always think it could NEVER be us, but in reality it can happen to ANY of us!"
I'm with Rihanna here. She, and all victims of violence, have the right to tell their stories -- that is, if we truly want to understand and stop violence against women. Abuse thrives in silence. The only way to eradicate rape and violence against women is to respect victims who speak out, even when their stories are filled with rage and revenge fantasies that are, indeed, excruciating to listen to, because they ring true.
The opinions expressed in this commentary are solely those of Leslie Morgan Steiner.
FOLLOW THIS TOPIC