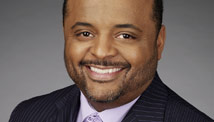 STORY HIGHLIGHTS
Roland Martin is following the daily ups and downs of the GOP presidential contenders
But, he says, there's no need to pay too much attention until after the summer
By then he thinks the field will be weeded out to the real candidates
Editor's note: Roland Martin is a syndicated columnist and author of "The First: President Barack Obama's Road to the White House." He is a commentator for TV One Cable network and host/managing editor of its Sunday morning news show, "Washington Watch with Roland Martin."
(CNN) -- As a political analyst, I'm supposed to be one of these folks who are so into politics that every time a new poll comes out, I should be dissecting the margin of error, the number of respondents and whether it was conducted by a land line or cellphone.
Sorry, folks, when it comes to the drama each day about who will run on the Republican side, I feel like an actor in the movie, "He's Just Not That Into You."
Don't get me wrong. I am following the daily spectacle of who is up and who is down in the GOP presidential sweepstakes. But really, I care more about if the Dallas Mavericks and Miami Heat will go seven games in the NBA finals, or what spaceship captured Scottie Pippen and brainwashed him into actually saying that LeBron James may be a better player than Michael Jordan.
Let's just shoot straight with all of you: The average voter really isn't thinking right now about the leader on the Republican side of the ticket. Seriously, they don't. The field is in constant motion and not all the candidates have gotten serious about this race. The one thing we have is a lot of time before any candidate has to hunker down and get involved.
What has been most interesting thus far is who has opted not to run: Mississippi Gov. Haley Barbour, South Dakota U.S. Sen. John Thune, Indiana Gov. Mitch Daniels, former Florida Gov. Jeb Bush, Texas Gov. Rick Perry, New Jersey Gov. Chris Christie and that television clown Donald Trump.

Some in GOP weary of 2012 field

2012: Is Bachmann in?

Sarah Palin's next move

February: Chris Christie for president?
We all know that former Massachusetts Gov. Mitt Romney is in. He is joined by former U.S. Sen. Rick Santorum, former Speaker of the House Newt Gingrich, former Minnesota Gov. Tim Pawlenty and former radio talk show host and Godfather's Pizza CEO Herman Cain.
Now we're left to wonder if former Alaska Gov. Sarah Palin, Minnesota Rep. Michele Bachmann, former Utah Gov. and Obama Ambassador to China John Huntsman and Texas Rep. Ron Paul will all make it official and join the field.
Traditionally, presidential campaigns didn't jump start until after Labor Day. But in 2007, we saw then Sens. Hillary Clinton and Barack Obama, along with other challengers, announce their presidential ambitions early in the year, thus treating us to one of the longest campaigns in history. Everyone assumed we would see the GOP candidates announcing the day after President Barack Obama was sworn into office, but a lot changes in politics, and this is no different.
The Iowa caucus isn't until February 6, which means if all the candidates are in by Labor Day, they have five months to make their case to the voters there. Plus, the old model of announcing early is over. With social media and the ability to raise funds online, it's not that critical to announce early. In fact, the earlier you announce, the more time the media and your opponents have to define and/or attack you.
So, any poll right now really is meaningless and is just a snapshot of what someone feels today. A recent CNN poll shows that former New York Mayor Rudy Giuliani is the preferred candidate of Republicans and independents. He's a guy who has said he would have to be talked into the race!
Giuliani ran one of the worst campaigns in history in 2008, and were it not for former Tennessee Sen. Fred Thompson's comatose campaign, Giuliani would have been the worst. But Giuliani is at the top of the heap with 16% and Cain, who has no political experience whatsoever, has 10%, ahead of a congresswoman, two former governors, and a former U.S. senator?
This all chalks up to the shakeout and weed-out process. Republican voters are not ready to pay attention to any candidate until they stop with the exploratory committee announcements and make it clear if they are in or out. Sarah Palin can go on a big bus tour and tout her new movie, but until she steps to the microphone and says, "I'm a candidate for president of the United States," it really doesn't matter.
So, kick back, fight the springtime allergies and enjoy the latest big budget movie to hit the big screen this summer; I'll be figuring out how to lower my golf handicap below 8.0. Then after the summer hiatus, we can all get serious about who will end up opposing President Obama in the race to become the 45th president of the United States.
The opinions expressed in this commentary are solely those of Roland Martin.