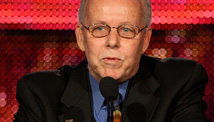 STORY HIGHLIGHTS
Oprah signs off Wednesday with last original hour of "The Oprah Winfrey Show."
The influential show empowered women, spawned phrases, launched careers, Ed Bark says
Oprah was not the first (there was Phil Donahue), but she took the talk genre to another plane
Bark: There won't be another Oprah; when she leaves the stage, she takes it with her
Editor's note: Ed Bark, former longtime TV critic of The Dallas Morning News, launched the TV website unclebarky.com in September 2006.
(CNN) -- Most of America, and for that matter much of the globe, knows all about her show's many-splendored giveaways. But what are the takeaways as Oprah Winfrey grandly winds down her 25-year run on daytime television?
Having basked in the two-part, star-studded "Oprah's Farewell Surprise Spectacular," the 57-year-old self-made mega-celebrity signs off on Wednesday with the last original hour of "The Oprah Winfrey Show."
Her staying power -- and the power base she built -- have been extraordinary accomplishments. And she'd no doubt prefer to be remembered as a person of color from humble origins who empowered women of all ages and races, who enticed millions of viewers to read the books she chose for them and who took her show to a higher aspirational plane, while competitors such as Geraldo Rivera, Sally Jessy Raphael and Jerry Springer (who's still going) went the carnival midway route.
Winfrey also coined the "Aha Moment," used her show as a launch pad for the "Dr. Phil" and "Dr. Oz" shows, and in 2008 threw her considerable influence behind the presidential candidacy of Barack Obama. Whether she, in effect, got him elected is a serious enough question to be tossed around in classroom history books of the future.
She has both a magazine, O, and a fledgling cable network, OWN, both of which would have been impossible dreams without all that fame and fortune from her day job. Her name -- the "Oprah brand" -- was attached to the titles of several award-winning and life-affirming ABC movies and miniseries. That's a lot of legacy.

The man who helped launch Oprah Winfrey

Oprah Winfrey's big sendoff

Goodbye, Oprah!

What's it like to work with Oprah?
Then again, many devoted viewers, or even casual observers, might remember Winfrey more for gifting entire studio audiences with cars, vacation trips and so on. Or for her many and varied struggles with gaining and losing weight, which she once dramatized by pulling a wagon load of lard onstage to symbolize all the fat she'd shed.
"The Oprah Winfrey Show" also was the place where a giddy Tom Cruise famously jumped up and down on her couch in celebration of his newfound love match with Katie Holmes. That particular moment, as well as her audience's jump up-and-down histrionics, were duly parodied on "Saturday Night Live" and other venues.
Winfrey also is not hesitant to throw parties for herself. Her 50th birthday celebration became a case study in conspicuous consumption while this week's star-drenched parade to the finish line affords her repeated chances to react with amazement while a wealth of A-list celebrities testify to all the good she's done for the world with her charities and causes.
Many of Winfrey's latter-day viewers are too young to remember that she wasn't the first to use daytime television to explore controversial topics in the name of social relevancy. Phil Donahue laid that groundwork well before Winfrey arrived in Chicago in 1984. Her task was to challenge him on his home turf while also reviving the "AM Chicago" program. She succeeded beyond anyone's wildest expectations, outdrawing Donahue's program and quickly driving him out of Chicago and eventually off the air.
But Winfrey clearly was a trailblazer in her own right, going national in September 1986 and immediately climbing the ratings charts. A sometimes portly and rather plain-looking African-American woman proved to be an Everywoman, connecting with viewers as a talk-through-the-screen communicator whose color was beside the point.
I interviewed her a month before the around-the-country premiere of "The Oprah Winfrey Show." She viewed her new venture as a reward for years of covering a "cockatoo's birthday party or a wasp's nest at a woman's house" during earlier stints at Nashville and Baltimore TV stations.
"We're far more emotional, and we don't take ourselves as seriously, I don't think, as 'Donahue,' " she added. "But I'm not interested in sensationalizing or exploiting or creating something that's not there. So that's what my show is. It will live or die based on its own honesty."
She obviously had a very good compass. It's seems safe to say that there'll never be another daytime attraction with the power and pull of "The Oprah Winfrey Show." In part that's because her program premiered in pre-Internet and largely pre-cable times. So there wasn't a whole lot else to watch -- and Winfrey made sure that her show was a watchable feast of stars, book authors, heartbreaks, heart-warmers and recurring battles with her waistline.
Others are now jockeying to fill her daytime void next fall, with Anderson Cooper the most prominent newcomer and Katie Couric a probable entrant sometime in 2012.
They can't help but be Lilliputians in comparison. Winfrey, whatever the fate of her 'round-the-clock cable network, was the unquestioned mistress of her domain in the same way that the late Johnny Carson mastered late night.
He got a prolonged sendoff befitting a king before leaving "The Tonight Show" 19 Mays ago. Winfrey expects no less this week. Royals and their devoted subjects don't come around all that often. And in the end, they take their grand stages with them.
The opinions expressed in this commentary are solely those of Ed Bark.
FOLLOW THIS TOPIC