Biographer: Strauss-Kahn a 'great seducer'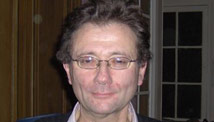 STORY HIGHLIGHTS
Michel Taubmann is author of the first complete biography of Dominique Strauss-Kahn
Interviewees - including many women - described him as incapable of violence
Author investigated attempt of rape allegations made by a French journalist
Published his book on Strauss-Kahn only days before the alleged incident in New York City.
Editor's note: Michel Taubmann is a French journalist with ARTE, the French-German television network, and the director of the journal Le Meilleur des Mondes. Taubmann is author of several books, most recently a biography of Dominique Strauss-Kahn, "Le Roman vrai de Dominique Strauss-Kahn" (Le Moment, France)
Paris (CNN) -- During the two years I spent preparing my book "Le Roman vrai de Dominique Strauss-Kahn," published on May 5, I met 65 people who know him very well: political partners or enemies, members of family, friends from his youth and -- a lot of women.
I met, of course, his wife, Anne Sinclair, his first wife, Hélène Dumas, former girlfriends and a lot of women who worked with him during his long career at the IMF, the French Parliament and various government jobs such as the head of Sarcelles, a city in the suburb of Paris.
It's not frequent in France that a journalist writes about private life of a politician. I did it in my book. All the women I met confirmed that Mr. Strauss-Kahn is a great seducer, like many French politicians especially, Sarkozy, Chirac and Mitterrand, our actual and former presidents.
These women described him as a sweet and charming man, sometimes engaging but completely incapable of any violence. However in 2007, a young and talented French writer, Tristane Banon, accused Strauss-Kahn of attempting to rape her. Banon never filed a complaint against Strauss-Kahn. But her accusations tormented me for two years. Personally, I can't abide any kind of violence and, being married with a Presbyterian minister, I deeply believe in morality, respect for non-violence and women's rights.

Dominique Strauss-Kahn wears monitor

Will a woman head the IMF?
I wrote one chapter of my book about the Banon affair. During my investigation of the case, I asked several persons -- including the young lady in question -- and Mr Strauss-Kahn himself. My conclusion is clear: there is not any proof of Banon's accusation. "Strauss-Kahn is a great seducer? Of course! But he's not a raper." That's what I wrote in my book, published a few days before the Sofitel scandal.
One week later, in French and foreign newspapers, one talks about "rumors" concerning Strauss-Kahn. Most of them I knew before. But none of the rumors were seriously considered before Mr Strauss-Kahn's arrest -- not by myself, nor any other French journalist.
I don't know what happened on May 14 in the Room 2806 of the Sofitel Hotel in New York City, and I'm completely confident that American justice will find the truth. But as the biographer of Dominique Strauss-Kahn I'm probably the journalist who knows the best his life, his psychology and his personality. I maintain that the accusation of sexual aggression doesn't correspond to anything I know about him.
The opinions expressed in this commentary are solely those of Michel Taubmann. David Koubbi, Tristane Banon's attorney in France, said last week that they were considering whether to file a complaint against Strauss-Kahn. Anne Mansouret, Banon's mother, told CNN last week that said she arrived about an hour-and-a-half after the alleged incident in 2002 to find her daughter locked in her car and looking "roughed up."

Most popular stories right now

Featured Deal |