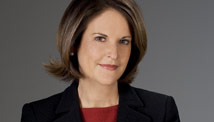 STORY HIGHLIGHTS
Gloria Borger says each presidential election cycle brings a new way to "connect"
Biden used Sunday talk shows, McCain told Letterman, Hillary Clinton did webcast, she says
Borger: Now, candidates are tweeting everything, all the time, to prove they're plugged in
She says tweeting is fine, but it's not an acceptable substitute for serious political discourse
Editor's note: Gloria Borger is a senior political analyst for CNN, appearing regularly on CNN's "The Situation Room," "AC360°," "John King, USA" and "State of the Union."
(CNN) -- On January 2, 1960, John F. Kennedy announced his presidential candidacy. In a short statement, he declared that "the presidency is the most powerful office in the Free World" and outlined the issues of the day.
He told voters how he had traveled to every state over the past 40 months, and was convinced that he would win "both the [Democratic] nomination and the election. I believe that any ... aspirant ... should be willing to submit to the voters his views, record and competence in a series of primary contests."
It was short and direct. But it wasn't this: "Today I am announcing my candidacy for President of the United States. You can watch my announcement here." (Click for canned Newt Gingrich webcast.)
Or this, from Tim Pawlenty: "Be sure to visit my Facebook page today at 3 pm ET for a special message exclusive to Facebook supporters." (Did you feel special to learn about Pawlenty's exploratory committee?)
Sure, each presidential election cycle brings a new way to "connect." Last time around, some candidates (Joe Biden, for instance) chose the Sunday talk show circuit to let voters in on their presidential ambitions. Others, like John McCain, told David Letterman first. And Hillary Clinton was very tech-forward, announcing on a webcast, explaining the rationale for her candidacy.
But even Barack Obama, who is credited with taking the use of social media to a new level, delivered an old-fashioned speech on a cold February day in Springfield, Illinois, at the Old State Capitol. In it, he told us why he wanted -- and was qualified -- to be president. It was, of course, available on the Web. But it was way more than 140 characters long.
That's so 2008. Now, to prove they are completely plugged into the zeitgeist, candidates need to tweet everything, all the time. Apparently, it's a rite of passage -- to where, I'm not exactly sure. But it doesn't lead to the one matter that appears to be missing from the Republican race: seriousness of intent. So far, GOP voters don't seem much excited by the candidates, and why should they? By and large, they have no idea who they really are, unless you feel like you can really get to know a possible president through his "spontaneous" tweets.

Newt Gingrich announces White House run

April: Pawlenty focused on White House
Not that there's anything wrong with tweeting candidates. It's just that when you are running for president, the Twitter announcement is a bit like putting the cart before the horse. Shouldn't voters actually know who you are and what you stand for before you tweet something like this: "I like Reese's peanut butter cups because Reese's is also from Hershey. However, Callista got me a Reese's peanut butter egg. It is good too." (The candy gourmand: Newt Gingrich, circa 2010.) Sad to say, those who investigate such things report that Gingrich's Twitter account has apparently been scrubbed of this and other deeply personal thoughts as he embarks on his presidential bid.
Here's the interesting thing about Gingrich: He is actually a man of complex ideas. What's more, he is the person credited with leading the great GOP comeback -- after 40 years -- in 1994, becoming House speaker. He has had a long -- and controversial -- career. He's a professor by nature, not prone to explaining anything briefly.
If this is supposed to be a way to "humanize" a candidate, it doesn't work. Do we believe all tweets are actually done by the candidates themselves? Are they always spontaneous bursts of information? Of course not (although I have to believe that the Gingrich Candygram is an exception). Indeed, if used well, tweets provide politicians with a very convenient way to dive into a debate: shorthand opinion, no questions asked.
Sarah Palin, of course, perfected the art of the Twitter platform. From death panels to "Dancing with the Stars," she's always with us. And who can forget the "blood libel" moment when Palin personalized the Gabby Giffords shooting? And then consider Palin's recent tweet on President Obama's decision not to release the pictures of a bullet-laden bin Laden: "Show photo as warning to others seeking America's destruction. No pussy-footing around, no politicking, no drama; it's part of the mission" (By the way, did Palin really accuse the president -- who ordered a successful kill mission on a man the U.S. has been hunting for 10 years -- of "pussy-footing around?" )
It's hard to find much intellectual inspiration in these tweets. I know, I know: Tweeting is a great way to communicate information quickly. I get that. But it's not an acceptable substitute for serious political discourse. Or for true communication with voters. It's a political tool that, if overused, or badly used, only diminishes the author.
Granted, the Gettysburg address was only 272 words, and they're now carved in marble at the Lincoln Memorial. The speech was short, but it was no tweet.
The opinions expressed in this commentary are solely those of Gloria Borger.
Watch The Situation Room with Wolf Blitzer weekdays at 4pm to 6pm ET and Saturdays at 6pm ET. For the latest from The Situation Room click here.
FOLLOW THIS TOPIC