STORY HIGHLIGHTS
Writers: Cuts that prevented government shutdown barely touched looming U.S. debt crisis
U.S. ranked 28th out of 34 nations in students' study assessing fiscal responsibility
They say U.S. could face fiscal crisis in a few years if spending, tax revenue levels stay same
Writers: Deficit commission laid out bipartisan plan for sustainable fiscal reform
Editor's note: T.J. Augustine, Alex Maasry, Dami Sobo and Di Wang are graduate students in Stanford University's Public Policy and International Policy Studies programs.
(CNN) -- The recent debate to prevent a government shutdown reminds us that partisan politics have always been, and will likely always be, part of Washington. While it is certainly good a shutdown was averted, the $38 billion in cuts that were part of the deal barely dent our nation's growing debt.
Now, the $14 trillion question is whether President Barack Obama, House Speaker John Boehner and Senate Majority Leader Harry Reid can reach another agreement -- this time to reduce our debt and improve our fiscal responsibility.
We certainly hope they can. However, time for an agreement is fleeting. In fact, the evidence suggests the U.S. is becoming less fiscally responsible.
Over the last six months, as part of our graduate programs at Stanford University, and in conjunction with former U.S. Comptroller General David Walker (a longtime critic of unsustainable entitlement spending) and the Comeback America Initiative, we developed a Sovereign Fiscal Responsibility Index (PDF) that assesses fiscal responsibility across most Organization for Economic Cooperation and Development and so-called BRIC countries (Brazil, Russia, India and China).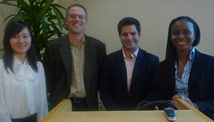 Stanford graduate students Di Wang, T.J. Augustine, Alex Maasry and Dami Sobo
Combining the three major components of fiscal responsibility -- current debt levels, the projected future debt path and fiscal governance -- this index predicts the U.S. could face a fiscal crisis in the next two to three years if spending and tax revenues continue at current levels.
Right now the U.S. debt is like a freight train running downhill. The agreement to prevent a shutdown was like putting a shopping cart in the way. We still need to pull the brakes to keep our country out of a fiscal abyss.
Our index shows that the U.S. ranks 28th overall out of 34 countries, in the same territory as the so-called PIIGS of Europe -- Portugal, Iceland, Ireland, Greece and Spain -- countries that are already facing fiscal hardship, some from years of irresponsible behavior. Australia and New Zealand, more on them later, sit at the top of the list. Surprisingly though, the top 10 is filled with developing market countries such as China, Chile, Estonia and Brazil.

Dems fire back at Boehner's debt plan
Further, the debate in Washington has not focused on the big picture. Democrats and Republicans have primarily argued over cuts to domestic nonsecurity discretionary spending, about 12% of the federal budget, while mostly ignoring the huge outlay that is defense spending, Social Security, Medicare and Medicaid -- as our national debt climbs past $14 trillion.
With limited time to prevent a fiscal crisis, the stakes are high for Obama, Boehner and Reid. If they cannot lead their parties to common ground, Democrats, Republicans and independents will suffer the consequences.
Our sovereign debt currently exceeds 90% of gross domestic product, and our fiscal projections show the U.S. is on a path that will put us even closer to a country such as Greece, which already has faced a fiscal crisis, in just the next few years. To make matters worse, our forever-rising debt ceiling, combined with no legal deficit restrictions, suggests that rules of fiscal governance will not protect the United States from a crisis.
We need to stop playing in the PIIGS's world of irresponsible, shortsighted spending and broken fiscal governance. The PIIGS have shown the world this behavior leads to harsh cuts, a bewildered, suffering public and even possible default, international bailouts and draconian austerity measures.
However, other countries that faced fiscal trouble in recent decades, such as Australia and New Zealand, have rebounded to be the top two countries in our index. These countries enacted strong laws that set debt limits, budget-balance targets and spending caps. As a result, these countries avoided crises and are now on sustainable fiscal paths.
Here in the U.S., the National Commission on Fiscal Responsibility and Reform issued a report in December that showed compromise and reform are possible. Under the leadership of Erskine Bowles and Alan Simpson, the commission made tough choices and drafted a plan with bipartisan support that addresses discretionary spending as well as tax increases, defense spending, Social Security, Medicare and Medicaid.
Our index shows the commission's plan would put the U.S. back on a sustainable path.
Now, that plan has been joined by both Republican and Democratic proposals, put forth by Rep. Paul Ryan, R-Wisconsin, and Obama, respectively. If Washington can stop playing with the PIIGS, the U.S. will move back to a sustainable path and enter the top 10 in our ranking.
Obama, Boehner and Reid will need to put aside partisan behavior to do what is best for the country. If they do, we will not be left wondering, like the PIIGS do today, why our leaders did not take action when there was still time.
The opinions expressed in this commentary are solely those of the writers.
FOLLOW THIS TOPIC