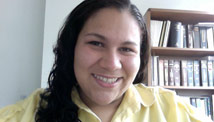 STORY HIGHLIGHTS
Gaby Pacheco is a high achiever, grew up in U.S., but is undocumented
Pacheco: Democrats, GOP need to put differences aside and pass the DREAM Act
To deport talented youth, separate parents from children is un-American, she says
Pacheco: Obama must stop deportations of eligible youths, keep families together
Editor's note: Gaby Pacheco is an undocumented student who walked with three other immigrant students last year on a "Trail of DREAMs" demonstration from Miami to Washington with the goal of educating people about their struggle as immigrant youth. She is a project coordinator for END (Education Not Deportation) and policy advocate for UnitedWeDREAM.org. She has been an advocate for passage of the DREAM Act.
(CNN) -- We want actions, not words.
For nearly two decades I've called the United States of America my home. I emigrated from Ecuador with my family, grew up in Miami and attended public schools, where I was a high-achieving student who eventually made it to college. I am also an undocumented immigrant.
It was at Miami Dade College -- the same institution of higher learning that President Barack Obama mentioned several times in his El Paso, Texas, speech on immigration -- that I gave a commencement speech to my class back in 2006. I could have been sitting next to him during the commencement (he was the speaker there last month), if I had graduated a few years later. At Miami Dade, I was active not only as student government president at one of its eight campuses, but also as the Student Body Association president of the entire community college system in Florida.
I would have never been able to achieve positions of leadership were it not for the brave decision my parents made one day to come to the United States. It was an incredibly hard decision for them, as it is for anyone to leave family, language and everything they know, to take a chance at the American dream.
President Obama was correct to say the issue of immigration "often elicits strong emotions." It's hard to understand why a family would risk so much to obtain so little. And while it's important to practice compassion, too often the rhetoric becomes hateful, as we have witnessed with the recent SB1070 law in Arizona and its copycats in other states. Sometimes it provokes violence.

2010: Why does the DREAM Act matter?

2010: Students lobby to become citizens

2010: Reid: This DREAM shall never die
In the middle of this divisiveness, there can be hope. But only when politicians, who talk about the broken immigration system and their attempts to reform it, follow their words with actions.
Last year was a year of incomplete actions. When the DREAM Act was finally brought to debate in Congress, it fell five votes short of the 60 needed to end a Republican filibuster. The act would allow people brought into the United States as children to earn legal status by attending college or serving in the military.
On Tuesday, President Obama blamed Republicans for inaction on immigration reform, yet there were five Democrats who could have saved the DREAM Act and didn't. Both Republican and Democratic senators are at fault for this failure.
We are a nation of immigrants, a nation that dreams, a nation that elects one person out of the many, the president, to guide Congress toward the changes he promised.
We live in a democracy that has three branches of government; I learned that early on in my civics class. Although Congress holds the power to write laws, the executive branch also has power. President Obama has the executive power to stop deportations.
When he spoke about democracy, I remembered the past leaders who upheld those very principles and used their administrative power to grant people relief.
Before 1990, attorneys general had the authority to temporarily suspend the deportations of people of particular countries. More recently, President Bush used his discretionary powers to defer the deportation of undocumented immigrant spouses of military soldiers. Both were reasonable actions that did not threaten our democracy.
Today, it's a real threat to our democracy when police officials start acting like immigration officers, pushing 11 million people who already live in the shadows into greater fear. They are already too frightened to call the authorities when problems arise. To use our resources to deport talented youth, and separate mothers and fathers from their citizen children, is simply un-American.
Given the harsh political climate, immigration reform and the DREAM Act will be difficult to discuss, but we are ready to organize again.
We know President Obama supports immigration reform. We know he supports the DREAM Act. That's not in question. We need him to use his executive power to stop deportations of youths eligible for the DREAM Act, keeping families together until Congress is able to put its differences aside and acknowledge that we are part of the future of our great country.
Youth like myself are not alone in this plea. Last month, 22 Democratic senators sent a letter asking the president to use executive power to stop deportation of DREAM Act students. Just two weeks ago, the American Immigration Council released a memo by two former general counsels for the Immigration and Naturalization Service that outlined the president's authority to grant administrative relief.
He should listen, and act.
The opinions expressed in this commentary are solely those of Gaby Pacheco.