Bin Laden as 'martyr': A call to jihadists
STORY HIGHLIGHTS
Ed Husain: Osama bin Laden is dead but al Qaeda, the global brand, is not
Husain: "Martyrdom" of bin Laden a global clarion call for new generation of jihadists
The killing of Muslim Brotherhood founder in 1949 did not end the brotherhood, he writes
Husain: Al Qaeda revived for religiously justified violence against the Arab Spring
Editor's note: Ed Husain is a senior fellow at the Council on Foreign Relations and is author of "The Islamist."
(CNN) -- Osama bin Laden died the death he wanted: that of a "martyr." He was a mass murderer, but as we celebrate his killing in the West, we should not forget muted reactions in the East and how this is bringing a new generation of jihadists to the fore.
Although the jubilation in New York and outside the White House is understandable, it risks sending the message of another premature "Mission Accomplished" moment. To put it simply, Osama bin Laden is dead, al Qaeda is not.
Removing bin Laden is a colossal psychological blow to al Qaeda globally. But bin Laden was never the cause for al Qaeda: The issues that motivated him are still alive and well. Al Qaeda is a global brand, an idea, a movement. And just as he was recruited to a mind set of extremism, confrontation and violence, his death will serve as a global clarion call for another generation of jihadists.
The killing of Hasan al-Banna, the founder of the Muslim Brotherhood in Egypt in 1949, did not end the brotherhood. The hanging of its most radical ideologue, Syed Qutb, bin Laden's intellectual guide, gave rise to a whole new generation of jihadists inside Egypt. Indeed, when I was in Egypt last month, several of the most radical Muslims I met there had been inspired by the killing of Qutb, and remain extremists to this day. Bin Laden's successor, Ayman al Zawahiri, is a direct result of Qutb's writings.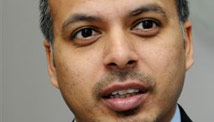 Ed Husain
The 2004 assassination of Sheikh Ahmed Yassin of Hamas has not resulted in that movement becoming any less radicalized. To his eternal shame, Hamas leader Ismail Haniyeh has this to say about bin Laden's death: "We condemn the assassination and the killing of an Arab holy warrior. We ask God to offer him mercy with the true believers and martyrs."
Osama bin Laden was produced by the religious literalism and political tyranny in Saudi Arabia. He latched on to the Arab-Israeli issue as a cause to bolster his anti-Americanism. These grievances led him to seek Islamist networks that seemingly provided action to change reality in the Arab world. Today, there are new, more hopeful developments in the Arab Spring, but no government in the Middle East will be sufficiently Islamic for young radicals in Saudi Arabia or Egypt. And so the spiral cycle of religiously justified political violence to undermine future governments in Egypt and elsewhere will give al Qaeda a breath of life.
This week, Arab readers' responses from across the Middle East to news of bin Laden's death on mainstream websites such as Al-Jazeera have been overwhelmingly condemnatory of America and full of praise for Osama bin Laden, the "martyr," the "warrior," the "hero." While America celebrates this battle, it is worth remembering that the war is yet to be won.
The opinions expressed in this commentary are solely those of Ed Husain.
FOLLOW THIS TOPIC


Part of complete coverage on

The appointment of a former Egyptian army lieutenant as the interim leader of al Qaeda suggests a power struggle within the Islamist organization.

From Morocco to the Himalayas, online forums associated with al Qaeda overflow with declarations that global jihad will continue.

He was its founder and strategic guiding force, but now that Osama bin Laden is dead, who are al Qaeda's most wanted leaders?

The United States will be given access to Osama bin Laden's wives, Pakistani Interior Minister Rehman Malik told CNN Tuesday.

Children in Abbottabad said they noticed oddities at bin Laden's compound but were oblivious he was hiding in the city.

Amal al-Sadah was "a quiet, polite, easygoing and confident teenager" who came from a big, conservative family in Yemen.

As the death of Osama bin Laden reverberates around the world the root causes of extremism are apparently largely being ignored.

Saber-rattling al Qaeda warnings against the U.S. emerged as the killing of Osama bin Laden continued to yield a trove of intelligence.


Most popular stories right now