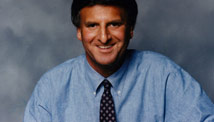 STORY HIGHLIGHTS
Bob Greene: Awards given to two Korean War heroes remind us of other American sacrifices
He says during 9/11 attacks and bin Laden killing, that same selfless sacrifice on display
He says despite changes in our lives after attack, this part of American character remained
Greene: Before moment recedes, we should express gratitude for those who sacrifice
Editor's note: CNN contributor Bob Greene is a bestselling author whose books include "Late Edition: A Love Story" and "Duty: A Father, His Son, and the Man Who Won the War."
(CNN) -- There was a moment that came and went quickly during Monday's White House ceremony posthumously awarding the Medal of Honor to two Army privates who were killed in the Korean War.
The moment came during the reading of one of the citations:
"... utterly disregarding his own safety. ..."
That's what hasn't changed in the United States -- for all the ways we tell ourselves that the U.S. has been altered since September 11, 2001, for all the points we can enumerate about how Osama bin Laden was able to disrupt the usual flow of American life, an important thing to keep in mind is that, despite everything, there have always been, and will always be, people among us who make the choice to do exactly that: put the well-being of others ahead of their own.
It was true of Anthony T. Kaho'ohanohano of Hawaii and Henry Svehla of New Jersey, the two young soldiers who died in battle in Korea and who were honored at the White House on Monday. It was true of the first responders -- the firefighters, police officers and emergency workers who rushed into the twin towers in Manhattan on that September morning almost 10 years ago, risking and in many cases losing their own lives so they could try to save the lives of people they had never met. It was true of the American military unit that descended from the sky upon bin Laden's compound in Pakistan, and who finally made good on the U.S. promise to bring him to justice.
"... utterly disregarding his own safety. ..."

'God Bless America' at ground zero

Emotions high after bin Laden's death

No closure for 9/11 families
Dry words, on paper or on a glowing computer screen. Yet one of the grand and humbling truths about life in the United States is that there somehow has never been a shortage of those whose actions time after time reflect those words to the letter. Bin Laden managed to change a lot of little things -- trifling, really -- in American life, but he couldn't change that.
Gergen: Victory for Obama -- and U.S.
Sometimes over the years we complained about the long security lines at airports, and about the body searches that were becoming increasingly intrusive -- so, yes, bin Laden was able to add to daily frustrations and irritations that way. Sometimes we raised our eyebrows and joked a little about the color-coded security-alert levels, wondering aloud whether the system was really helping anything. They wouldn't have been there were it not for bin Laden.
Yet very few among us did not understand the need for the stepped-up procedures, and, in the end, although everyday living felt a little different from before, for most there were few genuine hardships. The stores were still full of merchandise, the sports leagues continued to operate as always, new movies arrived in theaters every week, the television networks did their standard best to provide entertainment that would amuse us. In almost every way, ours did not feel like a nation under siege.
Except for those who were overseas in uniform, or preparing to go there, and except for the grieving families of those lost on that September day.
With bin Laden dead, there will be an abundance of talk about what this will transform about our lives, and what will stay the same. Our somber attention to his death and its ramifications will, if history is an indicator, be short in duration. Within a few weeks, we'll be arguing again about arcane political differences here at home, and spending an inordinate amount of time discussing what movie or television actress did something outlandish to get herself onto the front pages.
Opinion: Terror threat lives beyond bin Laden's death
So perhaps, before our focus inevitably shifts, we can take a few moments to give proper thanks for and pay silent honor to that truth about the United States that has never gone away. To acknowledge our gratitude -- our awe -- for those of whom, now and always, it can be said:
"... utterly disregarding his own safety. ..."
They were there at the towers in 2001, and they were there in Pakistan on Sunday, and if we're lucky -- and we eternally have been -- whenever they are needed, at home or across the seas, they will be there again.
How did Osama bin Laden change us?
In the undying ways of the human heart that should and do matter, not at all.
The opinions expressed in this commentary are solely those of Bob Greene.
FOLLOW THIS TOPIC