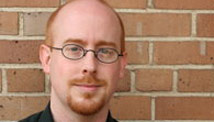 STORY HIGHLIGHTS
Kyle Whitmire says the Alabama tornado was huge, turning houses into airborne flakes
He says tornadoes are part of life in Alabama; kids learn early how to prepare for them
This week's storm was devastating -- the worst anyone had ever seen, he says
Whitmire: People talk of God afterward, less of doubts that follow, but support heals loss
Editor's note: Kyle Whitmire is an Alabama native who lives in Birmingham, where he is new media editor and senior writer at WELD for Birmingham. He blogs at the news and politics site Second Front
(CNN) -- We knew the threat was real when little pieces of Tuscaloosa began to drop on Birmingham. For such a violent storm, there was very little rain. Instead, paper receipts from businesses 50 miles away and strangers' family photos flitted through the air.
Roofing shingles, wood paneling and strips of insulation littered yards, sidewalks and streets. All of this, and the tornado itself was still 10 minutes away.
Unlike tornadoes in the Midwest, which can be visible from the horizon, tornadoes in the South typically come with a "rain wrap," which means just what it implies. However, this one had dropped from the sky fully visible and on live television. Thanks to remote cameras and so many fools with smartphones, we have pictures of the beast from many angles.
It was enormous. It spun through Tuscaloosa turning homes and businesses into airborne flakes of debris. Several people here have said how smoky tentacles appeared to reach from its sides.
And it was heading for Birmingham.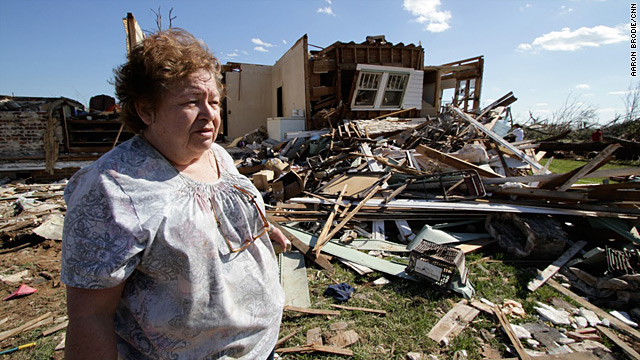 Gallery: Nightmare scenes in Alabama

Survivors start road to recovery

Neighbors left speechless

Tornado called 'silent monster'
People tend quickly to compare new disasters to old ones. In Birmingham, the greatest tornado in living memory had been the one that raked across the northern part of Jefferson County on April 8, 1998. The powerful EF5 tornado killed 32 here, two more elsewhere in Alabama and seven more in Georgia. At points, its path was nearly a mile wide. It was hard to imagine something as devastating ever happening again, at least until Wednesday.
There is no getting accustomed to natural disasters, but in Alabama tornado emergencies are seasonal part of life.
I was in first grade the first time our teachers took us into the hall and taught us to line up against the walls and curl in the fetal position with our hands covering our necks. I can't remember how old I was when my mom made me climb into an empty bathtub, but I do remember her lugging a mattress into the bathroom to throw over me in case things got bad.
And I remember in eighth grade, when I looked out the window of Mrs. Etheridge's Earth science class (appropriately enough) just in time to see pieces of the gymnasium roof tumbling across the schoolyard.
Meteorologists are celebrities here. Viewers learn to read radar maps for the hook echo near the back of a cloud. You giggle when someone on TV says "inflow notch." You look for the "debris ball" that means a twister is on the ground.
And when they get close, you hide in a windowless room, closet or hallway. If you're on the road, you're supposed to pull off and hide in a ditch, although I'm not sure many folks actually do.
Then you wait. Maybe it kills you. Probably it doesn't. When it's over, you call your family to say you're safe and ask them if they're safe. And then you look around outside to see if it's all still there. The experience is terrifying, but it comes with the exhilaration Winston Churchill attributed to being shot at and missed.
Of course, nature doesn't always miss.

Birmingham mayor speaks out

'Absolutely terrifying' video of tornado

Tornado witness: 'We just lost our home'
People in Birmingham have learned to watch for a familiar pattern. The storms cross the state line somewhere southwest of Tuscaloosa. They seem to follow Interstate 20/59 toward Birmingham. And often, just before they reach the western suburbs, they miraculously veer north or south.
With its iron ore, coal and limestone, Red Mountain is the reason Birmingham first came to be, and it's often credited (accurately, I don't know) by locals for deflecting the tornadoes.
On Wednesday, it happened again, but the storm was too big or the mountain too small. The monster tornado listed northward, but not sharply enough. Instead it cut a wide and jagged gash through the suburbs of Concord, Pleasant Grove and Fultondale. It leveled Birmingham's Pratt City neighborhoods.
In addition to its size, the tornado was powerful in persistence, never leaving the ground from Tuscaloosa to other side of Birmingham. It left behind a swath of broken two-by-fours, piles of bricks and cinder blocks. Trees left standing were stripped of leaves and peeled of bark. Tree trunks were wrapped in aluminum and tin that used to be roofs and siding.
The storm continued to sprinkle scraps, documents and personal belongings across the state. A Facebook page has been set up to reunite mementos and important papers with their owners.
Wednesday night, rescue workers struggled to assess the damage and help survivors. Authorities said it looked worst than April 8, 1998. By sunrise it was clear, this was the worst anyone had ever seen.
In addition to the monster storm that struck Tuscaloosa and Birmingham, other tornadoes battered cities throughout the state. Cordova was struck more than once. At least one deadly tornado hit Cullman, and others threatened the city as rescuers tried to help survivors. The latest casualty count for the state crossed 200. Hundreds more are injured. No one yet knows exactly how many are homeless, except that entire neighborhoods no longer exist.
It's pointless to assign meaning to a disaster such as this, but lots of people try anyway. On television, you'll hear lots of talk about prayer and the Lord's protection -- not so much of the quiet, but real, doubts that follow such a loss.
There is something real though to be found in the response of so many people, both from neighbors next door and strangers far away. The outpouring of concern and support is amazing. The thousands of acts of small heroism happening now bring with them the meaning and hope we need right now. Healing is not a passive act, nor a solitary one, but one carried out together.
The opinions expressed in this commentary are solely those of Kyle Whitmire.
FOLLOW THIS TOPIC