STORY HIGHLIGHTS
China's renovated National Museum glosses over unsavory history, Melissa Chiu says
She says arrest of outspoken artist Ai Weiwei is part of a larger crackdown on dissent
Government had begun relaxing its stance on contemporary art, she says
Chiu: Detention signals an escalation of control of those who speak up in China
Editor's note: Melissa Chiu is the director of the Asia Society Museum in New York.
New York (CNN) -- Art and politics are entangled in China. Two recent events in Beijing show just how much: the reopening of the National Museum and the detention of the outspoken artist Ai Weiwei.
The renovated museum's inaugural displays avoid the less palatable aspects of history under the Communist Party, including the disastrous famines of the Great Leap Forward that cost millions of lives in the 1950s and '60s. There's only a minute reference to the violent and destructive Cultural Revolution of the '60s and '70s, and none at all to the bloody 1989 pro-democracy protests of Tiananmen Square, where the museum stands.
Such omissions are no surprise. Artists in China have long been aware of these and other no-go subjects. They know that if they want to show their work in state-run museums, they must conform to an unspoken "no politics, no sex and no violence" rule.
In the early 1990s, many artists tried to get around this rule by showing their work at their studios and private galleries. Even so, exhibitions were sometimes closed by authorities and artists rounded up. Performance artists in Beijing's East Village were especially vulnerable in 1994. One of the most celebrated, Ma Liuming, was arrested after security forces broke up a performance.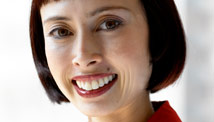 Melissa Chiu
Recently, there has been a relaxation of sorts. During the past five years, gallery districts have flourished in cities across the country, a collector class has grown in line with the boom in the economy and even state-run museums have let down their guard to show more contemporary works.
As the Chinese art world expanded, the government applied more stringent conditions for the media in the lead-up to the Beijing 2008 Olympics. Ai Weiwei seemed like an exception to the rule, since his comments to the Western media were often critical of the government.
Long used to traveling in and out of the country as his international reputation and fame grew, Ai Weiwei was taken into custody at Beijing Airport on April 3 as he tried to board a plane to Hong Kong. Now held in parts unknown and being investigated for unspecified "economic crimes," Ai Weiwei joins a list of other artists, lawyers and activists detained during the past two months.
Many see the crackdown as evidence of government nervousness over calls for a Chinese "Jasmine revolution" after regime-changing protests in North Africa and the Middle East. Ai Weiwei, like other critics, had made such comparisons.

Chinese artist's fight for expression

Revered Chinese artist branded criminal
I first met Ai Weiwei in the late 1990s, when he was already a senior figure in China's art world. He was respected as much for his conceptual artwork as for having lived in the art center that was New York (he resided there from 1981 to 1993) at a time when few Chinese were able to travel abroad. He became the edgy mentor for a generation of new artists. During the past two decades, while his art has become ever more ambitious, he has also skillfully played the roles of gallerist, restaurateur, architect and, most recently, activist.
Ai Weiwei's political side started to show when -- after serving as artistic consultant with the Swiss architects Jacques Herzog and Pierre de Meuron for the design of the renowned "Bird's Nest" National Stadium -- he decried the Beijing 2008 Olympics as a "fake smile."
That same year, when the Sichuan earthquake killed nearly 70,000 people and displaced 4.8 million, Ai Weiwei undertook a project to publish the names of the victims on his blog. This political act clearly crossed the line and led to his beating by police when he visited quake-hit Chengdu. He has had run-ins with authorities since then, including the demolition of his studio in Shanghai in January.
So it is ironic that his most recent work shares common ground with official policy over cultural heritage, particularly the government's desire to bring back to China objects that are in overseas collections.
A set of his sculptures is planned for display in New York in May, and later in London, Los Angeles, Houston, Pittsburgh and Washington. They are based on the zodiac heads that were looted from the Summer Palace when it was sacked by British and French forces in 1860. The Chinese government called for the cancellation of the auction of two of these original heads when they went on sale two years ago.
Ai Weiwei has the image of being a "political artist." But his art is rarely political. Instead, it's his blogs and tweets that have triggered the ire of authorities.
Censorship and the threat of arrest have long been part of being an artist in China. However, Ai Weiwei's detention signals an escalation of control of those who speak up and a return to the fearful climate that existed for artists and others two decades ago.
The opinions expressed in this commentary are solely those of Melissa Chiu.
FOLLOW THIS TOPIC