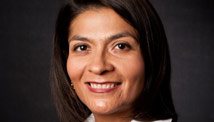 STORY HIGHLIGHTS
Alzheimer's research has been a natural progression for Maria C. Corrello
Through her work, she came to see the family dynamic the disease can create
When her mother-in-law began to show symptoms, she ran into denial
She has embraced the vision of a world without Alzheimer's, she says
Editor's note: Dr. Maria C. Carrillo, senior director of Medical & Scientific Relations at the Alzheimer's Association, is a leader in the Alzheimer's field who contributed the research section to The Shriver Report released in October.

Larry King returns to CNN with an emotional look at how people cope with Alzheimer's disease. Don't miss "Unthinkable: the Alzheimer's Epidemic," Sunday night at 8 ET on CNN.
(CNN) -- I've always been interested in science and the brain. In college, I started studying changes in learning and memory in both young and aging humans and animals. As a natural extension of this, I studied Alzheimer's disease while pursuing my neuroscience degree in graduate school. I was fortunate enough to work with people with Parkinson's and Alzheimer's using advanced imaging techniques, such as PET and MRI scans, to investigate brain function.
What I did not know at the time is how Alzheimer's would come to affect me and my family. At that time, I did not know anyone with Alzheimer's, but I was fascinated by the study of human and animal models of the disease.
Since 2004, I have been fortunate to work at the Alzheimer's Association in the Medical and Scientific Relations area. I not only work with people affected by the disease in a research capacity, but I am also more in tune with the family dynamic surrounding the disease, more aware of caregiver burden, and more cognizant of the planning and organization it takes to give someone with Alzheimer's optimal care. This is all of interest to me since it is a natural, "real world" extension of my studies and research.
In 2007, I began to notice some changes in my mother-in-law. She started to retell the same stories every time I saw her. She was somewhat isolated during the day, so I told myself that she just needed more adult conversation and communication. She also refused to use electrical appliances, claiming they were too complicated. And, when we subscribed to a new television cable company, she could not remember how to use the television. A radio or television had to be turned on for her at the beginning of the day and left on so that she could listen or watch at her leisure. About a year later, she began to wander off and get lost.
I suggested to my husband that his mother should go to the doctor for a neurological exam to see if she had early-stage Alzheimer's disease. That way she could begin to get the medical care that is available, and we could start to plan for how to keep her safe.
My mother-in-law does not speak English, but she had taken public transportation for years in Chicago. Suddenly, she started to take buses and trains the wrong way, ending up on the wrong side of the city. My husband's family rationalized this behavior and said that it was easy to get confused using public transportation. Nonetheless, in late 2008, I enrolled my mother-in-law in the Alzheimer's Association Medic Alert + Safe Return program. We received a bracelet for her to wear with identity information and an emergency response number that could help us find her (or help other people "return" her) if she was lost. We were very lucky that two wandering episodes led to her safe return by police officials, bringing her right to her front door!
I continued to prod my husband about getting a diagnosis for his mother but the family was not willing to talk about this possibility. At the same time, my mother-in-law's older sister in Mexico was diagnosed with "senility," and prescribed a well-known Alzheimer's medication. Yet her family was unwilling to say the word "Alzheimer's," and claimed that she only had "senility." They were very adamant -- it was NOT ALZHEIMER'S.
My mother-in-law's oldest brother also was exhibiting memory problems. He no longer recognized us when we called and no longer remembered his sister when she called him. When we talked to him face-to-face, he had to be reminded that we were related. Nonetheless, the family continued to deny that Alzheimer's disease was the cause, and my husband accused me of "seeing" Alzheimer's everywhere since that was what I lived and breathed all day at work.
In mid-2009, my mother-in-law fell in her home. She severely broke a wrist and had to be in the hospital for two weeks with a compound fracture. In the hospital, she exhibited additional signs of memory loss and disorientation, and finally I was able to persuade my husband to talk to his family about getting a neurological exam for my mother-in-law. In late 2009, at the age of 72, my mother-in-law was diagnosed with Alzheimer's disease and she began to take medication.
After that, the family finally admitted that their grandfather probably also had Alzheimer's since he wandered and had very little memory of his family by the time he passed away in his 90s.
We are living with Alzheimer's, and everything I've learned in my years of working at the Alzheimer's Association is now becoming my reality. I feel so grateful that I can explain some things, at least to my husband, and he can convey them to his family. Living with someone with Alzheimer's requires some changes. We want my mother-in-law to be safe and well cared for, and we also want to enjoy her company as much as is possible while her cognition allows it.
Today, we are doing our best to understand the changes that Alzheimer's has brought about in my mother-in-law, and in all of our lives. One of the most impactful changes for our children to see is that my mother-in-law forgot how to get into a car. She began to crawl into the back seat of the car head first. When kneeling on the seat and facing the rear of the car, she would pause in confusion, not knowing how to turn around and sit facing forward. This had a profound effect on the children. They were shocked that this disease could impact a person so much that they would forget something so basic. It also prompted questions, "Will Dad get this?" "Will we get this?" "What can be done about this?"
What can be done about this? That is the question of the century.
We can do quite a bit, actually, but we're hamstrung by the inability to convey the size of this epidemic, which is here already today and looms as an even greater threat in the coming decades. Clearly there is only one way forward and that is to continue to fight for more Alzheimer's research. This disease has robbed millions of their memories and lives, and is currently stealing my loved ones in front of my very eyes.
A world without Alzheimer's disease is the vision of the Alzheimer's Association. This is a vision that I have embraced, and I continue to work in my small way to make this come true for us in the future. Never has this vision meant so much to me as it does since my mother-in-law's diagnosis. In that moment, my fears for my husband and children became a reality. We must create a world without Alzheimer's disease. The alternative is not acceptable.
The opinions expressed in this commentary are solely those of Maria C. Carillo.
FOLLOW THIS TOPIC