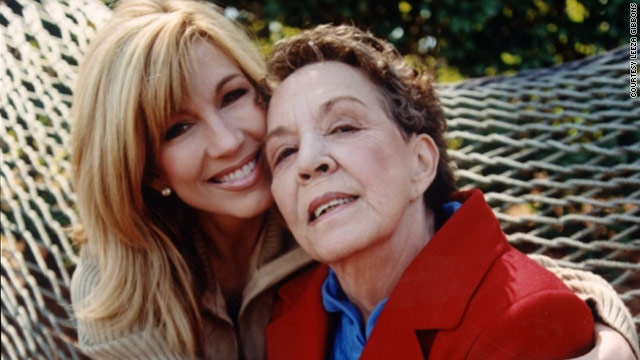 STORY HIGHLIGHTS
Leeza Gibbons: Change either breaks into your life, or you open the door and invite it in
To help manage change, breathe in positive feelings, breathe out negative ones, she says
To ward off negativity, she says, don't forget to believe, as optimism can fight troubles
You need to be able to receive help from your encouraging community, too, she says
Editor's note: After Leeza Gibbons' grandmother and mother died of Alzheimer's disease, she decided to help other family members caring for their loved ones with the disease. She created Leeza's Place, a facility for Alzheimer's caregivers.

Larry King returns to CNN with an emotional look at how people cope with Alzheimer's disease. Don't miss "Unthinkable: the Alzheimer's Epidemic," Sunday night at 8 ET on CNN.

(CNN) -- This is for all those courageous caregivers out there; the ones who take care of a loved one who has Alzheimer's or dementia and are probably not taking care of themselves: You already know your life has changed, but have you? It's time to let go of that carefully constructed (and false) image of yourself as being a rock.
When you unclench your fist, you let in all the energy you need to see you through. It's time to breathe, believe and receive, and learn to "take your oxygen first." Here's what I mean by that:
Basically, it's all about change. It's inevitable. Change either breaks into your life, or you open the door and invite it to sit down and have a cup of tea. It's coming. You can either react or respond. Your ability to manage change is what will make a difference. In a game of sameness versus change, change always wins. It cancels out the stagnant, the static and the complacent.
When you are a family caregiver, it's time to become a master of change. We all know CPR can save a life, and I think BBR can too! I found my transformation into the world of caregiving was made easier when I remembered to breathe, believe and receive.
Breathe: Start by taking 10 purposeful breaths; breathing in sheer certainty that you are doing your best. Breathe out all the negativity that weighs heavy in your head and on your heart. This can change your physical and emotional state, slowing down your heart rate, aiding your digestion and reducing your stress so you can cope with the very challenging journey you are walking.
You can't take good care of others unless you take care of yourself. Caregivers sometimes need to slow down and prioritize their own needs in order to be in the best possible condition to care for their loved ones. At Leeza's Place, we say "Take Your Oxygen First." In fact, we wrote the book on it!
How come some of us get buried by our circumstances and some of us are buoyant? I think there is a way of looking at things that makes a difference. Your frame, the lens through which you create your world, affects everything. No matter where you go, there you are: You, with your approach, your temperament, your expectation. This is where those glass-half-full kind of people have the advantage. So this is when you want to ...
Believe: Now is the time to be an optimist. Optimists really do fare better in warding off everything from the common cold to gastrointestinal problems and sleeplessness. Know that you can do it -- and that your efforts will be enough. Believe that you can get empowered by others who have achieved this before you. Get strength from them, and know that what you learn on your journey will also lift those who come next.
Receive: Everyone has limits, and there will be days when you feel that you just can't do it anymore. That's why it is so important to be surrounded by an encouraging community and explore the resources around you. Sometimes, you need to stop achieving and start receiving. Know that real strength comes from knowing your limits and asking for help. When someone says, "Do you need anything?" get comfortable with saying yes, and be prepared to provide a list! It can include everything from walking the dog to bringing dinner and listening to you vent, but don't be afraid to let people know what is helpful to you.
At Leeza's Place, we offer free services to support family caregivers, and every day, I am amazed and inspired by our guests, who teach me so much about the beauty and the burden of being a caregiver. I wish you strength and support on your journey, knowing you will find courage that you never knew you had and that, I hope, you can count on to help you take the next step.
FOLLOW THIS TOPIC