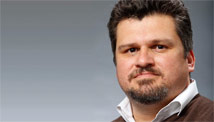 STORY HIGHLIGHTS
Arizona Gov. Jan Brewer vetoes "birther" bill on presidential candidates
Ruben Navarrette Jr. says Brewer made the right call to veto extreme legislation
He says Brewer has too often supported other extreme bills, including immigration law
Arizona has a history of official actions grounded in intolerance, he says
Editor's note: Ruben Navarrette Jr. writes a weekly column for CNN.com and is a nationally syndicated columnist and an NPR commentator.
San Diego (CNN) -- When a bill is too radical for Arizona Gov. Jan Brewer, well, that is saying something.
This is the same Jan Brewer who, last year, told the Obama administration that she'd see it in court rather than surrender what she saw as the right of her state to create its own immigration enforcement mechanism. Brewer is 0-2 in court; recently, a federal appeals court upheld a lower court ruling invalidating most of Arizona's immigration law, which opponents said was a recipe for racial and ethnic profiling.
It's the same Jan Brewer who, during her recent re-election campaign, had to walk back her claims that law enforcement officials had found decapitated bodies in the Arizona desert. This cheesy scare tactic, intended to suggest that Mexican drug smugglers were carrying out executions in Arizona, blew up in Brewer's face when her opponent, Attorney General Terry Goddard, demanded that she produce the evidence.
It is opportunistic politicians such as Brewer who represent much of what's wrong with Arizona.
And yet, in a move that took a lot of people by surprise this week, Brewer did the right thing when she vetoed the "birther bill" that would have required President Barack Obama and other presidential candidates to prove they were American citizens who were born in the United States before their names could have been placed on the state ballot.

Arizona governor vetoes 'birther' bill

Explain it to me: 'Birthers'

Reflections on Trump's birther rhetoric
House Bill 2177, which shockingly breezed through both houses of the Legislature with strong Republican support, would have put the onus on the nation's political parties to prove their candidates were American citizens who were born in the United States.
The preferred method of proof: a long-form birth certificate with all the details of the person's birth. If that wasn't available, the parties could produce a hospital birth record, a baptismal document or circumcision certificate. The Arizona secretary of state would determine whether the documents were valid and whether the candidate should be on the ballot.
As a former secretary of state, Brewer had heard enough. She said in a written statement explaining the veto: "I never imagined being presented with a bill that could require candidates for President of the greatest and most powerful nation on earth to submit their 'early baptismal or circumcision certificates' among other records to the Arizona Secretary of State. This is a bridge too far."
Brewer dismissed the bill as a blatant attack on Obama's eligibility to be president, and an unproductive one at that when there are bigger concerns to address.
That it was. But while Brewer was right to veto this grotesque and likely unconstitutional piece of legislation, she was wrong that the bill was all about Obama. It wasn't. It wasn't even all about politics, or partisanship, or the 2012 election.
In fact, I would argue that the least important color line in Arizona is the one between blue and red. In the immigration debate, you have Republicans helping to torpedo immigration bills put forth by other Republicans and Democrats lurching to the right on enforcement and fighting with other Democrats.
The only color lines that matter are the ones between whites and blacks, and, increasingly, whites and browns.
While more than a dozen states are considering similar pieces of legislation, it made sense that Arizona would be center ring in this circus.
The bill that Brewer vetoed -- which would never have been considered if the president were a white male -- sprang from the four pillars for which Arizona has become known: intolerance, racism, prejudice and chauvinism.
Why chauvinism? Because once again, this was an example of Republicans in the Arizona Legislature standing on a soapbox and declaring themselves to be the only true Americans in this country, proving once again they don't know the first thing about the country of which they're so proud to be part.
Arizona is a beautiful state, but one with an ugly history.
In the 1980s, Gov. Evan Mecham -- who was ultimately impeached -- canceled the state holiday for the Rev. Martin Luther King Jr. because, he said, "King doesn't deserve a holiday."
Last year, besides the arrival of the immigration bill, there were other ugly racial and ethnic controversies in Arizona. Education officials barred from teaching English courses instructors who had "heavy accents." And the state banned ethnic studies in elementary and secondary schools because of fears that such classes promote "resentment toward a race or class of people."
Meanwhile, in the town of Prescott, artists hired to paint a mural at a school chose to feature portraits of four children with a Hispanic boy as the main figure. That angered City Councilman Steve Blair, who mistakenly assumed that the boy was African-American. Blair wanted to know why and suggested that it had to do with "the guy that's in the White House."
R.E. Wall, the lead artist on the project, said that motorists would drive by the mural and yell racial epithets such as "Take that (N-word) off that wall." At first, school administrators caved into pressure and asked Wall to lighten the skin color of the person in the mural. Eventually, they left the mural alone after coming to their senses and deciding to take a stand against prejudice.
Now, Brewer seems to have made the same decision about the "birther" bill.
Good for you, governor. You made the right call. Now about that immigration law. ...
The opinions expressed in this commentary are solely those of Ruben Navarrette Jr.
FOLLOW THIS TOPIC