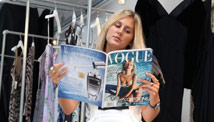 STORY HIGHLIGHTS
Sophie Cranston of British label Libelula is new contender in wedding dress speculation
Until now Sarah Burton of McQueen was frontrunner
Kate wore a Cranston coat at the wedding of a friend in January this year
Pennie: Cranston's beautifully understated designs fit with Kate's style
Editor's note: LA-based fashion expert and stylist Nikki Pennie has worked with labels Luella, Celine and Issa. She has the distinction in the fashion world of having introduced Prince Williams bride-to-be Kate Middleton to the Issa label. Pennie has also styled the likes of Madonna and Cat Deeley.
London, England (CNN) -- Who is designing Kate's dress? That is the question on every fashionista's lips right now.
The frontrunner so far has been Sarah Burton, the 36-year-old Creative Director at edgy British label Alexander McQueen. Until a couple of days ago, that is, when a new name came into the picture: Sophie Cranston of the Libelula label.
Since the news of Kate and William's engagement last November, tongues have been wagging about who could be designing the dress. Designers hotly tipped to bag the job apart from Burton include Bruce Oldfield, Amanda Wakeley, Phillipa Lepley and Daniella Issa Helayel -- who designed Middleton's sapphire blue engagement dress.
But Burton, who took over the McQueen label last year, seemed like a safe bet for such an opulent occasion. Although she is renowned for fashion-forward designs worn by the likes of Cate Blanchett, Lady Gaga and Michelle Obama, she is also no stranger to designing for upper-crust weddings.

Dressing like a princess
Harpers Bazaar fashion editor, Sarah Parker Bowles (formerly Sarah Buys) wore a strapless satin fishtail Burton dress when she married Tom Parker Bowles, the son of Prince Charles' wife Camilla, a few years ago.
So, where does Libelula come in? Well, Cranston's not entirely new on the scene: She designed the divine black velvet dress coat that Kate wore to attend a friend's wedding in January, sparking some controversy in the British tabloids for her choice of color.
Award-winning designer Cranston set up Libelula (named after the Spanish word for dragonfly) in 2003 and numbers Jerry Hall and Emma Watson among her fans. She has a bespoke bridal line in addition to her main collection, designed in her UK studio.
Cranston's classically charming and beautifully understated designs really fit
--Nikki Pennie, stylist
I have had the unique privilege of getting to know Kate and from my experiences working with her as a stylist, I think she might strongly consider a label such as Libelula. Kate has an incredible sense of style and Cranston's classically charming and beautifully understated designs really fit.
According to the most recent rumors, Kate has played a big part designing the Cranston dress, which is said to include elements such as a 10-foot train, ivory satin and lace.
Kate will be a 21st century princess with a strong sense of fashion and I know that it is really important to her to have input to the design of her wedding dress. It's going to become synonymous with this century's style -- so who can blame her?!
She is a modern style icon and someone we could all look to and take inspiration from. Her elegance, charm and natural beauty are the most phenomenal asset to British fashion.
Even if it is not Libelula, she could choose another label with a similar design sensibility, or perhaps, for an occasion like her wedding she might favor the opulence and edge of Burton.
I can't wait for April 29 to see her dress! Kate has managed to keep the whole world waiting. But in the meantime the guessing games continue ...
FOLLOW THIS TOPIC