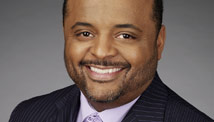 STORY HIGHLIGHTS
Roland Martin witnessed his alma mater, Texas A&M, beat Notre Dame in the Women's Final Four


Martin: Women's Final Four was more entertaining, exhilarating, better than men's


Martin says team ball played by women is a reminder that the game is all about "T-E-A-M"
Editor's note: Roland Martin is a syndicated columnist and author of "The First: President Barack Obama's Road to the White House." He is a commentator for TV One Cable network and host/managing editor of its Sunday morning news show, "Washington Watch with Roland Martin."
Indianapolis, Indiana -- As the final seconds ticked off the clock Tuesday night at Conseco Fieldhouse, the Texas A&M fans were exhilarated at winning their first NCAA women's basketball national championship, while the thousands of Notre Dame fans went home saddened by coming so close to winning it all.
It was a fabulous championship battle, as the two teams went back and forth, slugging it out like a heavyweight bout. It was a major contrast to the debacle in Houston the night before as Butler put up enough bricks against Connecticut in the NCAA Men's Championship game to build a massive home. It wasn't a well-played game on either end of the court, and the reaction from those in attendance and who watched at home left much to be desired.
If you want to call me biased since I'm a 1991 graduate of Texas A&M, that's fine. I've never hidden the fact that I am a major supporter of my alma mater, and would have moved heaven and Earth to be in the Hoosier state to witness the national title game in person. But there was little doubt that if you are a basketball fan, the women's Final Four was far more entertaining, exhilarating and better overall than what the men produced.
That's right. This man is willing to say publicly that he enjoyed watching Danielle Adams, Skylar Diggins, Sydney Colson and Maya Moore far more than any of the men from Virginia Commonwealth, Kentucky, Butler and Connecticut.
And don't get it twisted; there have been many women's games over the years that caught my attention and the epic women's rivalry between UConn and Tennessee (fueled by the feud between coaches Geno Auriemma and Pat Summitt) rivals that of North Carolina and Duke on the men's side.
It is sad to listen to men, and especially women, denigrate women's basketball as being inferior and not up to snuff compared to men's. It's great to see high-flying dunks by the men, but when you watch true team ball played by women, you're reminded about what the game is all about: T-E-A-M.
What a lot of this comes down to is pure sexism by men. It was stunning to read some of the insensitive comments posted on my Facebook and Twitter pages. The sexuality of the women was questioned, and individuals who would be angered if someone denigrated their race were quick to do the same based on gender.
Yet when these individuals were asked what would happen if it were their daughter, sister or niece on the court, many of them turned into wimps, conceding that that would change their view.
So essentially it's fine and dandy to assail other women, but when it's one of your own family members, that somehow changes it all? I'm sorry, folks, that's just plain dumb to me.
Yet the same disregard for the women's game was evident among the top male basketball sports analysts. I get many of their tweets, and my BlackBerry was buzzin' on Monday night during the men's finals. But on Tuesday, these astute individuals, many former players, didn't say a word about the women's championship game. At least LeBron James had the courtesy to send out two tweets congratulating Texas A&M on winning the title.
There is no question that the ratings gap between the women's and men's game is evident. Americans vote with their remotes, and even with a horrible game, Butler-Connecticut garnered an 11.7 game rating on CBS. The Notre Dame-Texas A&M women's final on ESPN pulled a 2.3 overnight rating, averaging 3.8 million viewers.
But as we know from TV shows we watch, a show like "Mad Men" on AMC doesn't pull in the same ratings as Charlie Sheen's "Two and A Half Men" on CBS, but the quality difference is unquestioned.
If someone says they simply prefer not to watch a particular sport, I'm fine with that. Hockey and soccer have never been at the top of my viewing list. And even though I played baseball growing up and in high school, it bores me to death these days. But my disinterest in those sports is not based on gender, as I see with women's basketball critics.
For that person who says watching men and women play boils down to quality, I can guarantee you that watching the top women's teams is just as enjoyable as the top men's team, whether it's your alma mater or not.
FOLLOW THIS TOPIC