STORY HIGHLIGHTS
Manning Marable died just before his life's work, a biography of Malcolm X, published
Maytha Alhassen helped her mentor research book, which redefines Malcolm X
She says book reveals an explosive new look at Malcolm's assassination
She says Marable believed Alex Haley-assisted "Autobiography" led to conspiracy of silence
Editor's note: Maytha Alhassen is a doctoral student in American studies and ethnicity at University of Southern California, a performer for Hijabi Monologues, and a contributor to an upcoming book on American Muslim women's narratives "I Speak For Myself."
(CNN) -- Manning Marable, my academic mentor and a well-respected scholar, died just three days before his decades-long project, "Malcolm X: A Life of Reinvention," was released on Monday. It is an exhaustively researched biography that directly challenges the standard narratives surrounding Malcolm X.
What Marable's book offers is social and political context to the historical events around Malcolm's life, a detailed account of his three trips to the Middle East and Africa, an explosive re-examination of his assassination and a re-conceptualization of Malcolm's break from the Nation of Islam.
Marable was a prolific writer, a Columbia University professor, founding director of the Institute of Research in African American Studies and director of the Center for Contemporary Black History. He was also my intellectual inspiration.
In fall 2006, he took a chance on this Malcolm X-obsessed Syrian-American Muslim woman by asking me to join his Malcolm X Project as a research assistant. Sifting through archives, Arabic language newspapers, articles and books, I spent two years examining Malcolm X's relationship to Islamic, Arab and African leaders for the project. I credit my foundation of historical scholarship to Marable.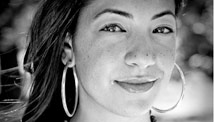 Maytha Alhassen
One of my first memories of him involved a trip to his office. I walked in and immediately noticed the 7th floor view overlooking the hustle and bustle of Amsterdam Avenue in New York's Morningside Heights; the bookshelves holding the impressive number of books he wrote and a barren desk with a telephone and some papers. There was no computer. Marable hand-wrote the 600 pages of his Malcolm X biography on legal pads, as he did with all his preceding publications.
Although he didn't use a computer to write, he did not dismiss advances that made the ivory tower more accessible to the public. Marable's combination of old-school scholarship, devotion to the community and his students, ability to quote Tupac lyrics, use of multimedia for educational purposes and incomparable instruction set him apart not only as an eminent scholar of African-American history, but also as an engaged scholar.
In addition to hands-on archival research training, I learned the importance of thinking outside the cultural stereotypes that constrain Malcolm X's legacy. There are hundreds of books written about Malcolm X, and arguably the most influential is "The Autobiography of Malcolm X," written with Alex Haley.
Marable contended that an uncritical reliance on the Haley-assisted book robbed Malcolm of his remarkable complexity and enabled what he called "a collective conspiracy of silence surrounding Malcolm X."

New details emerge in Malcolm X's death
The range of Malcolm myths include that he was militantly minded, advocating violence when he only advocated defense; sexist, although some of the leaders in his organizations were women and some pioneering feminists developed close relationships with him; anti-Semitic, an integrationist and even a racist. His memory was reinvented by every succeeding generation, by Haley, by Spike Lee, and especially by himself.
By his name changes -- Malcolm Little to Detroit Red to X to El Hajj Malik El Shabazz -- we see how the black leader reinvented himself. Little do we remember him in his final stage of reinvention; as an internationalist, radical humanist, Pan-Africanist, nonalignment advocate with a political program to change the condition of the "22 million African Americans" he loved so dearly.
Malcolm's legacy suffered at the hands of both his slanderers and his apologists. Marable researched thousands of pages of declassified FBI files, Haley's personal archives, Malcolm X's travel diaries and black and international press accounts. He also interviewed Malcolm's contemporaries, including an officer assigned to watching Malcolm and Louis Farrakhan.
One of the myriad project discoveries from this intensive research was Malcolm's frequent reference to Pan-African and Pan-Arabist Egyptian leader Gamal Abdel-Nasser as "my president."
In the chapter titled "Death Comes on Time," Marable re-examines the legal and popular account of Malcolm's assassination. Among the most startling revelations are Marable's contention that some of the men convicted of his murder were wrongly accused, some of the killers escaped trial and that federal law enforcement agencies exercised "reticence" when it came to "intervening with Malcolm's fate."
Marable writes that previous to the day of his assassination, FBI and the New York Police Department Bureau of Special Services followed Malcolm's every move. But on the afternoon of February 21, when Malcolm was killed in the Audubon Ballroom in New York's Washington Heights, the officers were nowhere to be found. The suggestion is not that the FBI or the police were directly responsible for Malcolm's death, but they created the conditions that made it inevitable.
Marable also writes of Malcolm's separation from the Nation of Islam, frequently quoting doctoral student Zaheer Ali, who described it as "not a clean break, but a shattering."
As Malcolm X died shortly before the release of his autobiography, Marable died three days before the publication of his life's work. And as Malcolm lived on through his best-selling autobiography, so will Marable, through his unmatched body of writing, his educational contributions, his illuminations on Malcolm X's legacy and his devoted students.
The opinions expressed in this commentary are solely those of Maytha Alhassen.
FOLLOW THIS TOPIC