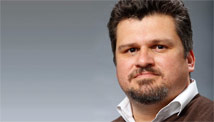 STORY HIGHLIGHTS
Ruben Navarrette: Florida Sen. Marco Rubio would be natural GOP pick for VP in 2012
Rubio says he's not interested but could help draw disaffected Latinos, Navarette says
Rubio had seemed to go along with GOP on immigration issue; he's become more nuanced
Navarrette: Rubio could be GOP's Superman; immigration could be his kryptonite
Editor's note: Ruben Navarrette Jr. is a CNN.com contributor, a nationally syndicated columnist and an NPR commentator.
San Diego (CNN) -- We don't know who will be the Republican nominee for president next year. But we do know who stands a good chance of being the Republican nominee for vice president: Florida Sen. Marco Rubio.
That is if he wants the No. 2 slot. Rubio might decide that President Barack Obama, even with his softening popularity, will be tough to defeat in 2012 and that the wise move is to wait until 2016.
Either way, Rubio is a rising star. He has been turning up on television all week, fielding questions from journalists about his plans. He told one interviewer that he won't run for president in 2012. He told another that he is not "going to be the vice presidential nominee."
Maybe not. But the first-term Florida senator will surely be in demand for the VP job. There are the usual reasons: Rubio is intelligent, well-spoken, handsome, media-savvy and a capable fundraiser.
But there is also the special sauce: Rubio has a healing quality. No matter who wins the GOP presidential nomination -- Mitt Romney, Mike Huckabee, Tim Pawlenty, Newt Gingrich, et al -- he or she will start the general election at an enormous disadvantage with Hispanic voters. Having a Cuban-American, a self-described "son of exiles," on the ticket could help close the gap.
Now, a word about how the GOP got crossways with America's largest minority -- with 500,000 new voters every year, Hispanics are one of the fastest-growing segments of the electorate. In a word: immigration.

2010: Rubio: GOP wins a second chance

2010: Rubio: Enough is enough
The Republican Party seized an opportunity to become the mouthpiece for the cultural anxiety that many Americans feel about changing demographics and the reality that the United States is becoming a Hispanic country.
Is America becoming a Hispanic country?
But GOP leaders didn't think about the cost. Republicans insist they are "anti-illegal immigration" but, in their rhetoric and legislative solutions, they come across as "anti-immigrant" and "anti-Hispanic." And so, not surprisingly, most Hispanics wouldn't vote Republican even if it were the last party on Earth.
Nowhere is that more true than in California. A recent poll, conducted by a GOP pollster and consultant, found that just 26% of Hispanics in the country's most populous state had a favorable opinion of the Republican Party, compared with 62% who viewed Democrats favorably.
And while Republicans don't have a realistic shot at carrying California in a presidential election, they would probably like to be competitive in five other states with heavy Hispanic populations that seem to be trending blue: Colorado, New Mexico, Florida, Arizona and Texas. Go to any of those states -- and I've visited all of them recently -- and you'll find similar discontent among Latinos at how Republicans mangle the immigration issue.
At first, Rubio was just as clumsy in Florida. During his Senate campaign, he addressed Arizona's tough immigration law, which requires local police to enforce federal immigration statutes and which critics charge leads to racial profiling. But he bungled his response. Initially, he opposed the law, which is incredibly unpopular with Hispanics.
Rubio said in a statement then: "From what I have read in news reports, I do have concerns about this legislation. While I don't believe Arizona's policy was based on anything other than trying to get a handle on our broken borders, I think aspects of the law, especially that dealing with 'reasonable suspicion,' are going to put our law enforcement officers in an incredibly difficult position. It could also unreasonably single out people who are here legally, including many American citizens."
After Arizona Republicans made a few cosmetic changes to the law, Rubio declared his support for it. He should have quit while he was ahead. Rubio's flip-flop was likely the result of bullying by Tea Party members. And it's something that Hispanic voters may always hold against him.
But, unlike many politicians, Rubio apparently learns from his mistakes. In August, when an even touchier question came along -- about whether he favored changing the 14th Amendment to do away with birthright citizenship and what the right wing calls "anchor babies" -- Rubio opposed the change.
His stance on changing the 14th Amendment shows independence and that Rubio believes we can secure the border and enforce the law without turning the Constitution into confetti.
For any Hispanic Republican, the immigration debate is nearly impossible to navigate. And it is no wonder that even with his superb communication skills, Rubio stumbled.
Given his Spanish surname, Rubio has to constantly reassure the conservative white voters of the GOP base that he is tough on illegal immigration. And yet, if he's too tough, he'll lose Latino support to the point where he becomes just another caricature of a turncoat, an Uncle So-and-So who can't deliver his own community. Which, ironically, is one of the major reasons he'd be on a national ticket in the first place.
Marco Rubio is the Republican Party's Superman. And, the immigration issue, if not handled correctly, is his kryptonite.
The opinions expressed in this commentary are solely those of Ruben Navarrette.
FOLLOW THIS TOPIC