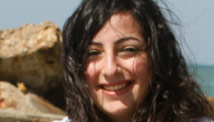 STORY HIGHLIGHTS
Yasmeen El Khoudary: Palestinians had seen Arab identity and unity as a myth
Revolutions in Tunisia and Egypt showed "who our real Arab brothers and sisters are"
Khoudary says Arab pride is now being felt by Arabs around the world
Editor's Note: Yasmeen El Khoudary, 21, was born and raised in Gaza City, in the Palestinian territories. She works as a self-employed writer and researcher and blogs at yelkhoudary.blogspot.com
(CNN) -- For the first time in my life, I saw the Tunisian, Egyptian and Libyan flags held high in the sky of Gaza next to the Palestinian flag.
I saw, and was among, thousands of young Palestinians who met on the streets of Gaza on March 15, 2011, to demand an end to the current political division between Hamas (in Gaza) and Fatah (in the West Bank).
This protest would have been unthinkable before the beginning of this year, and more specifically, before the January 25. We, the Palestinian youth, were so inspired by the revolutions that liberated Tunisia and Egypt from their cancer-like regimes that we completely changed the way we look at Arab identity and politics forever.
Prior to the wave of revolutions that is sweeping through the Arab world, Arab identity to us was no more than an attractive seashell that was hollow from the inside. It offered a delusional sound of the sea -- which is a symbol of freedom -- to whoever bothered to hold the shell next to their ear.
We, the Arab youth of the 21st century, have been memorizing songs, poems and history lessons about Arab unity and identity for as long as we can remember.
Up until a certain point in our lives we were entirely convinced of Arab brotherhood and unity, which, we were told, dated back hundreds of years.
As we grew up ... the idea that Arab unity is no more than a myth started to sink in.
--Yasmeen El Khoudary
However, as we grew up and started to realize that the news we see on TV is more like a TV show set on an eternal "repeat," the idea that Arab unity is no more than a myth started to sink in.
We were also forced to believe that Arabs "sold" the Palestinian cause long ago and that defending the cause was a responsibility that should only be entrusted to the Palestinian people.
Today, it seems like that belief was enforced upon us by regimes and dictatorships that were too busy to do anything good for their own people (in Tunisia or Egypt), let alone do anything for the Palestinians and the Palestinian cause.
If anything, their very existence resulted in an array of hardships that made our lives as Palestinians much more difficult. Examples include travel complications that are evident in almost every country in the Middle East, and Mubarak's unrelenting support of the Israeli siege on Gaza.
What reason did we have to believe that we shared a common Arab identity, let alone unity, with "Arabs" like him?
That was when January 25 came in to prove us wrong. We did not need a lot of convincing.
Watching the news was more than enough to show us who our real Arab brothers and sisters are: they are Muhammad Bouazizi and the Tunisians who led the Jasmine Revolution, and the Egyptians who showed the world why Tahrir Square deserves its name (Liberation Square).
This breathtaking feeling of Arab pride is surging in the hearts and minds of Arabs everywhere in the world.
--Yasmeen El Khoudary
We belong to that clan. We belong to the free Arab populations who are led by their free and noble will.
I can now safely say that this breathtaking feeling of Arab pride is surging in the hearts and minds of Arabs everywhere in the world. It's like this feeling of pride is collective, and we have the absolute right to feel this way, because we are all Arabs.
Not only that, but the ongoing revolutions prove to the world that their perception of the Arabs for the last century was completely distorted.
In Tunisia and Egypt, we were able to carry out massive civilized and peaceful revolutions that resulted in the ousting of the world's most stubborn dictators.
The world was, and still is, in what seems like a severe state of disbelief that will last until it finally understands that the Arab people were born to be free.
The opinions expressed in this commentary are solely those of Yasmeen El Khoudary.
FOLLOW THIS TOPIC