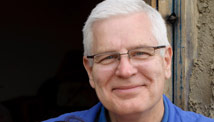 STORY HIGHLIGHTS
Richard Stearns: Japan tragedy shows the power of video images to touch and move us
But without compelling images, he writes, tragedies equally horrific go unnoticed
Examples: Untold thousands of rapes in Congo; 1,000 children infected with HIV a day, he says
Stearns hope people will react to suffering even if their hearts aren't pierced by images
Editor's note: Richard Stearns is president and CEO of the U.S. offices of World Vision, the international Christian humanitarian organization.
(CNN) -- Twenty-foot walls of water. Ships, cars and houses swept away in a raging, debris-strewn mass. One man rescued from atop the roof of his home after three days spent miles out into the ocean.
These haunting and desperate images of the tragedy in Japan churn in my mind and, I'm quite sure, the minds of millions of others throughout the world. Six months from now, I'll be sitting next to a stranger on an airplane half a world away, and we'll strike up a conversation. When I mention my work with an international humanitarian organization, my seatmate will likely recall those same images.
It will be a shared media experience.
This tragedy exemplifies the power of video images. In our global village, we share shock, horror and grief at the tragedies we witness, natural and manmade. Some cause us to be disgusted, such as the freedom fighters gunned down in Libya. Some cause us to open our wallets to donate money, such as helping victims of the Haiti earthquake last year.
Over the past few decades, the world has enjoyed, or been repulsed by, several shared media experiences, some of which helped to chart the course of history:
-- 2001: The second jetliner crashing into the World Trade Center and the subsequent collapse of the Twin Towers into a massive cloud of dust, visible for miles.
-- 1991: Boris Yeltsin scrambling atop a tank in the midst of chaos in front of the Russian Parliament building and bellowing through a bullhorn, "The clouds of terror and dictatorship are gathering over the whole country. They must not be allowed to bring eternal night."
-- 1984: Emaciated children dying in their mothers' arms in an Ethiopian feeding center, images that my organization, World Vision, helped two journalists to capture. One of the two, Mohammed Amin of Kenya, later commented, "The subject was so horrifying and brutal ... it hit me very hard that it was more than another story."
Indeed, those three events and many more are "more than another story."
Without compelling video images, so many stories go all but completely unnoticed, stories I care about
--Richard Stearns
Steven Livingston, a professor of media and public affairs at George Washington University, writes: "Television [and I would add the Internet news sites], for a variety of commercial and professional reasons, is drawn to the dramatic visuals found in most -- but not all -- humanitarian emergencies. The pitched battles between gun-toting teenagers in the streets of some hitherto unheard-of place, massive flows of refugees, the pathos of a starving child, all make for compelling television."
Livingston wrote those words nearly 15 years ago about the "CNN effect" -- the power of visual images in a 24/7 news cycle to influence American foreign and military policy.
But they are eminently relevant today. Without compelling video images, so many stories go all but completely unnoticed, stories I care about:
-- More than 22,000 children, enough to fill 100 jetliners, die every day from mostly preventable causes. But there's no video.
-- Over the past 13 years, untold thousands of girls and women have been raped in the conflict in the Democratic Republic of the Congo. But there's no video.
-- More than 1,000 children are infected with HIV every day, and millions more who don't have HIV are still affected because of the death and suffering in their families. But there's no video.
And, with no video, according to journalist Keith Epstein, there is little reason to expect people will care.
Writing in 2006 in the "Stanford Social Innovation Review," Epstein notes that "a growing body of research on how people think, feel, and act suggests that donors' seemingly misplaced giving actually makes psychological sense. The deluge of generosity following headline calamities, as well as the underwhelming response to quieter sufferings, have their roots in human evolution ..."
While I find it frustrating most journalists would not consider these issues "news," I am even more frustrated, and astounded, by the overwhelming abundance of video competing for our attention. Every minute, people around the world post 32 hours of video on YouTube. That equates to 36 years worth of video every seven days.
How can we have a shared media experience with such an inconceivable volume of images? To gain a significant audience on YouTube, one must be humorous, outrageous or remarkable. Is your kitten wrestling a German shepherd? Is your daughter spewing racist rants against Japanese students calling home? Is your three-year-old prodigy playing Mozart sonatas?
Like many people, my optimism, fortunately, is stronger than my frustration. Optimism that people will demonstrate compassion and generosity to those devastated by the earthquake and tsunami in Japan.
Optimism that freedom fighters in Arab countries will prevail over dictatorships.
Or optimism that, someday, we will not need shared media experiences to instill a deeper desire in all of us to help victims of poverty and injustice, that we will respond to pain and suffering using our heads -- not only when our hearts are pierced by images.
The opinions in this commentary are solely those of Richard Stearns.
FOLLOW THIS TOPIC