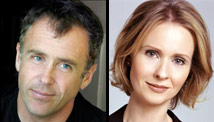 STORY HIGHLIGHTS
Cynthia Nixon, David Eigenberg: Amendment from Rep. Pence targeted Planned Parenthood funds
Pence says money indirectly funds abortions.Move failed but writers say threat still looms
Writers: Group offers array of women's health services, like cancer screening, contraception
Writers: Lawmakers must push back at threat to women's health care in budget negotiations
Editor's note: Emmy, Tony and Grammy Award-winner Cynthia Nixon, who is best known for her role as Miranda Hobbes on the HBO series "Sex and the City," can next be seen in the HBO movie "Too Big to Fail" and the Oren Moverman film "Rampart." David Eigenberg can next be seen on ABC's "Private Practice" on Thursday, March 17 and ABC's "Castle" on Monday, March 21.
(CNN) -- Lazy ovaries, depressed vaginas, testicular cancer, breast cancer, STD tests, and fertility drugs ... our show and movies covered pretty much every aspect of reproductive and women's health important topic for our viewers and for women, men and families nationwide.
Now, some Republicans in Congress are threatening to cut off access to care for such health needs, putting at risk the lives and health of millions of Americans.
On February 18, Republicans in the U.S. House of Representatives, with the help of 11 Democrats, passed an amendment introduced by Rep. Mike Pence, R-Indiana, aimed at barring Planned Parenthood from receiving federal funds for any purpose, including preventive and lifesaving health services.
The amendment was part of a sweeping bill to entirely cut the $317 million Title X program that funds aid for family planning. Planned Parenthood receives about $75 million of that funding.
The House Republicans' budget proposal that included the cuts was rejected by the Senate earlier this month, and a continuing resolution that passed this week to keep the government running for three more weeks did not include the Title X cuts or Pence Amendment.
But Pence and his supporters have vowed to fight to include the cuts in a final budget package.
Backers of the Pence Amendment claimed that such legislation would help reduce abortions and curb our rising deficit. But existing legislation already bans the use of federal funds for abortion, and the heart of what Planned Parenthood does has nothing to do with abortion.
Another view: Cut Planned Parenthood's funding
More than 90 percent of the care that Planned Parenthood provides is preventive, according to the organization's president, Cecile Richards. Each year, she says, the organization provides 830,000 breast exams, nearly 1 million cervical cancer screenings, half a million HIV tests and birth control to 2.5 million patients

Planned Parenthood funding fury

House debate turns personal
Contrary to claims by some leaders in Congress, Planned Parenthood's services actually bring significant financial benefit to America. In fact, according to the Guttmacher Institute, a leading authority on reproductive health, every $1 of public money invested in family planning saves nearly $4 down the line by keeping patients healthy so they don't require costly medical treatments and procedures.
And these services actually help decrease the number of abortions. Every year, the programs targeted by Pence and others prevent about 1 million unplanned pregnancies, 400,000 of which would otherwise end in abortion,
Furthermore, Planned Parenthood services save women's lives by identifying precancerous conditions and cancer in its earliest stages, when it can be most successfully treated.
Cynthia is a real-life breast cancer survivor herself. She credits her survival to having been diagnosed early on, and to having had access to quality health care. We're frightened to imagine the devastating impact that cutting Planned Parenthood's cancer detection services would have on other women around the country.
For many women -- especially low-income women or those living in rural areas where there is limited access to providers -- Planned Parenthood is the only source of health care.
David's wife went to Planned Parenthood when she was a teenager for her annual exam and for birth control. She came from a single-parent household and couldn't afford to go anywhere else. Due in part to the care she received at her Planned Parenthood health center, she was able grow up into the amazing woman and mother she is today.
We shudder to think what other women would do if their local Planned Parenthood facility was forced to shut down.
It is critical for the lives and health of all women and families that we never have to live in a world without Planned Parenthood. Whether or not a Pence Amendment becomes law is now in the hands of Congress, and we urge our elected officials to stand with Planned Parenthood and women everywhere by voting a resounding "No."
This fight isn't about politics or ideological preferences --i t's about making sure the women in our lives have the care they need.
The opinions expressed in this commentary are solely those of Cynthia Nixon and David Eigenberg.
FOLLOW THIS TOPIC