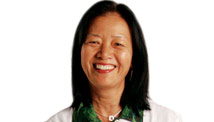 STORY HIGHLIGHTS
Oncologist Ritsuko Komaki was on her way from U.S. to Japan when quake struck
A Hiroshima survivor, she says nuclear disaster that followed quake carries sense of déjà vu
Family, friends died from bomb's effects; she became oncologist to harness radiation for good
Komaki: Women, children must be protected; Japan must share information to save lives
Editor's note: Ritsuko Komaki is a Hiroshima survivor and oncologist based in Houston.
(CNN) -- As I sat in my sister's house in Nagoya, Japan, last Saturday, I was flooded with déjà vu.
There was enough hardship with the earthquake and tsunami, but fears about the nuclear power plant carried echoes from my early life -- Hiroshima, Nagasaki.
I'm a professor of radiation oncology at The University of Texas MD Anderson Cancer Center; radiation has always been part of my story. I've used it to heal, but I've also experienced its destructive powers. And I've prayed never to see its devastation again.
I never dreamed I would be sitting with family watching in horror the first explosion at the Fukushima Daiichi nuclear complex in Okumamachi, northeastern Japan.
On Thursday, March 10, I had left Houston for Tokyo, where I was to give a talk to radiation oncologists, surgeons and neurosurgeons about a specific kind of radiation for early lung cancer. But ten minutes before we were to land at Narita Airport, we were informed that there had been an earthquake, and the airport was closed.
Fortunately, we were diverted to a town where my older sister and her family live. We sat together sadly, sharing an experience we hoped never to see again.
I was a baby when the atomic bomb was dropped on Hiroshima, and 4 years old when we moved back there to live. While my grandmother survived, she had every side effect of total body radiation: her hair fell out, her nose bled, she had diarrhea. Many relatives died.

Komaki discusses radiation threat

Japan radiation health risks

Japan quake devastates Miyako

Tsunami tosses ships at port
When I was 10 years old, my friend, Sadako, was diagnosed with radiation-induced leukemia. There's a Japanese belief that if someone folds 1,000 cranes, he or she will heal. So she began to fold cranes -- and my classmates and I started folding them with her. When she died, we raised money to build a monument to her and all the children who had died -- a crane that now stands in Hiroshima's Peace Park. Children still go there, bringing their origami cranes.
It was also then that I decided to become a doctor or a leukemia researcher.
I was a young medical student when I learned that while radiation is one of the causes of cancer, it can also be used to cure it. I became a radiation oncologist.
Unlike the full-body radiation people experienced from the atomic bomb, radiation therapy is a well-planned course of treatment. And while doses are high, they are targeted to kill cancer cells and protect the surrounding tissue as much as possible.
Because of Hiroshima and Nagasaki, however, many Japanese are afraid of radiation. When they get cancer, their first choice is surgery. But many are not candidates for surgery, and while they might benefit from radiation, they sometimes receive an inadequate amount.
Also, because of the fear of radiation therapy, there have not been many medical students in Japan interested in going into radiation oncology until recently. This January, my husband, Dr. James Cox, and I met with oncologists in Kyoto and Sapporo to begin a five-year grant received from the Japanese Ministry of Technology and Education. The aim is to improve radiation education and train medical physicists.
I worry what effect the nuclear explosions in Fukushima will have on the advances we have slowly been making.
I also worry about the situation in Fukushima and the surrounding area. In Hiroshima, we were told that nobody could live in that city for 20 years because of the contamination. But within six months people moved back. Their land was precious and they didn't want to lose the place they had inherited from their grandparents. Many of them died of cancer.
But now we have this evidence, and people should know what they risk by staying in or returning to the area. It's important that babies, children, young adults and pregnant women evacuate. I'm concerned about the contamination.
When children are growing up, it's so important for them to avoid any unnecessary radiation. That's why I've been such an advocate for proton therapy. Five years ago, MD Anderson built a proton therapy center where patients, especially children, can receive radiation targeted only to the cancer cells.
Back in Houston this week, I've been replaying so many experiences and thoughts about radiation -- from the past and the present. I can only hope that the Japanese government will take the necessary steps to disclose the radioactive measurement and help save people's lives.
The opinions expressed in this commentary are solely those of Ritsuko Komaki.
FOLLOW THIS TOPIC