World's inaction could radicalize Libya's rebels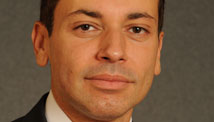 STORY HIGHLIGHTS
Khairi Abaza says Gadhafi's forces closing in on rebels
He says rebels lost Ajdabiya, are fleeing to Benghazi
Arab League, France, UK back no-fly zone, U.N. indecisive, U.S. cautious, he says
Abaza: Gadhafi falsely calls rebels terrorists; world's indifference could make them so
Editor's note: Khairi Abaza is a senior fellow at the Foundation for Defense of Democracies, a nonpartisan policy institute that aims to promote democracy.
(CNN) -- As embattled dictator Moammar Gadhafi's forces advance into rebel-held territory, the international community has decided not to protect the Libyan people.
The protesters, who never took up arms until the government attacked them, face the prospect of a massacre, and are preparing for a last stand in the eastern city of Benghazi.
On Tuesday, forces loyal to Gadhafi captured the key town of Ajdabiya, moving farther east into rebel territory. Gadhafi's troops are using heavy artillery and airstrikes to support their advances, attacking even civilians fleeing the city in cars. Rebels are also fleeing east toward the nearby city of Benghazi, the seat of their provisional government.
Meanwhile, the international community has reached no consensus on how to handle the situation. On March 12, the Arab League voted to impose a no-fly zone over Libya, in hopes that a subsequent U.N. resolution would enforce one. But the U.N. Security Council has proven indecisive.

Burns: Gadhafi may return to terrorism

Libyan army pushes forward

Frustration and anger in Benghazi

Ajami reflects on Libya, Bahrain
France and the United Kingdom are pushing for a no-fly zone, while the other permanent members -- including the United States -- have expressed more caution. To the Libyan people, delays mean more time for Gadhafi to gun down the rebels and regain territory.
Libyan state TV says government troops are liberating towns from "terrorists" and helping the people. They reported the same of Zuwarah, west of Tripoli, and Brega in the east, both of which Gadhafi's forces have retaken in the past two days. But witnesses say Gadhafi's forces are committing war crimes against civilians.
Though Gadhafi is lying through his teeth when he claims the rebels are terrorists, if the international community fails to protect the Libyan people from the wrath of their rampaging dictator, it risks turning that lie into prophecy. The lack of Western support may well radicalize Libya's opposition, which could find support from the likes of al Qaeda in the Islamic Maghreb or other terrorist groups.
The Libyan rebels will likely accept help from anyone who can provide it. If a no-fly zone is not imposed, Gadhafi will regain control of the country and almost certainly pursue mass executions.
If this is how the West welcomes the Arab world's would-be reformers, whatever forces ultimately prevail over the dictators of the region will not be inclined to pay heed to its interests.
The opinions expressed in this commentary are solely those of Khaira Abaza.
FOLLOW THIS TOPIC


Most popular stories right now

Featured Deal |