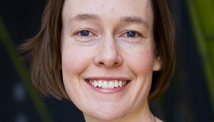 STORY HIGHLIGHTS
Mary Anne Hitt: Mercury is very dangerous for kids, nursing moms, young women
Mercury exposure affects a child's ability to walk, talk, read, write and learn, she says
Coal-fired plants emit mercury; it rains down and poisons the fish we eat, Hitt says
Hitt: EPA's air toxins safeguard for power plants will save thousands of lives a year
Editor's note: Mary Anne Hitt is the director of the Sierra Club's Beyond Coal campaign. Read more at Sierra Club's mercury information page.
(CNN) -- As the mother of a 10-month-old daughter, I love watching her figure out new things, be it crawling or giving a high-five. I often wonder which of my personality traits little Hazel will have, and I hope that just like her father and me, she will be a lover and a defender of our environment.
A real threat to Hazel and the millions of children around the United States -- as well as to our environment -- is mercury. A potent neurotoxin especially dangerous to young children, nursing mothers and women of childbearing age, mercury exposure affects a developing child's ability to walk, talk, read, write and learn.
Mercury comes from coal-fired power plants, where it rains down into rivers and streams and then contaminates our fish and enters the food chain. We are exposed to mercury when we eat fish that have high levels of it -- large predator fish like tuna, swordfish and king mackerel, which store up the mercury eaten by the smaller fish that are their prey. Like millions of women, I was careful not to eat these mercury-laden fish when I was pregnant with Hazel.
This statistic scared me when I was pregnant and still shocks me: The mercury problem in the United States is so widespread that one in 12 women has mercury levels in her blood high enough to put her baby at risk of development problems, according to the Environmental Protection Agency.

2010: Beware mercury in fish
Our communities are paying for the costs of toxic air pollution with these dangerous health problems. Most states have warnings in place, telling residents not to eat fish they catch in rivers, streams and lakes, because of mercury contamination. Study after study shows that to protect public health, polluters must significantly reduce the amount of toxic air pollution coming out of their smokestacks, and that means cleaning up pollution from dirty coal plants, which are the No. 1 source of mercury pollution in the United States.
The good news is that there's something we can do about this critical problem. The Environmental Protection Agency is releasing a new rule to protect families from mercury pollution. If these proposed air toxics safeguards are strong, they will answer the demand of mothers around the country who are standing up and urging the EPA to protect our kids -- and future generations of kids -- from mercury pollution.
Fortunately, the EPA exists to develop and enforce much-needed safeguards to keep polluters from making us sick. In the 40 years since Americans demanded its creation, the EPA has saved millions of lives by enforcing clean air and water standards. More than 1.7 million asthma attacks and $110 billion in health care costs were avoided in 2010 alone thanks to the agency's efforts.
The agency's forthcoming long-overdue air toxics safeguard for power plants will not only save thousands of lives per year, it also will help prevent disease, avoid hospitalizations and create high-paying new jobs installing and operating the much-needed pollution control equipment.
But Big Coal and other polluters continue fighting any limits on their emissions, even when the pollution is shown to have adverse health effects on people. For decades, polluters have fought Clean Air Act requirements to reduce the toxic air emissions from their facilities, even though coal plants are among the largest sources of toxic air pollution. They are putting profits over children's health.
While I know I can't raise Hazel in a completely pollution-free world, I can protect her from the worst of it by encouraging EPA to stand up for kids. I hope other parents will join me in calling for stronger protections, so our children can grow up in a cleaner, safer world.
The opinions expressed in this commentary are solely those of Mary Anne Hitt.
FOLLOW THIS TOPIC