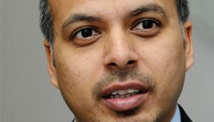 STORY HIGHLIGHTS
Ed Husain says al Qaeda watching as Peter King hearings provide great propaganda for it
Husain: King implicates American Muslims with no evidence; has misguided focus
He says focus instead on prisons, internet, where al Qaeda, others really recruit
King's approach risks alienating American Muslims; hurting America's reputation abroad
Editor's note: Ed Husain is a senior fellow at the Council on Foreign Relations and author of "The Islamist."
(CNN) -- Al Qaeda is watching America closely Thursday. Every so often, with the best of intentions, Americans blunder and provide our enemies with great propaganda victories. Thursday is one such day.
Rep. Peter King, the Republican chairman of the House Homeland Security Committee, is holding the first in a possible series of congressional hearings on the "Extent of Radicalization in the American Muslim Community and That Community's Response." The title is flawed (Muslims are racially, linguistically and denominationally diverse), and its suggestion of community responsibility for terrorism is also partly wrong.
No community can stop terrorists alone. It is the work of law enforcement agencies to protect the nation.
King has complained that American Muslims do not cooperate with the FBI and others. Where is the evidence? In preparing for Thursday's hearings, King had an excellent opportunity to invite testimonials from officials who share that concern. No such testimony is planned. Granted, there may well be a reluctance in some communities to trust the FBI, but it is the FBI's job to win and maintain trust. King's hearings threaten, regrettably, to further strain whatever trust exists.
More important, three significant hubs of terrorist recruitment are removed from communities: they are in prisons, websites and universities. Al Qaeda today is most active on the internet, with English-speaking recruiters such as Anwar al-Aulaqi inspiring several recent attempted attacks on the United States.

Hearing on 'radicalized' Muslims

Peter King: What law enforcement told me

Muslim Rep. to testify at King hearings

'Unwelcome: The Muslims Next Door'
It would have been wiser, and more productive, for King to focus on recruitment, radicalization and the conveyor belt to terrorism through networks that operate in prisons and online. How do we stop that flow?
Al Qaeda will take pleasure from seeing how little we seem to know about its recruitment tactics -- and a leading U.S. lawmaker acting as an inquisitor of those who are most opposed to al Qaeda: American Muslims. It makes a folly of America.
Opinion: The hearing made sense
To put it simply, King's committee is asking the wrong questions of the wrong people at the wrong time. His lack of understanding risks not just isolating many American Muslims at home, but damaging America's reputation abroad. Americans often forget that domestic conversations in Washington reverberate internationally.
At a time when America needs more good will in Muslim-majority countries, al Qaeda propagandists have been given a golden opportunity to suggest that even American Muslims -- the most integrated of all Western Muslims -- are susceptible to charges of mass radicalization. It bolsters the al Qaeda narrative of a clash between Islam and America.
Sadly, I have received e-mails from Indonesia, Pakistan and Egypt asking why Muslims are being investigated in America.
Fortunately, my response can only be to cite the encouraging sentiments of Denis McDonough, deputy national security adviser to President Obama, who spoke at a mosque last weekend:
"Muslim Americans are our neighbors and fellow citizens. You inspire our children as teachers. You strengthen our communities as volunteers, often through interfaith projects, like the president's 'United We Serve' program. You protect our communities as police officers and firefighters.
"You create jobs and opportunity as small-business owners and executives of major corporations. You enrich our culture as athletes and entertainers. You lead us as elected officials and members of Congress. And no one should ever forget that Muslim Americans help keep America safe every day as proud soldiers, sailors, airmen, Marines and Coast Guardsmen. Indeed, some of these heroes have made the ultimate sacrifice for our nation and now rest in our hallowed national cemeteries.
"America's relations with Muslims around the world start at home. America's greatest asset against al Qaeda is the tranquil existence of large Islamic communities in this country who see no contradiction between Islam and America. They are America's finest ambassadors to extremist communities in other countries."
Peter King is right to investigate radicalization, but he has been badly advised on how best to do this. His ill-considered approach risks undermining the good work of countering radicalism. If there are subsequent hearings after Thursday, a worthwhile starting point would be to bring in the Muslims that McDonough was addressing at the weekend, national Muslim groups such as the Islamic Society of North America and the Muslim Public Affairs Committee, which have helped move their flocks away from radical influences.
It is with them, and other Muslims, together, that we deal al Qaeda and its offshoots a terrible blow of defeat. America can do better than Thursday's hearings.
The opinions expressed in this commentary are solely those of Ed Husain.
FOLLOW THIS TOPIC